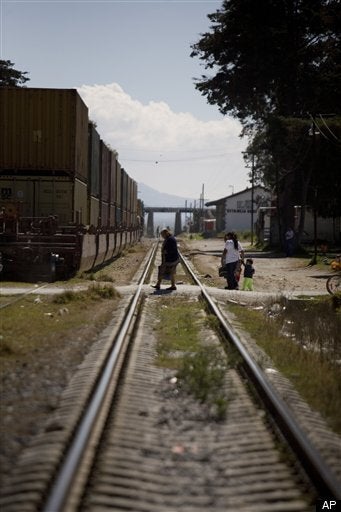 By Todd Bensman | GlobalPost
SAN ANTONIO, Texas -- Their stories may be heart-rending. Their experiences may seem unimaginable. Their lives may still be at risk.
But the growing numbers of Mexican citizens who have fled rampaging drug trafficking cartels to seek American political asylum are finding the door slammed shut in their faces.
U.S. immigration judges are expelling Mexican asylum seekers, leaving them to face their cartel demons, according to confidential records provided to GlobalPost and interviews with seven lawyers handling such cases.
It's difficult to know how all judges are ruling because asylum case records generally are not public for security reasons. But lawyers from Texas to Washington State report steep losses and few wins amid differing and evolving interpretations of asylum law as it applies to Mexicans.
One family that lost its case is a mother who fled with her four sons to El Paso from Ciudad Juarez last August after cartel assassins slaughtered her husband and three others, then vowed to return for the rest of the family.
Rarely seen immigration court records show that two different U.S. immigration judges have denied their two petitions. Two of the sons who survived the August massacre already have been deported. Their attorney says they have been sent "to their deaths" in Juarez, where cartel violence this year has already claimed a thousand lives despite a large army deployment.
Their mother and younger siblings, including a 9-year-old boy, are in Pennsylvania fighting a last ditch appeal of their deportation orders. Their attorneys agreed to share details of the family's plight only on condition that their identities be withheld for security reasons.
"(He) is a 9-year-old boy!" Pennsylvania immigration attorney Craig Shagin, who is handling the case, said about the youngest son. "They're going to take this perfectly adorable kid and throw him back into hell? From a humanitarian point of view, this is really hard to watch."
The immigration attorneys say homeland security lawyers in some jurisdictions are aggressively opposing Mexican claims for reasons less than humanitarian. Homeland Security officials and appointed judges, they say, want to avoid triggering a system-clogging flood of asylum petitions or offending the Mexican government by ruling it can't protect its own citizens.
"The government's strategy is to oppose all Mexican asylum claims. Their marching orders are no, no, no, no, no," said El Paso lawyer Carlos Spector, who has lost several cases, including one by a police officer who arrived in El Paso with eight fresh bullet wounds. Spector said his four other cases are drawing unusually robust government attention.
U.S. Immigration and Customs Enforcement (ICE) officials declined repeated requests to discuss the agency's stance on Mexican asylum seekers. Their oral courtroom arguments are rarely committed to paper.
But private attorneys facing off with ICE attorneys say the agency typically cites two main arguments: One is that the asylum statute as written doesn't apply to victims of crime -- only certain victims of political oppression, ethnic strife or civil unrest who can't count on government protection. In the one brief statement for this story, ICE alluded to how it interprets the asylum statute.
"The men and women of ICE have a sworn duty to uphold U.S. immigration law," the statement said, "as it is written."
The other main government argument, known in immigration law circles as "internal relocation," holds that victims don't need U.S. haven because they can simply find it elsewhere within Mexico.
The asylum seekers and their lawyers strongly disagree. But there's little indication the odds are in their favor. With few known courtroom successes, attorneys report testing out a mishmash of legal strategies.
The El Paso attorney who represented the two Juarez brothers already deported said they are in hiding back in Mexico, frightened and unable to move about freely.
"They're just scared, you know?" said Eduardo Beckett, managing attorney of the Las Americas Immigrant Advocacy Center in El Paso. His organization has lost or had to abandon five other asylum cases and still represents five others.
"They were very disgusted with the way they were treated," he said of the deported brothers. "They were expecting they would have some mercy."
America's asylum law was established 30 years ago in the Refugee Act of 1980 to provide sanctuary to people whose governments don't protect them from life-threatening persecution. All they have to do is find their own way to an American shore and request asylum from any government official.
To win asylum, they later must convince a judge they have suffered past persecution or have a well founded fear of future persecution for one of five reasons: race, religion, nationality, political opinion or membership in a particular social group. They have to show their home government either can't protect them or is part of the problem.
Judges have extended political asylum to, among many others, white Zimbabwean farmers chased from their land by black government-sponsored mobs, Christian Iraqis forced from homes by militant Islamists and Darfur minorities attacked by armed Sudanese government groups.
But few Mexicans are granted asylum, government statistics indicate. Applications have climbed since Mexican President Felipe Calderon declared war on the country's drug cartels in 2006. Some 896 Mexicans applied for asylum between January and April this year compared to 586 for the same period three years earlier. Among them are police officers, journalists, lawyers and business people.
Judges have typically granted asylum to 50 or 60 Mexicans a year the last decade out of 2,000 to 3,000 filed, according to Executive Office of Immigration Review statistics.
A key legal difficulty for Mexicans, immigration experts and lawyers agree, is that the law's five categories do not include victims of crime. Mexico's profit-hungry drug traffickers aren't known to target people because of race, religion, nationality or political opinion. So some of the attorneys admit they're hunting for ways to stretch the definition of one of the five categories -- "social group" -- to cover their clients.
Several immigration law specialists say the law originally defined social group as involving biological characteristics such as sexual orientation, skin color, kinship ties and other "immutable characteristics."
Now, lawyers arguing for Mexican drug war refugees point to subsequent case law they insist has expanded the definition to specific families and people sharing social connections through professions or business.
Still, there's little consensus among judges about what constitutes a social group, an analysis of case law shows. One court accepted as a social group families targeted by criminal Honduran street gangs while another court last year rejected Salvadoran families targeted by the MS-13 gang.
One court accepted as a social group wealthy Colombian landowners being extorted by drug traffickers. Another court rejected as a social group targeted employees of a deposed government in Congo.
Bruce Einhorn, a retired immigration judge who co-wrote the 1980 asylum statute, said judges weighing Mexican asylum cases have the power to accept a proposed new definition, or fall back on a literal reading of the statute, which doesn't cover crime victims.
"There may be government officials in our country who need to start thinking outside the box," Einhorn said. "Judges should be taking a very liberal view. I happen to think it's important to apply the law with compassion and humanity."
Einhorn said there's no political will to amend the asylum law right now to cover crime in part because "that could mean a significant chunk of a nation could flee." Other legal analysts agree.
Unless the law is amended by an act of Congress, Mexican drug war refugees can only hope to draw an empathetic judge willing to risk appeal for humanitarian reasons, that the ICE doesn't appeal.
GlobalPost was able to verify only one Mexican citizen granted asylum in Texas. U.S. Immigration Judge David Ayala of Harlingen granted it three years ago to a kidnap victim who ran for the U.S. border after a $250,000 ransom secured his release.
The man's lawyer, Anthony Matulewicz, argued that his client belonged to a social group of a wealthy class of merchants. Ayala accepted the definition. But Matulewicz said he believes he won because the judge, being so close to the border, understood the widespread horrors of drug cartel abuses.
"You have to put the judge on the spot, present the case in a way that's going to say, if we send this guy back and he dies, it's because of you, bubba," Matulewicz said. "If you present the case strong enough like that, most of the trial attorneys are not going to want to jack with it."
One Seattle immigration lawyer, Henry Cruz, found success for a Mexican client this year with a strategy that runs against the grain. Cruz won residency for his client by claiming protection under the United Nations Convention Against Torture.
Immigration lawyers and independent legal experts alike usually dismiss citing the convention by itself because it applies only when governments persecute. Yet Cruz won in a Denver court by arguing the cartels had, through corruption, taken over local government institutions in Matamoros, Mexico."It's an up-and-coming argument that people will have to start using more often," Cruz said.'Fear, just real fear'
The asylum cases involving the Juarez mother and her sons offer a rare glimpse into the government's legal thinking -- and the real-world consequences.
After the family surrendered to American customs agents last summer, the two older sons were detained in El Paso pending the outcome of their cases. Their mother and two minor brothers were sent to a family detention center in Pennsylvania to pursue a separate claim.
In both cases, the ICE attorney argued -- and the judges ruled -- that the family did not qualify as a social group. Furthermore, Judge William Abbott in El Paso and Judge Andrew Arthur in York, Penn., cited the "internal relocation" argument in denying asylum.
"The court notes that Mexico is a country of over 100 million people, and that the respondent could relocate anywhere within that country and reasonably do so with family members in her hometown," Judge Arthur ruled, in part.
The ruling angered the attorney, Shagin.
"There is no safe haven in Mexico; it's a fiction," he said. "The people in the country can't figure out who is and who isn't working for the dark side."
Last month, an immigration appeals panel upheld the judge's ruling. Deportation orders were issued. Shagin has staved them off by filing another appeal with the U.S. 3rd Circuit Court. If he loses, and his client wants to wait in detention, he could appeal to the U.S. Supreme Court.
The mother declined to be interviewed. But Shagin said that when consulting with her he senses "fear, just real fear, a feeling of 'what do I do if we go back?' You hear them sighing all the time, not wailing and crying, just completely at a loss as to what to do and a feeling of desperation. To me, it is very sad."
Related
Popular in the Community