 VIENNA, Oct 15 (Reuters) - Mexico is making progress in its fight against powerful drug cartels and they are becoming weaker as the crime bosses are killed or jailed, the interior minister said on Monday.
Since 2009, about two-thirds of those identified as Mexico's 37 most- wanted criminals that year have either been killed or face legal action, Alejandro Poire said.
"I think that is an indication that the top level of these organisations is no longer capable of doing what (it was) capable of doing only three years ago," he told reporters during a U.N. conference on cross-border crime.
"Also at the immediately lower level we are systematically bringing down some of the most dangerous criminals."
Earlier this month, Mexico said it killed Heriberto Lazcano, the leader of the brutal Zetas gang and the most powerful kingpin to fall in the battle against cartels.
The Zetas have carried out some of the worst atrocities in a drug war that has killed some 60,000 people during President Felipe Calderon's six-year term, which ends in December.
President-Elect Enrique Pena Nieto has said he will fine-tune the strategy to reduce violent crime linked to the drug war.
Lazcano was one of Mexico's most-wanted men, synonymous with the Zetas' gory brand of retribution, such as the beheading of rivals and a recent series of massacres.
Hours after he was killed, an armed group snatched Lazcano's body and that of another Zetas member from the funeral parlour.
Factions of Zetas are now seen uniting behind its second-in-command, Miguel Angel Trevino, another top Mexican official said last week.
Poire said bringing crime bosses to justice diminished the cartels. "You are taking the key asset of the organisation which is the knowledge, the know-how, the connections, the linkages, the experience of these top-level leaders."
Mexico's homicide rate fell by 7 percent in the first six months compared with the same 2011 period, he said.
"I would say we are making progress. I would say we are systematically weakening the criminal organisations," Poire said when asked whether Mexico was winning the fight.
Addressing the week-long conference in Vienna, the head of the U.N. drugs and crime office said global crime costs $870 billion per year and he called for a unified response.
"We must make the criminals understand: there can be no sanctuaries, no safe havens, no shelters from which to operate," Yury Fedotov told delegates at the Conference of the Parties to the U.N. Convention against Transnational Organized Crime.
The meeting will consider new monitoring measures to improve the effectiveness of the convention, which has so far been ratified by 172 countries. (Editing by Alison Williams)

Related
Before You Go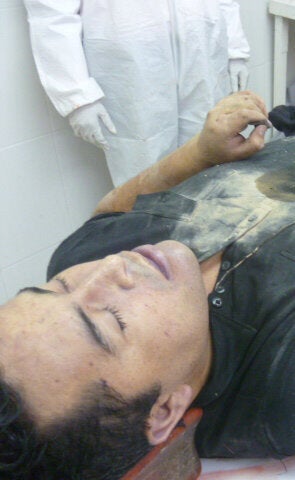 Mexico Drug War Milestones
Popular in the Community