The Associated Press reports that a "strong" earthquake has hit central southern Mexico, rocking Mexico City. The US Geological Survey recorded a 7.4-magnitude in Oaxaca, Mexico.
According to Reuters, Guerrero state governor Angel Aguirre said that about 500 houses were damaged in the quake.
"We're talking about more than 500 homes that collapsed, were damaged, and some came down," Aguirre reportedly told Milenio TV.
A strong 7.4-magnitude earthquake hit Mexico on Tuesday, shaking central and southern parts of the country, collapsing a pedestrian bridge and swaying buildings in Mexico City. Plaster fell from ceilings and windows broke in the center of the capital, but the president said there were no immediate reports of major damage.

The initial quake near the borders of Oaxaca and Guerrero states was followed by a less powerful, magnitude-5.1 aftershock that also was felt in the capital.

Frightened workers and residents poured into the streets of the capital just minutes after noon local time (18:02 GMT). Telephone service was down in the city and throughout the area where the quake was felt.

About 40 passengers were stranded for a short time on the Mexico City airport air train, but later released. The airport closed for a time but officials said there was no runway damage and they resumed operations.

A pedestrian bridge collapsed and crushed a microbus in Mexico City, but there were still no reports of deaths. A building in the neighborhood of Condesa appeared to be on the verge of collapsing.

The quake was felt strongly in southern Guerrero state, where the epicenter was located about 15 miles (25 kilometers) from the city of Ometepec. Neighboring Oaxaca state also shook heavily, including with two aftershocks.

Governors in both states reported on their Twitter accounts that there were not major reports of damage.

In Huajuapan, Guerrero, near the epicenter, hotel owner Marco Antonio Estrada also reported shaken-up guests but no major damage. He said it was longest and strongest he ever felt. People ran out of their homes and cars.

"I have problems with pressure, I felt I was going to faint," said Rosa Maria Lopez Velazquez, 62, outside a mall in Mexico City.

The quake was felt strongly in southern Guerrero state, near where the epicenter was located about 15 miles (25 kilometers) from the city of Ometepec. Neighboring Oaxaca state also shook heavily, including two aftershocks.

"It was very strong, but we didn't see anything fall," said Irma Ortiz, who runs a guesthouse in Oaxaca. She said their telephones are down, and that the quake shook them side-to-side.

The U.S. Geological Survey set the preliminary magnitude of the first quake at 7.4 and said the epicenter was 11 miles underground. The survey set the aftershock at 5.1.

U.S. President Barack Obama's oldest daughter, Malia, was reported and safe while on vacation with a school group in Oaxaca.

Mexico City Mayor Marcelo Ebrard's Twitter account said the water system and other "strategic services" were not experiencing problems.

Groups of women hugged and cried at Mexico City's Angel of Independence monument, where hundreds of people evacuated from office buildings said they never had felt such a strong earthquake. Others typed ferociously on their Blackberries.

Samantha Rodriguez, a 37-year old environmental consultant, was evacuated from the 11th floor on the Angel Tower office building.

"I thought it was going to pass rapidly but the walls began to thunder and we decided to get out," she said.

Mexico City's airport was closed for a short time but there was no damage to runways and operations were returning to normal.

In Oaxaca, Sylvia Valencia was teaching Spanish to five adult students at the Vinigulaza language school when the earthquake hit.

"Some of us sat down, others ran out," she said. "It was hard, it was strong and it was long."

After the shaking stopped, however, she said they found no damage, not in their own classrooms, nor outside in the historical center of the city, so they went back to class.

Celia Galicia, who works at the U.S. consular office in Oaxaca, had just flown in from Mexico City when it hit.

She said there was panic in the airport, and a dash for the doors. But she said that she saw no damage at the airport and no one was hurt. She says one building in downtown Oaxaca appears to be damaged and has been evacuated.

She added that they've had two strong aftershocks, and that in downtown Oaxaca most people are out on the street at this point.

"It started shaking badly," she said.
Reuters' Ben Berkowitz notes:
This is a breaking news update. Please check back for updates.
Related
Before You Go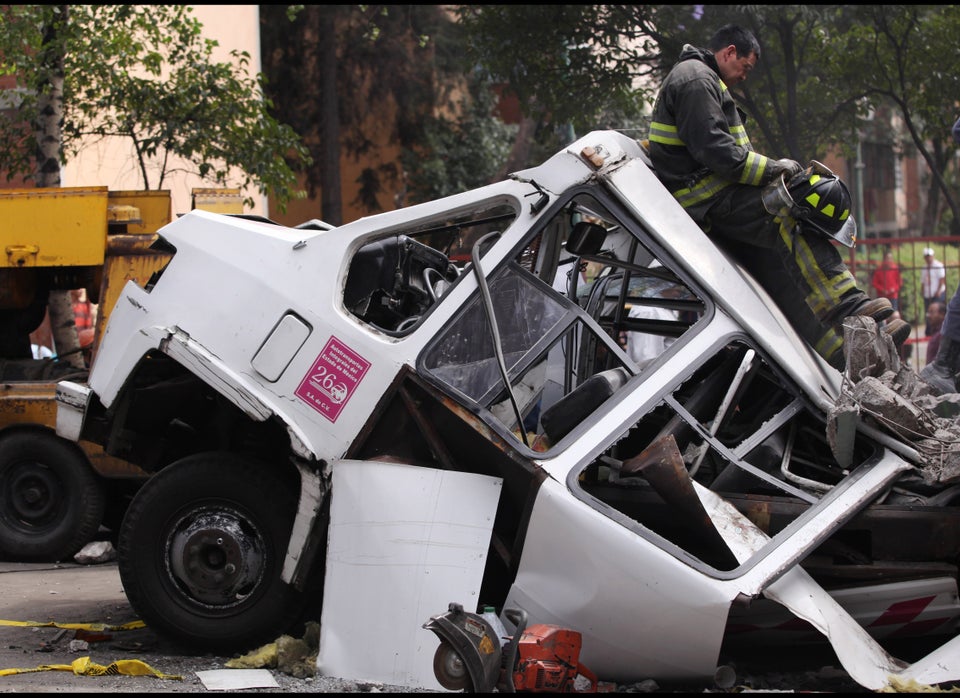 Mexico Earthquake 2012
Popular in the Community