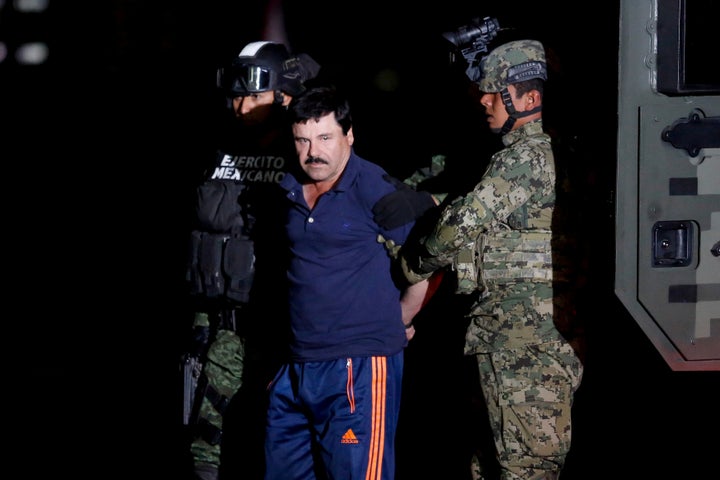 More than two decades after first locking up one of the most powerful organized crime bosses in a maximum security prison, Mexican authorities have yet to convict recently recaptured Joaquín "El Chapo" Guzmán Loera for the crime of drug trafficking, according to a new report that highlights the Mexican government's difficulties with prosecuting the drug lord. 
Despite Guzmán's notoriety as one of the leaders of the largest drug-trafficking empire in the Americas, Mexican authorities have only convicted him for three less serious offenses, according to court records obtained by the Mexican magazine Proceso. Moreover, prosecutors have repeatedly seen their cases against Guzmán fall apart.
Guzmán's lawyers have succeeded in dismissing or overturning some 20 charges for crimes including murder, conspiracy to commit murder, kidnapping and drug trafficking, the report says. The cases have unraveled either because of a lack of evidence or because the defense exploited procedural errors committed by Mexican law enforcement.
The Mexican government has brought dozens of criminal charges against Guzmán since the 1990s. But there have also been years-long lulls when authorities appeared to show little interest in going after the drug lord, the report says.
Authorities' spotty record in securing convictions for Guzmán contrasts sharply with the confidence expressed by former Mexican Attorney General Jesús Murillo Karam. Last year, Murillo Karam said he would only extradite Guzmán to the United States once he'd had finished serving sentences for crimes committed in Mexico, something Murillo Karam bragged would take "300 or 400 years."
That prediction was premature. For the moment, Guzmán is only serving the remainder of the sentencing he received in the 1990s for organized crime charges, before he broke out of prison the first time in 2001. He is serving those sentences consecutively.
One of the sentences was originally for 12 years, but was reduced to seven. Another organized crime conviction carried a six-year sentence, while a third conviction for the same offense along with bribery added seven years and nine months to his jail time, for a total of 20 years and nine months.
Guzmán currently faces 10 other charges, including charges of drug trafficking, according to his attorney José Refugio Rodríguez.
Under Mexican law, escaping from prison is not considered a crime, so Guzmán is not expected to face additional jail time for breaking out of captivity twice.
While U.S. Attorney General Loretta Lynch says she hopes the Enrique Peña Nieto administration will send Guzmán to the United States soon to face drug trafficking and other charges, Mexican media reports say legal challenges could delay the process by as long as six years.
REAL LIFE. REAL NEWS. REAL VOICES.
Help us tell more of the stories that matter from voices that too often remain unheard.
BEFORE YOU GO
PHOTO GALLERY
The Hunt For El Chapo