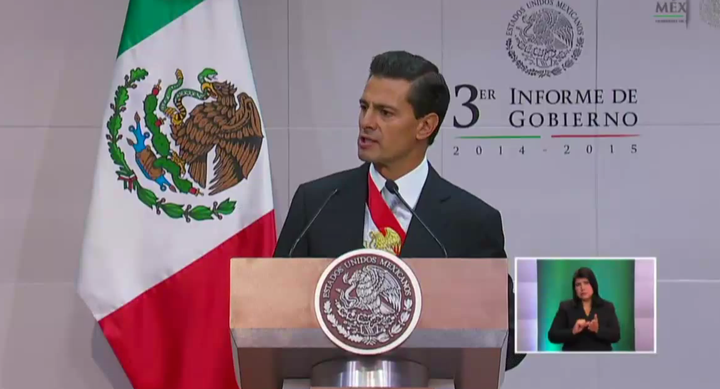 Mexican President Enrique Peña Nieto defended his handling of security, human rights and the national economy amid widespread criticism during his third annual state of the union address on Wednesday.
Speaking for more than an hour and a half, Peña Nieto rattled off statistics that he said marked a decrease in crime and an increase in economic growth and potential.
"Together, we're advancing toward the great national goals we set for ourselves," he said. 
The homicide statistics Peña Nieto cited omitted recent figures, which show a consistent rise in the homicide rate since July of 2014, according to Animal Político. 
At the same time, Peña Nieto acknowledged that his government has faced a series of setbacks that have pummeled his approval rating. Ahead of the speech, pollster Parametría released a survey showing that some 57 percent of Mexicans disapprove of the job he has done.
Watch Enrique Peña Nieto's state of the union speech in Spanish below. 
"This has been a difficult year," Peña Nieto said. "Our country was deeply hurt by a series of lamentable events."
Peña Nieto mentioned the disappearance of the 43 students in Iguala and the escape of drug lord Joaquín "El Chapo" Guzmán from prison. The fugitive clearly continues to embarrass Peña Nieto, who avoided mentioning Guzmán by name, and referred only to "the escape from a maximum security prison." 
Nevertheless, Peña Nieto said his government remains committed to fighting organized crime.
"For this government, fighting crime is about more than capturing the leaders of organized crime networks," he said. "We're dismantling their operational structures and financial capabilities." 
Mexico also faces economic challenges, the president said. The value of the peso has tumbled compared to the dollar. The price of oil, one of Mexico's key exports, has tanked as well. Economic growth hasn't kept pace with the average 2.3 percent yearly growth over the 20 years before Peña Nieto took office, according to The New York Times. Perhaps even more worrisome, the president noted that some 2 million Mexicans have slid into poverty under his administration.
But Peña Nieto insisted that his administration can turn things around. He listed 10 priorities for his remaining three years in office that include firming up laws to combat crime and corruption, offering economic aid to small farmers and ranchers, and selling bonds to raise funds for education infrastructure.
The Mexican leader highlighted what he described as a positive working relationship with the United States and growing bilateral trade between the two countries. He didn't comment on the U.S. immigration debate, which GOP front-runner Donald Trump has dominated in recent weeks by making a series of bombastic statements describing Mexicans as "rapists" and "criminals."
Peña Nieto enjoyed soaring popularity when he took office in 2012, largely due to his promise to enact structural reforms, such as the liberalization of the state monopoly over the oil industry and tax and education reform.
But he saw his popularity plummet over the last year, as he lost the confidence of a Mexican public that is questioning how his government has handled the investigation into the abduction and presumed killings of 43 college students in the city of Iguala last September.
Peña Nieto has also faced personal scandals. Journalist Carmen Aristegui revealed last year that a favored government contractor, Grupo Higa, provided the president's family with a multi-million dollar Mexico city mansion while a consortium the company belonged to competed for a high-speed rail contract worth $3.7 billion. His wife, who held the title to the house, returned it.
The Barack Obama administration, however, has refrained from criticizing Peña Nieto's handling of security issues or human rights, and has generally praised the Attorney General Office's investigation into the disappearance of the 43 students.
Before donning the presidential sash and taking the stage for his address, Peña Nieto took a moment to speak to the cameras. The video below, posted to the social media site Periscope, probably makes him wish he hadn't. 
Calling all HuffPost superfans!
Sign up for membership to become a founding member and help shape HuffPost's next chapter