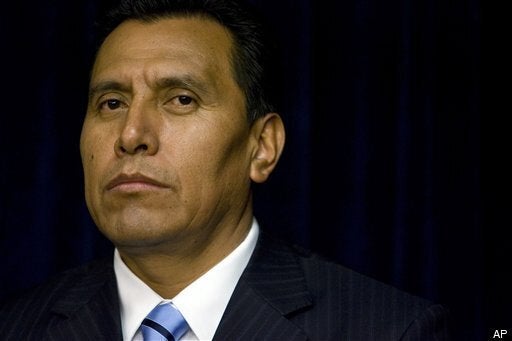 (AP) MEXICO CITY - Mexico's federal police agency has fired nearly 10 percent of its force this year for failing checks designed to detect possible corruption, a major obstacle in the country's battle against increasingly brutal drug gangs.
Mexico's approximately 35,000 federal police are required to undergo periodic lie detector, psychological and drug examinations, and the government routinely investigates their finances and personal life.
Federal Police Commissioner Facundo Rosas said 3,200 officers have been dismissed this year for failing to meet the agency's standards. He did not give more details.
The fired agents are barred from taking jobs in any other security force -- a recurring problem that Mexican governments have vowed to solve for many years. Another 1,020 federal police are facing unspecified disciplinary measures.
Police corruption at all levels is widespread in Mexico. Police are often found to have been involved in cartel attacks, including the assassination two weeks ago of a mayor who had disciplined municipal officers in his northern town. Investigators say local officers aligned with the Zetas drug gang killed the mayor in retaliation.
Scandals have also ensnared the federal police. Two years ago, a corruption probe known as "Operation Clean House" toppled the former anti-drug czar, Noe Ramirez, and other high-ranking police accused of protecting the Beltran Leyva gang.
President Felipe Calderon, who has deployed tens of thousands of soldiers and federal police to fight drug traffickers in their strongholds, has pointed to the regular police tests and crackdowns such as "Clean House" as evidence that his government is aggressively fighting corruption.
Drug violence has surged since Calderon intensified the crackdown on traffickers upon taking office in late 2006, claiming more than 28,000 lives.
In the latest violence, a 12-hour battle between troops and gunmen left killed seven people in the eastern town of Panuco.
The gunmen opened fire and launched grenades at a government electricity station as they tried to escape the soldiers, causing a power outage in a large part of town, said Salvador Mikel Rivera, attorney general in the Gulf coast state of Veracruz, where Panuco is located.
The battle started Sunday night when gunmen in six cars ignored orders to stop from soldiers at a checkpoint, Rivera said. Soldiers, along with state and local police, started a chase that ended at two houses where the gunmen tried to hide, he said. The shootout at the houses lasted until Monday morning.
One soldier and six gunmen were killed.
Panuco is just south of the northern border state of Tamaulipas, where marines discovered the bodies of 72 Central and South American migrants believed to have been gunned down by the Zetas drug gang after refusing to smuggle drugs, in what may be the deadliest cartel massacre to date.
The lone survivor, an 18-year-old Ecuadorean, returned to his home country over the weekend after declining a humanitarian visa that would have let him stay in Mexico, the Foreign Relations Department announced Monday.
The dead migrants were discovered at a ranch about 100 miles (160 kilometers) from the U.S. border in Tamaulipas.
Violence has surged in northeastern Mexico this year since the Zetas broke ranks with their former employer, the Gulf cartel.
On Sunday, gunmen killed the mayor of Hidalgo, a town near where the migrants were slain. Two weeks earlier, the mayor of another northeastern town, Santiago, was assassinated, allegedly by police tied to the Zetas.
In June, cartel gunmen assassinated the leading candidate for governor of Tamaulipas, Rodolfo Torre Cantu, less than a week before state and local elections.
The government offered a 15 million peso ($1.15 million) reward Monday for information leading to the capture of his killers.
Meanwhile, for the first time in its history, the border city of Ciudad Juarez is cancelling its traditional Sept. 15 celebration of Mexico's Independence from Spain, Mayor Jose Reyes announced Monday.
Reyes said authorities had not received any specific threat surrounding the event but decided it would be too dangerous for large crowds to gather in the city, which has become one of the world's most dangerous amid a turf war between the Sinaloa and Juarez cartels.
As in other Mexico cities, residents in Ciudad Juarez gather each year at the main plaza to hear the mayor give the "grito," or shout of independence, at 11 p.m. Reyes said the city would instead launch fireworks at different points in the city so people could celebrate from their own backyards.
The cancellation was especially a blow this year because Mexico is celebrating its bicentennial independence anniversary.
Related
Popular in the Community