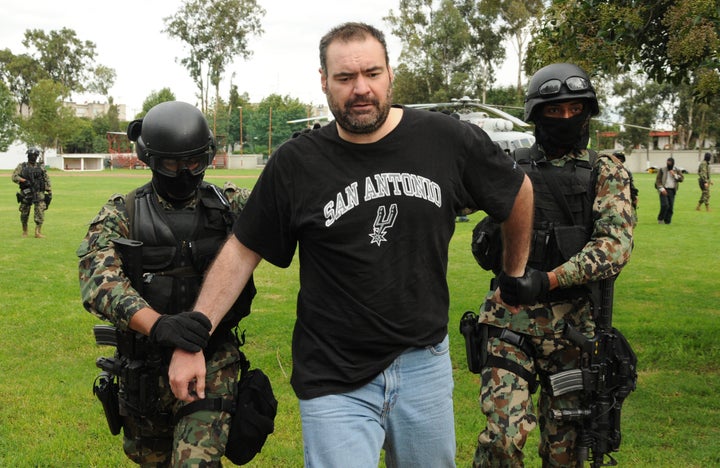 WASHINGTON -- Mexico's U.S. ambassador rebuffed claims this week that the country's efforts to reduce the flow of guns from the U.S. to drug cartels in Mexico amounts to an attack on American gun ownership rights.
During a Thursday Capitol Hill forum, Ambassador Arturo Sarukhan and Rep. Adam Schiff (D-Calif.) said that those who oppose efforts to reinstate a ban on assault weapons in the U.S. and closely regulate cross-border weapon traffic are -- perhaps inadvertently -- contributing to violence and an unacceptable number of deaths in Mexico.
Cross-border gun trafficking has helped Mexican drug cartels wage an armed conflict that has taken at least 50,000 Mexican lives since the country began a concerted crackdown on drug traffickers in 2006, according to that government's data. But, gun rights advocates insist that any effort to restrict access to weapons infringes on what they say are Constitutional rights guaranteed to U.S. citizens. Such efforts, they argue, are simply part of the Mexican government's attempt to displace blame for the crisis of violence that has seized portions of the country.
"There is an 'urban myth' out there that somehow the Mexican government is seeking to lobby against and destroy the rights enshrined in the Second Amendment," Sarukhan said. "This is gobbledygook. I am sure is that the founding fathers did not intend for international organized crime to source weapons in the U.S."
Sarukhan and Schiff spoke to an audience of security experts, both gun rights and gun control advocates, and both Spanish and English language reporters from American and Mexican news organizations at the Thursday forum, sponsored by the left-leaning Washington, D.C., think tank NDN.
In 2004, Congress did not renew a 10-year ban on the sale of 19 different types of guns known as assault weapons. Gun sellers across the country reported an immediate uptick in sales.
And by 2006, these so-called "long weapons" had replaced handguns as the artillery of choice inside Mexican drug cartels, Sarukhan said. Between 2007 and 2010, he noted, the number of weapons seized by Mexican officials with U.S. origins surged by 225 percent.
The reason: Americans willing to serve as straw buyers purchase the guns in the U.S., then sell or somehow pass along the weapons to Mexican drug cartels, Sarukhan said.
Of the nearly 100,000 guns seized and submitted by Mexican authorities to the U.S. Bureau of Alcohol, Tobacco, Firearms and Explosives (ATF) for tracing between 2007 and 2011, about 68,000 were "U.S. sourced" -- manufactured in, or imported into, the U.S., where they were then purchased, the ATF reported last month.
"You don't have to be a rocket scientist to understand why this has happened," Sarukhan said.
In 2009, the Obama Administration called for a new assault weapons ban, but Congress did not comply. The following year, Mexican President Felipe Calderón addressed the U.S. Congress, calling on American lawmakers to pass an assault weapons ban to help curb cartel access to weapons and the rising death toll in Mexico. His address and appeal drew applause from several Democrats but virtual silence, and later indignation, from many Republicans.
The National Rifle Association has opposed efforts to renew the assault weapons ban and called the administration's stance an attempt to leverage violence in Mexico in order to roll back U.S. gun rights. Federal officials in the U.S. should work to enforce existing gun laws, the organization has said, and Mexican authorities must take responsibility for the quality of law enforcement south of the border. Inside the U.S., assault weapons have been involved in only a small fraction of crimes where guns were used and gun crime has not surged since the ban expired, according to the NRA.
Sarukhan said Thursday that there are areas where Mexico can and is working to improve law enforcement inside the country, including reducing the pressure on its customs agency to generate revenue, allowing it to instead focus on public safety matters. But there is also a need for more weapons control in the U.S., he said. The Mexican public has come to doubt American commitment to reducing violence in Mexico due in part to operations such as the much maligned Operation Fast and Furious, Sarukhan continued.
During the 2009 operation dubbed "Fast and Furious," the ATF allowed suspected straw buyers to walk away from gun stores with their purchases, rather than arresting them. ATF agents then tried to track the low-level buyers and the guns to smuggling ringleaders, all the way to cartel members and bosses. Instead, agents lost track of nearly 1,400 of the more than 2,000 guns purchased by suspected straw buyers, the Associated Press has reported.
This effort has produced about 100 investigations involving about as many defendants, said Rep. Schiff, a former federal prosecutor who now represents a district that includes Burbank and Glendale, Calif. Of these investigations, 25 cases have been referred to government lawyers for prosecution. But existing federal law limits most of these prosecutions to a charge of making a false statement -- attesting that the gun is for one's own use -- during the purchase.
False statement cases currently carry a maximum sentence of 10 years. But, in practice, sentences have been far shorter. Average sentences for straw purchasers amount to twelve months, according to a 2010 Justice Department report.
"Right now there is no penalty in the U.S. for being a straw purchaser," Schiff said. "The false statement penalties are really inadequate. They make it very hard to get low-level people to roll on higher-level members of the cartels."
A bill that Schiff introduced in March calls for a strengthened sentences for weapons straw purchasers. The bill would create a mandatory two-year sentence for anyone who is convicted as a straw purchaser and knew, or had reason to suspect, that the gun they purchased would be transferred to someone who could not lawfully purchase it. The bill also requires people to be informed of this potential penalty when buying a weapon.
The bill is one of many that must pass through the House Judiciary Committee, chaired by Rep. Lamar Smith (R-Texas), a Republican who represents a district that includes San Antonio and Austin, Texas. Smith is an ardent defender of gun rights who criticized the Obama administration's decision to force border states to report gun sales to the ATF -- and Mexico's president for connecting U.S. gun policy and violence in Mexico.
Smith said in a statement after Calderón's address: "Officials of foreign governments should not interfere in domestic American affairs."
Popular in the Community