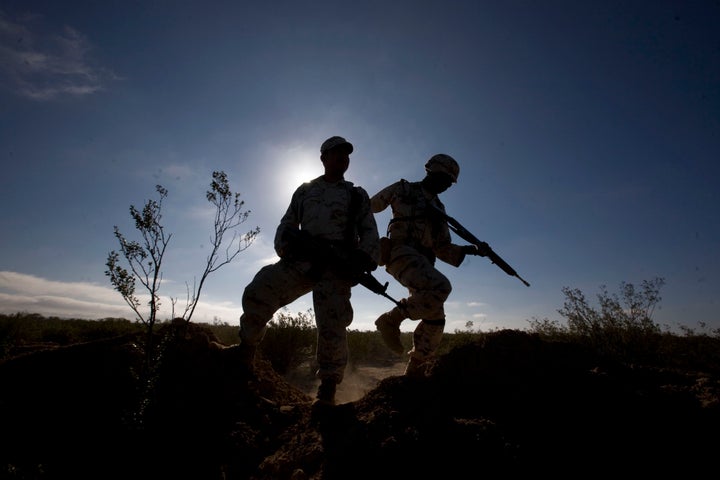 AUSTIN, Texas - U.S. Customs and Border Protection inspectors returned 33 Mexican soldiers on Tuesday who inadvertently crossed over the Rio Grande river into Texas, authorities said.
The soldiers, packed into four Humvees, crossed over the Donna-Rio Bravo International Bridge into south Texas at around 2 p.m., said Felix Garza, a spokesman for CBP in Pharr, Texas.
"They crossed the boundary line on the bridge. Once they did that they were forced to continue traveling to our primary inspection area," Garza told Reuters.
"They were processed according to protocols, and they were released and returned to Mexico without incident or charges," he added, declining to say whether the troops were armed.
In a statement late Tuesday, the Mexican military said the troops "unintentionally" crossed over the bridge while they were carrying out reconnaissance on the border.
After clarifying the error with U.S. authorities, they returned to Mexico and continued their "routine activities," it said.
Since taking office nearly five years ago, Mexican President Felipe Calderon has deployed thousands of troops to curb powerful cartels hauling billions of dollars in drugs to the United States.
The bridge links the Rio Grande Valley in South Texas with a stretch of Mexico's northern Tamaulipas state where the rival Gulf cartel and Zetas gang are locked in a bloody war for lucrative trafficking routes.
Garza said it was not the first time that troops had strayed over the border into Texas.
"It's an event that has happened before and there's protocols in place for something like that. We are in constant communication with our Mexican partners," he added.
(Reporting by Tim Gaynor; Additional reporting by Mica Rosenberg in Mexico City; Editing by Cynthia Johnston)
REAL LIFE. REAL NEWS. REAL VOICES.
Help us tell more of the stories that matter from voices that too often remain unheard.