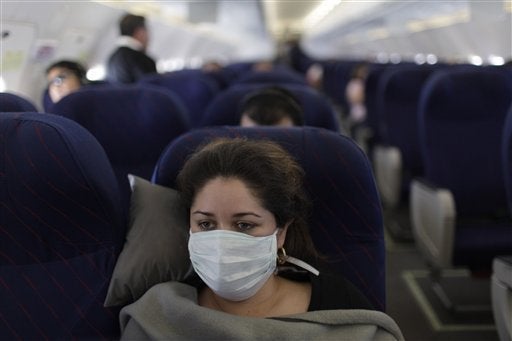 Los Cabos, Mexico
Part II
In the center of the quaint town of San Jose Del Cabo, Mexico, there is a small church where the locals go to baptize their newborns and confess their sins. The church itself is not that striking, but the most noted element on the facade is a tiled painting, set in the 1730s, of Pericu Indians slaying a Jesuit priest who tried to convert them to Catholicism. Much hasn't changes since then really. Even now, the locals fiercely protect their culture from outside influences that would dilute the beauty of their little village. Subsequently, there aren't any mega shopping malls or Starbucks on every corner, which means you're more likely to find a taco stand than a coffee shop.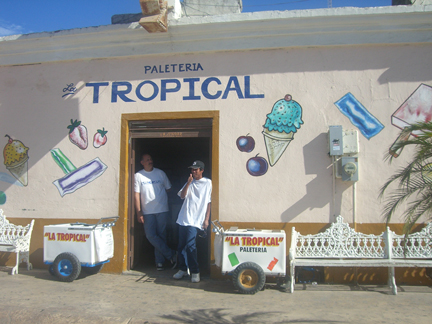 After enjoying the irony of the tiled church painting, I picked up a map of the historic district of San Jose Del Cabo where every Thursday the local galleries host an art and wine walk. Maps of the participating venues are as easy to find as a margarita in this town - just ask and you'll get one handed to you.
With map in hand, I walked up Calle Zaragoza, where I popped into the famed restaurant La panga (http://lapanga.com) for a little nourishment before my self-guided art and wine walk. The chef and co-owner Jacobo Turquie, besides being easy on the eyes, is an award-wining chef and a graduate from The Culinary Institute of America in New York. His delicious dishes include specialties like tuna & avocado timbale with jalapeno-soy sauce and seared sea scallops with dry chili oil over risotto with asparagus tips and aged ramonetti cheese from Northern Baja. After a satisfying visit to La panga, my tour began.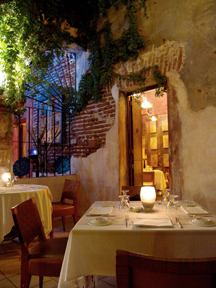 The collections of galleries in the historic district are quite impressive for such a tiny town. You'll find everything from traditional Mexican artwork to over-the-top bronze sculptures and neon-colored Lady of Guadalupe paintings. One of my favorite galleries was galleria de ida Victoria located at 1128 V. Guerrero. There, they showcase artists from around the world in a gorgeous three-story building overlooking a lush courtyard. Just around the corner, was Corisca Galeria De Arte on Alvaro Obregon 10. Surprisingly, this space is comparable to any high-end gallery you would find in the US or Europe. While I was admiring a bronze winged sculpture by Jorge Marin, a couple from New York was finalizing a purchase of a piece of art worth $15,000. Nice to know that not all have lost their money to crazy Ponzi schemes.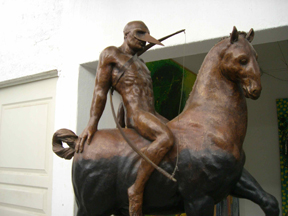 I met up with one of the art walk volunteers and he boasted that San Jose Del Cabo had the highest ratio of millionaires per capita in Mexico. I could not find any evidence to support his claim, but I must admit that if a city's cadre of high-end art galleries is a realistic indicator of wealth, then San Jose Del Cabo just might be filled with the mega rich.
After the art walk, I headed over to Las Ventanas Al Pariso, which is around a 15-minute drive from downtown San Jose Del Cabo. Las Ventanas Al Pariso has long been considered the most exclusive resorts in Baja. With only 71 suites on the property, they are known for their exceptional service and respect for privacy (aka, great place to bring your clandestine lover).
If you are not staying at Las Ventanas, the only way you'll get to visit the property is by dining at one of their four restaurants or taking a culinary class. I took a cooking class taught by two of the resort's chefs. Over the course of an hour, I learned how to prepare beet and heirloom tomato salad with orange essence and red snapper news of the day - which is a fresh fillet of red snapper wrapped in your favorite newspaper and baked. The best part was that after we learned how to cook the food, we got to eat it. The one-hour classes are USD $110 per person (plus tax and service) and are held in the open-air demonstration kitchen located in the fragrant herb garden - where many of the vegetables and herbs used in the cooking class were grown.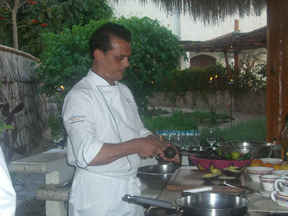 The night ended with live guitar music and fresh churos dipped in caramel sauce. Pleasantly full, I arrived back at Marquis Los Cabos, opened the patio doors overlooking the Sea of Cortez and was lulled to sleep by the sound of the crashing waves. I find it amazing that all these incredible cultural delights and world-class resorts are a mere 2-hour flight from LAX. But you know, once the swine flu is forgotten and the bad press about Mexico's border towns disappears, the prices and the tourists are all going to increase in Los Cabos. So, if you have an inkling for some first-class treatment on a quiet fishing coast, perhaps this is the time to steal away to Los Cabos and forget about the headlines for a few days.
La panga Antigua restaurant
Zaragoza #20 Col. Centro
San Jose Del Cabo
www.lapanga.com