Mexican authorities discovered the charred remains of Salvador Adame's body this week, more than a month after a group of armed assailants reportedly abducted the veteran TV reporter in the crime-plagued state of Michoacán.
Targeting And Silencing Journalists
Months earlier, Miroslava Breach Velducea, a crime reporter for national newspaper La Jornada, was killed outside her home in the northern state of Chihuaha. An unknown gunman shot her eight times in front of one of her children.
Breach Velducea's death, "in a calculated act of extreme violence, has left the best journalism of Chihuahua severely injured, showing the seriousness of the failure of the state that has bled with the impunity of corrupt leaders and criminals for years," La Jornada wrote in her obituary. "It's not the death of one more journalist ― it's the death of our society, which bit by bit has become accustomed to the assassination of its best people, silencing them in all sorts of ways."
The attacker reportedly left a note at the scene of Breach Velducea's killing, that read: "For being a snitch."
CPJ data reveals that the majority of slain reporters in Mexico in recent decades had focused their news coverage on issues of crime and corruption ― most of whom are believed to have been killed in acts of retaliatory repression by criminals seeking to silence their critics.
And in many ways, they've succeeded.
"Fear and self-censorship by journalists remains very, very strong," Emmanuel Colombié, Latin America director for Reporters Without Borders (or Reporters sans frontières), told HuffPost. Some reporters have fled Mexico and others have quit the industry as a result of targeted threats and violence against members of the Mexican press, he noted.
In the border state of Tamaulipas, for example, "there are very few journalists remaining," Colombié said. "Any kind of news has to be based on the official statements and press releases from the government."
On its annual World Press Freedom index, RSF ranks Mexico 147th out of 180 countries, due to its "pervasive corruption accounting for impunity."
Corruption And Impunity
The kidnappings and assassinations of journalists in Mexico often go unpunished due a thriving cycle of corruption and impunity, according to CPJ.
"Endemic impunity allows criminal gangs, corrupt officials and cartels to silence their critics," the organization explained in a special report released in May.
High-level corruption and organized crime including raging cartel violence have long tarnished Mexico's ongoing drug war. But these issues, while rampant and newsworthy, have become particularly dangerous for journalists to report on.
"At the local level in certain states, the cartels can have direct influence on the political institutions," Colombié explained. "They can directly give orders to the local authorities. In some states, powerful governors use their connections with local organizations to punish journalists investigating any kind of topic that can negatively impact them. It's a very complex situation."
State governors are among Mexico's least reputable public authorities, according to a 2017 report by the International Crisis Group. At least 11 governors have been investigated since 2010 for corruption, including fraud, money laundering, nepotism and links to drug cartels.
"Obviously, if those responsible for these crimes against journalists aren't caught and brought to justice, this will only continue," Colombié said. "If we don't fight impunity, we won't solve the problem, but there's a lack of political will at the highest level to do so."
Mexican journalist Adela Navarro Bello summarized the haunting plight of her colleagues in a sobering CPJ feature.
"Being a journalist in Mexico means learning to live in the shadow of impunity: the impunity you investigate and report on, and the impunity experienced firsthand," she wrote. "Those who investigate corruption and impunity risk losing their sense of comfort or, worse, their lives. And after their murders, an incomplete file is the most likely end to an investigation into their deaths."
Insufficient Response From Mexican Government
After the gruesome, public killing of award-winning drug cartel reporter Javier Valdes sparked international outrage in May, Mexican President Enrique Peña Nieto vowed for the first time to dedicate "the necessary resources to provide journalists and human rights defenders with the protection they need."
"Violence against journalists and human rights defenders has opened a deep wound in our society," he added. "What people expect is results, and a fight against impunity."
Press freedom advocacy organizations lauded his remarks, but they have observed little real change to date and fear they could be "dutiful statements" ahead of Mexico's 2018 presidential election.
"We welcome this statement by the president, but the important thing now is to do the follow-up," said Colombié. "We need to see concrete action and reform to protect journalists."
Mexico also created a special prosecutor office to investigate crimes against freedom of expression more than a decade ago, but the institution has been largely ineffective in addressing the crisis.
It opened 123 case files between February 2016 and February 2017 including 10 homicides, but it has secured only three convictions.
The agency's ability to conduct investigations independent of state authority influence is more effective on paper than in practice, according to CPJ, and many journalists are also fearful and hesitant to report crimes against them.
"It's a tragic reality," Colombié said. "Journalists are scared, and they don't trust the authorities to protect them, so they just stop working as journalists and they keep silent."
Related
Before You Go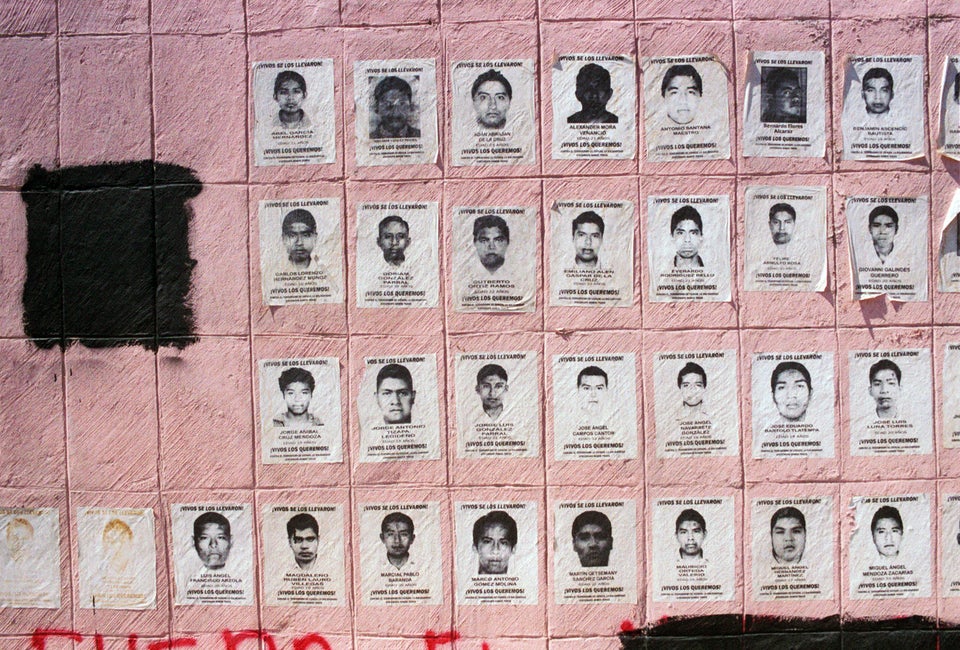 Mexico's Missing 43
Popular in the Community