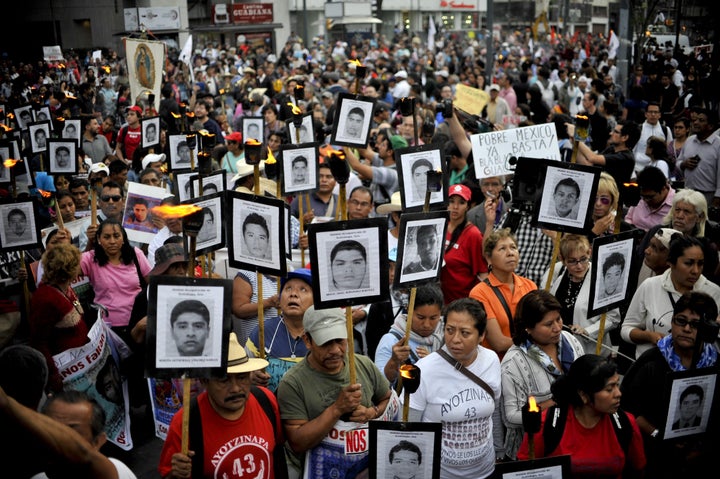 As evidence mounts that the Mexican government has mishandled the investigation into its most prominent human rights case, over 100 people remain in prison, waiting to see how the story plays out.
Journalists, forensic scientists and independent observers have refuted many of the key points that Mexican President Enrique Peña Nieto's administration has advanced to explain what happened to a group of 43 students who disappeared after police attacked them in Iguala, Mexico, on the night of Sept. 26, 2014.
On Sunday, a panel of experts fielded by the Inter-American Commission on Human Rights published a report that further supported what has become increasingly clear over the last 18 months: Instead of relying on physical evidence, the Mexican government appears to have largely based its case on testimony obtained by torture.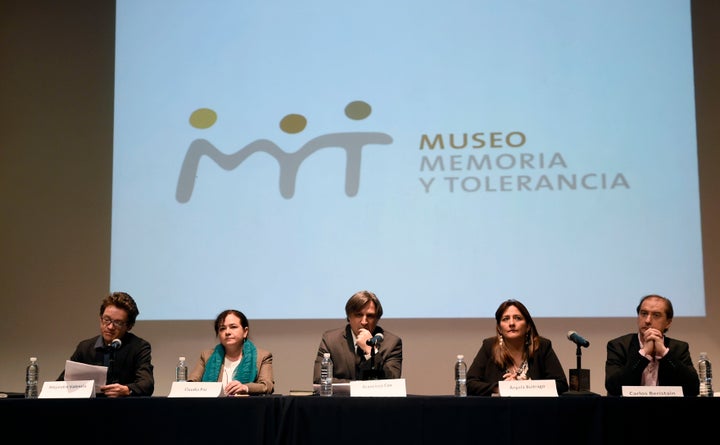 Torture Allegations Undermine The Investigation
According to the IACHR panel's report, as many as 80 percent of those jailed in the Iguala case showed signs of injury or harm in their medical evaluations. In 17 cases studied more closely, the Mexican government's own medical records showed that the prisoners' injuries increased after authorities took custody of them.
Based on court filings and letters to the Peña Nieto administration from U.N. officials, Hernández reported that in one particularly brutal case, a suspect was allegedly raped with a metal object while authorities suffocated him with a plastic bag and applied electric shocks to his testicles. In a separate case, authorities allegedly threatened to rape and kill a suspect's wife and two daughters.
Hernández, who has also reviewed the medical evaluations in the case, said she believed the vast majority of the suspects had been tortured, noting that they routinely showed burn marks from electric shocks in the same areas of the body.
"These burn marks show up on almost all of them," Hernández told WorldPost. "It's systematic."
It's not clear is how these revelations will affect the prosecutions of the 123 people imprisoned in connection with the case.
Officials with the Peña Nieto administration have often cited the arrests of more than 100 suspects as evidence of their commitment to solving the case. But given the torture allegations, it's possible both that guilty people might walk free or that innocent people were abused.
In Mexico, testimony given under torture is inadmissible in court.
In any event, the lack of reliable evidence calls into question the version of events offered by Mexico's former attorney general, Jesús Murillo Karam.
Hernández pointed to the case of Honorio Antunez, a municipal police officer upon whose testimony the Mexican government's version of events is partly based. She called Antunez "one of the most tortured" people in the investigation, but also noted that bullets from his gun were found at the scene of the September 2014 attacks -- a rare bit of physical evidence in a case that has mostly relied on witness statements.
"It's a complicated question," Hernández said. "It's the government's job to demonstrate [that someone is] guilty. If they can't do that, we as a society can't judge the person. ... That confession is going to get thrown out of court because of the torture. And it's full of lies, we now know."
"So what does the judge do?" Hernández went on. "He'll have to see if he can convict [Antunez] of something over those bullets. But there's not even evidence that his bullets killed anyone."
"Given the torture allegations, it's possible that guilty people might walk free or that innocent people were abused."
The question of whether some suspects should be freed was beyond the scope of the IACHR panel's report, said Francisco Cox, a Chilean lawyer who is one of the report's authors. "That's a question for the Mexican state," Cox told WorldPost.
Yet the report contains several recommendations to improve the legal process for criminal investigations in Mexico, including limiting reliance on testimony and confessions, improving standards for gathering physical evidence, focusing on the quality of the investigation rather than the number of arrests, and making those who gather physical evidence independent from the attorney general's office.
"Using confessions as the only evidence, or tacking it on to circumstantial evidence, facilitates the use of torture or other cruel, inhumane or degrading treatment," the report says. "For that reasons, in its two reports, the [panel] made efforts to arrive at its conclusions using objective evidence."
Alejandro Hope, a former intelligence official who now works as the security editor for ElDailyPost.com, said the Peña Nieto administration's poor handling of the Iguala case highlights longstanding problems with Mexico's legal system, which relies on confessions rather than physical evidence.
"This was an iconic case," Hope told WorldPost. "You have a lot of political pressure, both domestic and international, to do an impeccable job investigating. … If they did such a poor job on this case, think of how they perform on other, less visible cases. This is a sign of a systemic problem."
The Mexican government has yet to announce any convictions or acquittals in the case. But the prosecution has already faced setbacks. A judge granted an appeal to 22 of the local policemen accused of homicide in the case toward the end of last year, citing lack of evidence or explanation of motive.
Making the justice system even more opaque is the fact that briefs are traditionally submitted to a judge behind closed doors, rather than argued publicly in a courtroom.
"If they did such a poor job on this case, think of how they perform on other, less visible cases. This is a sign of a systemic problem."
Mexico passed a sweeping but unevenly implemented reform in 2008 aimed at adopting a so-called "adversarial model" of litigation that's more in line with the U.S. system. The deadline for the transition is July 18 this year.
But as late as November 2015, only eight states had implemented the changes, and only two trials were carried out under the oral system -- which Mexican daily Reforma described as "like those in the movies." Cases that began before the implementation of reforms may be grandfathered into the old system, as well as cases involving organized crime.
As a result, the Mexican public knows little about the litigation of the 123 people locked up in prison in the Iguala case. With the case proceeding behind closed doors, observers must rely mostly on updates from Mexican officials, despite the fact that authorities have been accused of torturing suspects and obstructing the IACHR panel's attempts to clarify what happened on the night of Sept. 26, 2014.
Eber Omar Betanzos, the undersecretary for human rights at the Mexican attorney general's office, said in a press statement that authorities are investigating torture allegations. But given how justice in the Iguala case has been flouted so far, it's unclear if those responsible will ever be punished.
"It's important to release people that have been tortured if there's no real evidence against them," said Maureen Meyer, who researches Mexico at the Washington Office on Latin America. "But it's also important to investigate the people responsible for the torture itself. It's also a criminal act."
Related
Before You Go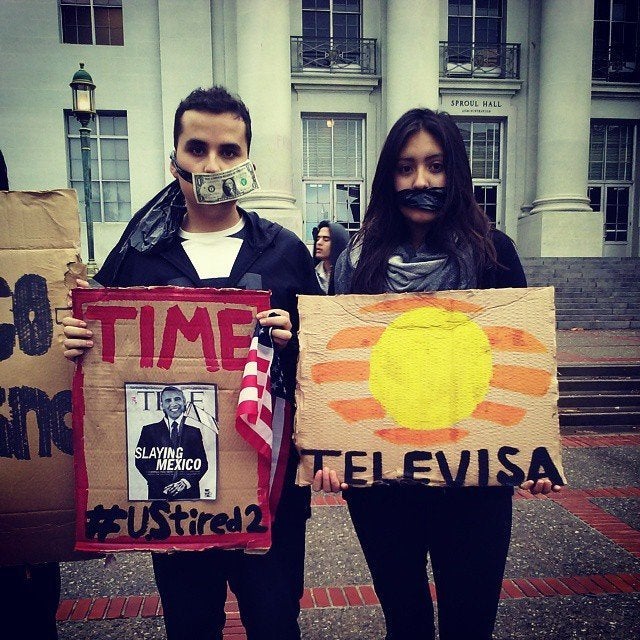 Protests For The Missing Mexican Students
Popular in the Community