(Reuters) - Mexico could legalize marijuana within the next five years, stripping brutal drug cartels of a major source of income, former President Vicente Fox said on Friday.
Fox, who battled the powerful cartels while president between 2000 and 2006, has since become a staunch advocate of reforming Mexico's drug laws, arguing that prohibition has helped create the criminal market that sustains the gangs.
Under his successor, Felipe Calderon, Mexico launched a military offensive to crush the cartels, but the violence spiraled instead, and more than 70,000 people have been killed in drug-related bloodletting since the start of 2007.
Legalization was the best way of ending the "butchery" of the drug gangs, Fox said as he hosted a conference in support of the measure in his home state of Guanajuato in central Mexico.
President Enrique Pena Nieto, who took office in December, is opposed to legalization, but he has said that the decision by the U.S. states of Washington and Colorado to legalize recreational marijuana use has given him a more open mind.
Asked by Reuters whether Mexico could legalize marijuana by the time Pena Nieto's term ends in 2018, Fox said:
"I think it's going to happen much sooner. Once California gets into this, Mexico is going to be obligated to speed up its decision process."
Previous bills to legalize marijuana in Mexico have failed to move forward and a majority of Mexicans oppose such a move.
California, which borders Mexico, rejected a 2010 measure to legalize cannabis, though medical marijuana is legal.
Plans are still underway to legalize recreational use of marijuana in California, and Tom Angell, a spokesman for Marijuana Majority, a U.S.-based group in favor of cannabis reform, said the state was very likely to vote again by 2016.
Fox's view reflects a wider trend in Latin America where a number of former and current leaders, including Guatemalan President Otto Perez, are backing alternative approaches to U.S.-backed strategies of eradication and interdiction.
The 71-year-old Fox, whose election in 2000 for the conservative National Action Party (PAN) ended seven decades of one-party rule in Mexico, worked closely with the United States during his time in office to combat Mexican drug gangs.
But after leaving office, he became a fierce critic of the strategy pursued by his party colleague Calderon.
That angered many in the PAN, and Fox sparked more uproar during last year's presidential election campaign by encouraging Mexicans to support Pena Nieto of the Institutional Revolutionary Party, which ruled Mexico between 1929 and 2000.
Fox has been campaigning for marijuana legalization at a series of events this year in the United States and Mexico.
On Friday he was joined by former Microsoft executive James Shively, who plans to create the first U.S. national marijuana brand, as well as a wide range of activists and academics that included former Mexican health minister Julio Frenk.
(Reporting by Gabriel Stargardter; Editing by Dave Graham and; Eric Beech)
Before You Go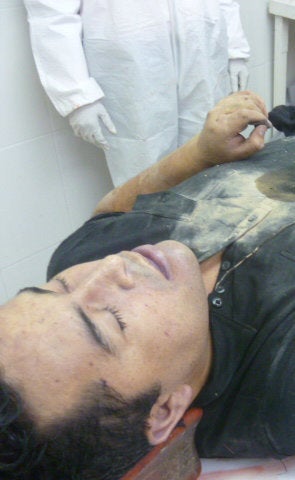 Worst Atrocities In Mexico's Drug War
Popular in the Community