MEXICO CITY, Feb 18 (Reuters) - Left-wing Mexican senators on Tuesday presented an initiative to legalize medical marijuana, saying a new approach was needed to speed up drug liberalization and help end a cycle of cartel violence that has killed tens of thousands.
Mexico has been shaken by a wave of gang-related violence since former President Felipe Calderon launched a military crackdown on drug cartels seven years ago, and there is growing pressure both domestically and regionally to explore new ways of tackling the problem.
"Seventy thousand dead, 26,000 disappeared and an incalculable number of internally displaced are more than sufficient reason to look for an alternative model," congressman Fernando Belaunzaran told reporters.
The proposal is one of several efforts by members of the leftist Party of the Democratic Revolution (PRD) to decriminalize cannabis.
Officials have said that President Enrique Peña Nieto is watching developments in marijuana legislation around the world, but he has so far opposed any move to legalize any illegal drugs.
The PRD is the third largest party in Mexico's Congress, and neither Pena Nieto's party nor the country's conservative opposition have supported marijuana legalization efforts.
The Senate bill will provide a legal framework for the production, transportation and distribution of medical marijuana, PRD Senator Mario Delgado said. The PRD said it would present the same initiative to the lower house next week.
In 2009, Mexico made it legal to carry up to 5 grams (0.18 ounce) of marijuana, 500 milligrams (0.018 ounce) of cocaine and tiny amounts of heroin and methamphetamine.
The PRD bill would increase the amount of marijuana that is legal to carry sixfold to 30 grams (1.06 ounces).
The move by Mexican lawmakers follows recent marijuana legalization initiatives in Uruguay and the U.S. states of Colorado and Washington.
Belaunzaran noted the United States, "the champion of prohibition," is changing its approach to marijuana, citing the Obama administration's decision not to intervene federally in state marijuana measures. Medical marijuana is now legal in 20 U.S. states and Washington, D.C.
Cannabis decriminalization is also being considered by Mexico City's city assembly, which has been controlled by the PRD since 1997. Last week, city lawmakers announced details of a proposal to establish legal marijuana sales in the capital, although the bill will not be formally presented until March.
The Mexico City decriminalization effort could be subject to a federal crackdown without the Senate reform.
Legalization efforts have been boosted by several high-profile supporters, including former Presidents Vicente Fox and Ernesto Zedilllo. (Reporting by Lizbeth Diaz, writing by Julia Symmes Cobb; editing by G Crosse)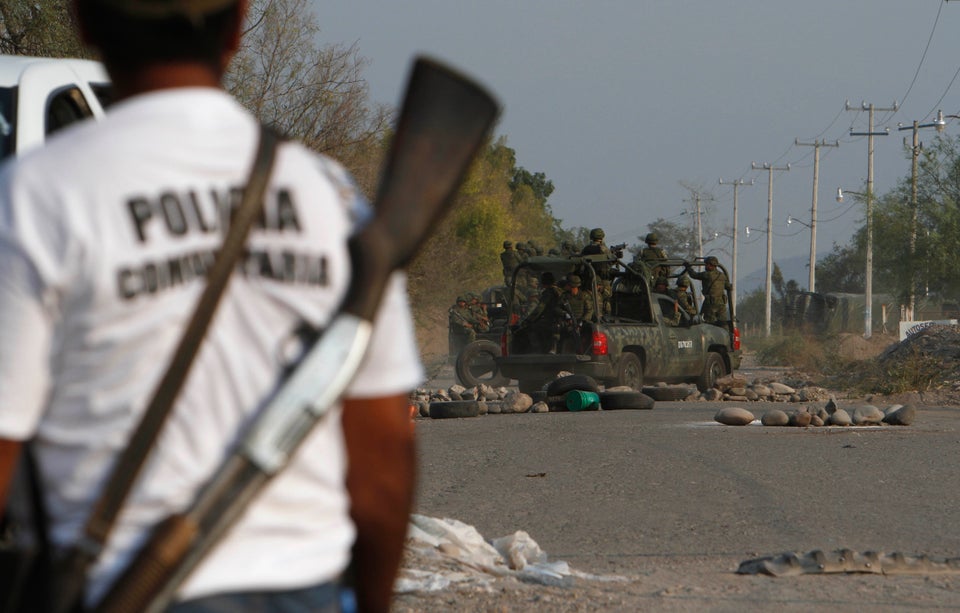 Mexico Troops Rescue Town From Cartel
Popular in the Community