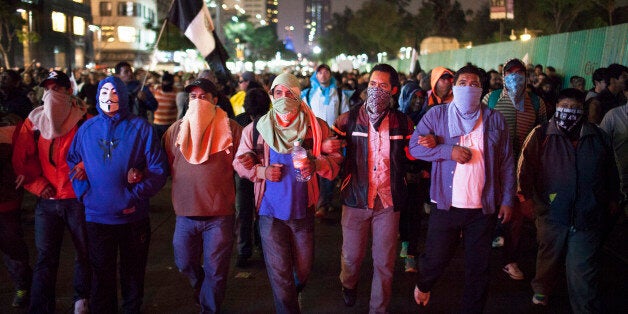 MEXICO CITY -- Thursday, on the 104th anniversary of the 1910 Mexican Revolution in which millions died, the traditional military parade in Mexico City was hastily cancelled to make way for tens of thousands of students, teachers, families, social activists and people from all walks of society who converged in three orderly throngs on the Zocalo, the city's imposing central square and the political heart of the country, to demand the reappearance of 43 missing students from a rural teachers' college in Ayotzinapa, in Guerrero state, who were abducted in the nearby city of Iguala by police and drug gang members the night of Sept. 26-27. Family members of the missing students led the marches. Many marchers carried placards with photographs of the students, and as we made our way down the spacious Paseo de la Reforma, the chant of "1, 2, 3, up to 43, justice!" resounded over and over again. A man dressed as Father Miguel Hidalgo, a leader of the 1810 Mexican War of Independence, waved a pennant emblazoned with the Virgin of Guadalupe, shouting "Death to bad government!"
Among the cries I heard and banners I saw were:
"Tell my mother I don't know when I'll be back, I went to find my country", "Who killed the students? It was the State!", "Revolution, Revolution!" "You have died, comrade, your death will be avenged!", "Peña, resign!" (addressed to President Enrique Peña Nieto), "Magic does exist, the students vanished", "I think, therefore I am disappeared", "Sorry to bother you, but they're killing us", "Criminals, you haven't kidnapped a mere 43 students, but an entire nation", "I'm tired of being, kidnapped, extorted, assassinated", "This struggle is against the narco-state. If you take drugs you're not on our side", "Death to the PRI!' (the ruling Institutional Revolutionary Party), "It's time to howl, coyotes of Mexico" (the police turned the students over to the Guerreros Unidos drug gang at a place known as Coyote Hill), "I don't want to be number 44", "Peña, understand, the people can't stand you", "Why does the government fear students more than narcos?", "Mexico is crying for a change."
I was impressed by the degree of anger, by the overwhelming dissatisfaction with the way things are now, by the unanimity of the clamor for change. I felt that a breaking point will soon be reached.
A 30-foot effigy of Peña Nieto, its chest crossed by the presidential sash, would later be burned in the Zocalo. The sea of voices cried out for justice. Two violent incidents in Mexico City featuring small groups of mainly masked and hooded agitators, identified by television commentators as anarcos ("anarchists"), were given prominence on TV news programs throughout the day. Early in the afternoon approximately 100 young people, some with faces partly covered, were heading for Mexico City's airport when they clashed with hundreds of municipal and riot police intent on keeping access to the airport open. After an initial skirmish, two patrol cars were set on fire, several journalists were injured, 31 protestors were arrested and the main group was encapsulated by the police. Twenty of the detainees are students. Late in the night, as the mass of peaceful demonstrators drained out of the Zocalo, dozens of "anarchos" (as the TV news would have it) emerged from the midst and ran towards the National Palace on the east flank of the square. One of the building's monumental wooden doors had been rammed repeatedly and set afire during the previous mass demonstration on Nov. 9, as TV cameras filmed the assault, but police intervention was curiously late in coming. That night for nearly an hour attackers throwing sticks, stones, and Molotov cocktails surged back and forth with serried ranks of riot police who sprayed them with fire extinguishers. According to the Mexican news magazine Proceso, demonstrators who had remained in the Zocalo were rushed by the riot police and dozens were injured.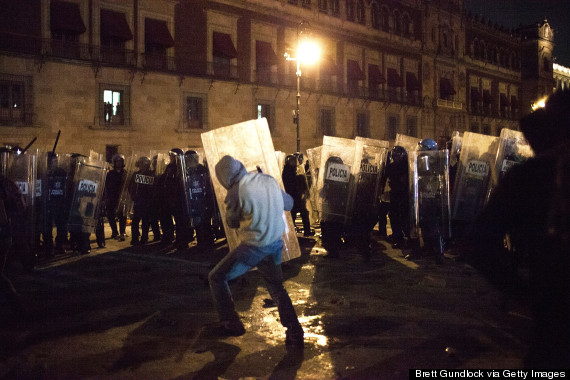 In a letter published in Saturday's La Jornada, a university teacher who was wounded describes violent police aggression against peaceful participants who were trying to leave the square and who were beaten and sprayed with pepper spray, many falling on top of each other or fainting. Entire families who sought shelter huddling against the metal shutters protecting stores were attacked by riot police. Eleven people arrested in the Zocalo have been charged with acts of terrorism, attempted homicide and organized crime. The detainees include students, a swimming teacher, and a professional photographer who was arrested while leaving the Zocalo with a few friends, according to his son. Elsewhere in Mexico many more demonstrations took place. Again, TV reporting gave precedence to violence, as in San Cristobal de las Casas, in Chiapas, where a battle ensued between ransackers and storekeepers after stores were plundered and a bank trashed while the police stood idly by.
Citizens' groups and opposition party senators are now accusing the government of infiltrating agitators to justify repression and curtail freedom of speech and the right to protest. On Nov. 7, Mexico's Attorney General Jesus Murillo Karam announced in a press conference that the 43 students had most probably been done away with in Cocula, not far from Iguala, their bodies incinerated for 14 hours at 2,900 degrees Fahrenheit in the municipal garbage dump on a pyre of tires, wood, and plastic refuse doused with gasoline and diesel fuel, and their charred, pulverized remains stuffed into garbage bags and thrown into the San Juan River. In a video, three alleged participants, their faces pixelated, described their labors in gruesome detail.
The attorney general accused Jose Luis Abarca, the former mayor of Iguala, and his wife, Maria de los Angeles Pineda, of having given the order for the students, who were interfering with a political event staged by Pineda, to be "dealt with." Murillo Karam regretted that only two bones were in good enough condition for a leading Austrian forensics laboratory at Innsbruck Medical University, that has previously identified the remains of the Romanovs and victims of the 2004 Indian Ocean tsunami, to extract DNA samples for possible matching to the students or their families. According to the Institute of Legal Medicine's director, deciphering the DNA would take at least 10 weeks, and then further work would be done in Spain before the results could be made known. Earlier that day, the news and two bagfuls of ashes and bits had been presented to the families. Murillo Karam called an abrupt end to the press conference, saying "I'm all tired out," which sparked a storm on Twitter. No one is satisfied with the explanations so far. People are still waiting for the forcibly retired governor of Guerrero to be questioned. They want to know what the so-called "imperial couple" of Iguala, who were firmly in bed with drug cartels, may have confessed since their Nov. 4 arrest in a lower-class neighborhood in Mexico City. They wonder who gouged out the eyes and stripped the flesh from the face of Julio Cesar Mondragon, an impoverished 22-year-old student whose daughter was born two weeks earlier, while he was still alive, who murdered a taxi driver and his female passenger when buses filled with students were fired on. But the $64,000 question is still why were the students kidnapped and, presumably, killed? Some family members cherish the hope that they are still alive and doing forced labor in a mine.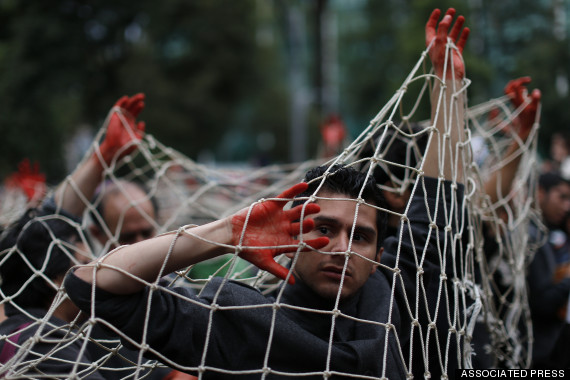 The past 56 days have seen marches, sit-ins, teachers' and students' strikes, looting in shopping centers and supermarkets, ransacking and torching of public buildings, seizing of toll booths, blockading of highways and mass fasting and prayer. During last weekend's three-day holiday, 14,000 hotel reservations were cancelled in Acapulco due to the resort city's recent unrest. Adding fuel to the flames, on Nov. 9 leading investigative journalist Carmen Aristegui published a report revealing that a sprawling $7 million dollar mansion in an upscale Mexico City neighborhood thought to be owned by Peña Nieto was in reality the property of an ad hoc real estate company belonging to a construction firm, one of whose subsidiaries was part of a Chinese-led consortium to build a high-speed rail line between Mexico City and the city of Queretaro. The contract was cancelled suddenly a few days before the news emerged, on the eve of a presidential visit to China. Millions have watched Angelica Rivera, Peña's soap opera star wife, on a prime time news program and on YouTube indignantly explaining that it is she who owns the house, which she has been paying for in installments, but that she will now sell her interest in it. In contrast, nearly 50 percent of Mexico's population lives under the poverty line. The government is betting that people will forget -- give up or give in -- but Mexicans are tired of monstrous corruption and impunity. They're not falling for the stale old arguments of "a plot to destabilize the country" and "threats to the national project." I keep thinking of the renegade newscaster in the 1976 movie Network exhorting viewers to yell out of their windows "I'm as mad as hell, and I'm not going to take this anymore!" What's next? The Inter-University Assembly has called for a nationwide strike and a symbolic taking of Mexico City on Dec. 1, to commemorate the 100th anniversary of Francisco Villa and Emiliano Zapata's entry into Mexico City with their armies. Dec. 1 is also the second anniversary of Peña Nieto's swearing in as president. The future would seem to hinge on two bits of bone. If a match to the DNA of one or two students is discovered, will this be sufficient proof that all 43 perished on the pyre? Or not? And then what?
Correction: A previous version of this piece incorrectly stated that protesters were sprayed with mustard gas. It was in fact pepper spray.
Related
Popular in the Community