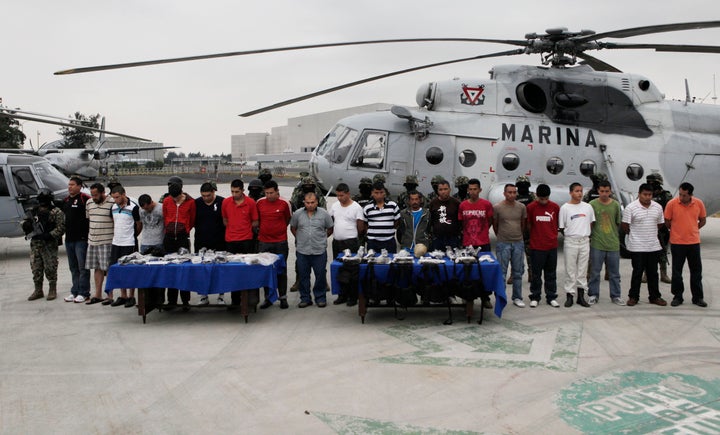 MEXICO CITY — A relatively new drug gang is responsible for killing at least 67 people whose bodies were found over the course of a couple of weeks in the Gulf coast state of Veracruz, Mexican authorities said Friday.
Marines arrested eight members of the Jalisco New Generation drug gang Thursday, navy spokesman Jose Luis Vergara told a news conference. The suspects later led authorities to 32 bodies left in three houses in Veracruz, a port city that carries the state's name.
Vergara said the gang is also responsible for dumping 35 bound, tortured bodies on a busy boulevard in a suburb of Veracruz on Sept. 20.
The navy appeared eager to dampen speculation that the New Generation gang, believed to be allied with Mexico's Sinaloa drug cartel, is some sort of paramilitary group aimed at eliminating the hyper-violent Zetas cartel.
New Generation members have dubbed themselves "Mata Zetas," or "Zetas Killers," and many of their victims appear to be from that cartel.
Authorities would have ample reason to want to eliminate the Zetas, who have been blamed for the kidnap-murders of three marines so far this year in Veracruz.
Vergara insisted no paramilitaries were involved.
"We stress that this is just another organized crime gang that opposes the Zetas, with whom they are fighting for control of illicit income and criminal activities in Veracruz," he said.
Marines also arrested 12 alleged Zetas on Thursday, including Aquiles Amaranto Cruz Hurtano, allegedly the group's new operations leader in Veracruz, Vergara said.
He said the suspects "presumably were assigned to kill relatives of their enemies" and carry out other criminal activities.
All 20 of the detainees were paraded before the news media Friday before being turned over to federal prosecutors pending charges. While some appeared hardened and weathered, a few appeared to be in their teens.
Sinaloa and the Zetas have emerged as Mexico's dominant drug cartels and appear locked in a nationwide battle for territory. The New Generation gang emerged in the western state of Jalisco in 2010, following the death of Sinaloa capo Ignacio "Nacho" Coronel that same year.
In recent months, the "Mata Zetas" have released videos in which armed, masked men claim to be fighting to free Veracruz from the Zetas' reign of killings, kidnappings and extortion – even though the Sinaloa cartel is implicated in many of the same activities.
Despite the propaganda videos – which had led some local news media to begin calling the gang "paramilitaries" – Vergara stressed that "no criminal propaganda will force the government to step back from its efforts against criminals."
The arrests capped a flurry of rumors on social networks Thursday that multiple bodies had been found in Veracruz. The state government first said it had no information on the killings, then later confirmed them.
The navy said that when marines reached the first of the three safe house, where 20 bodies were found, state police officers were already there. Marines found 11 bodies at the second house and one at a third.
REAL LIFE. REAL NEWS. REAL VOICES.
Help us tell more of the stories that matter from voices that too often remain unheard.