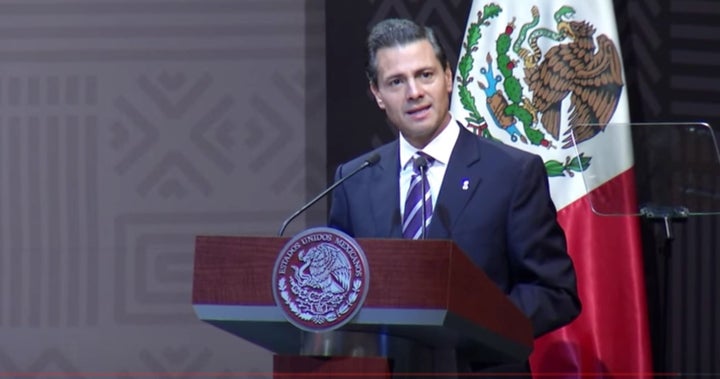 Instead, the president delivered a glowing account of Mexico's efforts on open government that went largely unchallenged -- at least onstage. After Peña Nieto's speech, activists took to the street outside the event, and hundreds of people from across Latin America met nearby to protest the Mexican government's record of corruption and human rights abuses.
The extraordinary Palacio de Bellas Artes in Mexico City has hosted many productions in its history, but it's quite possible that it's never played host to political theater on the scale of the opening plenary for the Open Government Partnership's annual summit.
Romanian Prime Minister Victor Ponta, who spoke before Peña Nieto, was indicted on corruption charges in September. He did not bring that up in his remarks, and neither did anyone else. When Francis Maude, the United Kingdom's minister of state for trade and investment, said that people are more likely to trust a government that's willing to be open about what hasn't worked, no one asked Maude how that squared with the U.K.'s record on the Freedom of Information Act.
If the idea of the Open Government Partnership is to provide a platform where members of civil society -- that is, people who are not part of any government -- can hold participating governments to account, then this week's high-profile inaugural session of its global summit fell short of embodying those principles.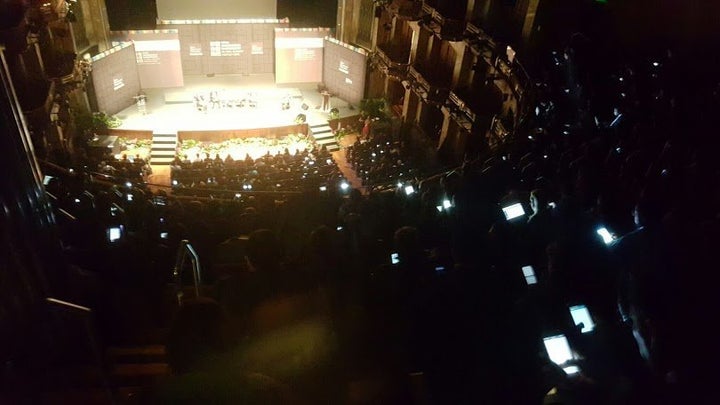 Far too many governments are conducting weak public consultations on the plans they are required to publish, focusing on digital government initiatives and open data, sometimes to the detriment of working on core democratic reforms like access to information laws or social justice efforts.
For instance, Peña Nieto on Wednesday outlined Mexico's next steps on open government, from "everyday justice" to access to court records to social programs and procurement. All involved technology, but none related to freedom of expression or the press.
Other speakers did highlight ongoing global challenges for open governance, but I saw no government official looking even a little uncomfortable onstage.
"For nearly a decade running, democracy has retreated in more places around the world than it has advanced," Samantha Power, the U.S. ambassador to the United Nations, said at the beginning of the summit.
In her remarks, Power noted that just as democratic governments are trying to learn from each others' best practices, autocratic governments are adopting the worst. She called out the government of Azerbaijan for detaining and sentencing Ilgar Mammadov, who sits on the advisory council of the National Resource Governance Institute in Azerbaijan and serves as the civil society co-chair for the Open Government Partnership in that country.
Power encouraged the audience to think more about how to focus the partnership on the most pressing shared government challenges, including the U.N.'s Sustainable Development Goals, and to focus more on cities, where the majority of the world's people live. She also stressed the importance of listening to criticism from members of civil society, who live and work outside of the government bubble.
"We have to do a better job of holding ourselves accountable," she said, "and part of this is self-reflexive. Every country should be taking an honest look at its own performance, identifying the areas where we are falling short -- and that includes the United States."
One of the civil society co-chairs of the Open Government Partnership, Alejandro Gonzalez, co-founder of Gestión Social y Cooperación, did bring up the anger that the families of thousands of missing people feel in many of the summit's countries, suggesting that those families can use the partnership as a platform for change.
The other civil society co-chair, Suneeta Kaimal, the chief operating officer of the National Resource Governance Institute, called out one-third of the countries in the Open Government Partnership for proposing new legislation that would restrict the rights of their people. Kaimal also highlighted some positive trends at the conference, where countries like Georgia are moving beyond increasing access to information to addressing deeper societal issues.
"True open government is about empowering people," she said, "so that they have voice in and agency over their lives."
Disclosure: As in 2012 and 2013, the Open Government Partnership Support Unit supported my travel to the summit as a member of civil society. While I was here, I moderated panels on civic technology and subnational governments, and on the Institutional Review Mechanism reviews for Mexico and the United States.
Popular in the Community