ZITLALTEPEC, Mexico, July 29 (Reuters) - Like nearly half of Mexicans who live in poverty, 45-year-old subsistence farmer Oliva Zuniga has little hope of a better life as she strives to meet the rising costs of tending her humble plot of land.
Struggling to make ends meet in the town of Zitlaltepec in the central state of Tlaxcala, Zuniga is one of the 45.5 percent of Mexicans who live below the poverty line. That is only down slightly from 2010 levels, government data showed on Monday.
Mexico's poverty rate fell 0.6 percent between 2010 and 2012 to 53.3 million people, the government's social development agency Coneval said. Factoring in population growth, the ranks of the poor grew by half a million people in that time.
That rise underscores the challenges President Enrique Pena Nieto faces as he tries to lift millions of people out of poverty and boost growth in Mexico, which has a huge wealth gap.
Zuniga earns less than 1,490 pesos ($117) a month. About three years ago, pesticide costs began to rise and her eldest children left home to study, hampering corn production on her tiny backyard farm.
Without enough food to last after the harvest, and with few working opportunities in Zitlaltepec, her husband was forced to try his luck hawking tamales - a local specialty - in Mexico City, a two-hour drive away.
"What we had here just wasn't enough anymore," she said.
He returns once every 15 days, a common way of life in Zitlaltepec, which local officials said is essentially a "bedroom community" due to a severe lack of jobs.
In Zitlaltepec, 86 percent of residents are poor and 30 percent live in extreme poverty, the highest rate in the state, Mexico's fifth poorest. Almost all lack unemployment and retirement benefits.
Coneval defines poverty as living on no more than 2,329 pesos a month ($183) in cities, and 1,490 pesos a month in rural areas. The benchmark for extreme poverty was 1,125 pesos in cities and 800 pesos a month in the countryside. Coneval also takes other factors like healthcare and education into account.

While the number of people living in extreme poverty fell to 11.5 million by the end of 2012, or 9.8 percent of the population, many more Mexicans are now worse off than they were when former President Felipe Calderon entered the last two years of a six-year term in which poverty swelled by nearly 3 percent.
Pena Nieto, who has set a target of 6 percent annual growth by 2018, has vowed to bring jobs to Mexico's poorest areas.
"The only feasible, permanent answer to reducing poverty in Mexico is through economic growth," Mexican Finance Minister Luis Videgaray said in a press conference after the Coneval data was published.
Analysts say traditionally weak economic growth has kept the poverty rate at stubbornly high levels, and will likely continue to do so, undermining Pena Nieto's efforts to make Mexico one of the top emerging economies.
Growing at nearly double the rate of Mexico over the last decade, Brazil brought 36 million people out of extreme poverty since 2003, forging a vast middle class and transforming the country into Latin America's top economic powerhouse.
However, Brazil is now grappling with high inflation and sluggish growth.
The annual growth rate has hovered between 2 percent and 3 percent for the past two decades, and will have to grow at a faster clip in order to lower the poverty rate.
That would help unemployed Zitlaltepec residents, like Martin Mendez, 40, who long for a big company to provide jobs in the town.
Mendez, his wife, and their four children live on small quantities of corn, pumpkin, and beans, but do not produce enough to sell. Flies buzz around a pile of trash outside their doorstep, the uninviting entrance to a one-room house that lacks electricity, drainage and drinking water.
A local government official said the municipality was working to attract big investors. But Mendez was skeptical, saying he has heard his fair share of politician's promises.
"Once they're in their posts, they forget about us," he said.
Some, like an 82-year-old widow who gave her name as Refugio, are resigned to their lot.
"We've grown accustomed to poverty," she said. "They say that since we were born poor, we are poor now, we remain poor, and we will die poor." (Additional reporting by Reuters TV; Editing by Gabriel Stargardter, Simon Gardner and Lisa Shumaker)

Related
Before You Go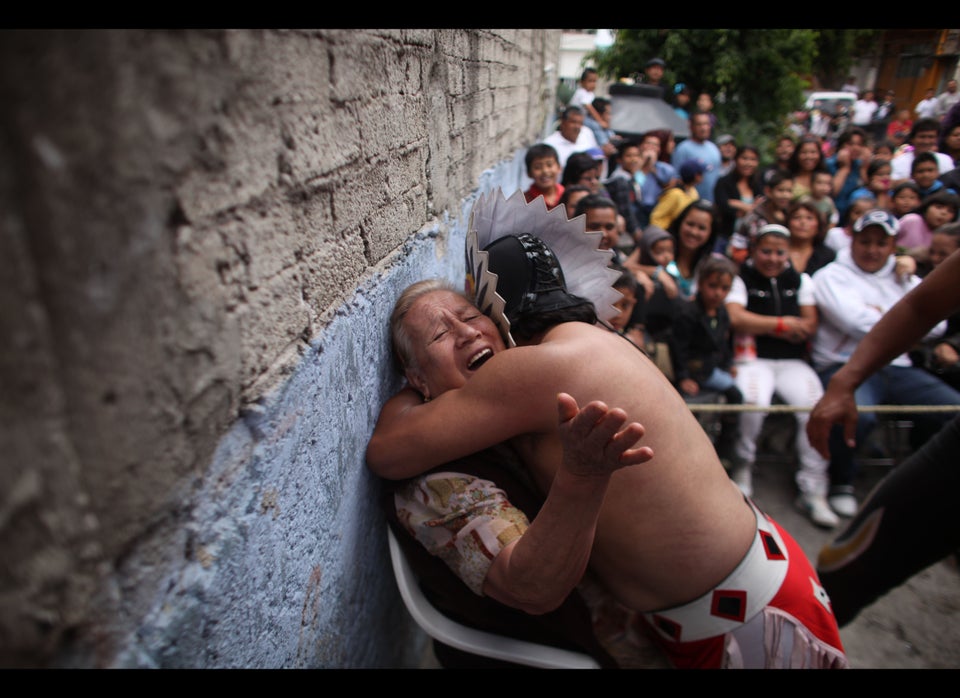 Masked Mexican Wrestlers Visit Poor Districts
Popular in the Community