 Farmers wearing bulletproof vests and toting assault rifles ride in pick-up trucks emblazoned with the word "self-defense" to protect this rural Mexican town from a drug cartel.
The government deployed thousands of troops to the western state of Michoacan this week, but in some towns like Coalcoman, population 10,000, vigilantes are wary of putting down their weapons until they feel safe again.
"We won't drop our guard until we see results," Antonio Rodriguez, a 37-year-old avocado grower and member of the community force, told AFP.
Authorities detained four members of a self-defense group in another town called Buenavista on Wednesday, angering about 200 residents, some wielding sticks, who surrounded some 20 soldiers to demand their release.
The situation was defused about five hours later, when two of the detainees were released, according to an interior ministry source. Local media reported that all four had been released.
Interior Minister Miguel Angelo Osorio Chong said earlier that the soldiers were merely having a "dialogue" with the residents to resolve the dispute, but he insisted that the authorities would disarm and detain anyone with a weapon.
"The army is there. They asked for security and protection, and they have it. There is no justification to walk around armed," he told Radio Formula.
Last week, Coalcoman residents packed the main square to show their support for the 200-strong vigilante patrol, making it the latest Michoacan town to take up arms in recent months to combat cartel extortion and violence.
AFP journalists saw civilians Wednesday carrying handguns, hunting rifles and even AR-15 semi-automatic rifles in the town, which lies in Tierra Caliente, a region known as a hotbed of cartel activity.
"We got tired of paying the quota," said Adriana, a 32-year-old woman working in a pharmacy.
The "cuota" is extortion money the Knights Templar cartel charges business owners, farmers, taxi drivers and even mayors.
"Anyone who didn't pay would be kidnapped and 'bang, bang,' they'd kill him," said Adriana, squeezing her finger as if pulling a trigger.
In recent months, the self-defense groups detained people they accused of working with the cartels and clashed with drug traffickers. The gangsters responded by besieging towns and preventing food deliveries.
Michoacan was the first state to see troops when then-president Felipe Calderon deployed soldiers and marines across the nation to crack down on cartels in 2006.
But the gang violence surged throughout Mexico, leaving 70,000 deaths in its wake by the time Calderon left office in December.
The government of President Enrique Pena Nieto sent around 4,000 soldiers and marines this week to Michoacan along with 1,000 federal police to restore peace in the agricultural state.
Military surveillance planes fly over towns while soldiers man checkpoints in Tierra Caliente. But self-defense groups still staff their own road blocks in some parts of the state.
"They should first disarm organized crime, then the people," said a young man wearing body armor and a white T-shirt inscribed with the words "self-defense group" on the back.
Late Tuesday, a vigilante patrol detained an alleged thief in Coalcoman, beating him until his face was bloody and then parading him through the town square in front of residents and dozens of federal police.
The road linking Coalcoman to the village of Buenavista is littered with the charred remains of buses and other vehicles that were used by the cartel to block the delivery of food, medicine and other goods.
At the entrance of Buenavista, a sign greets drivers with the words: "Welcome to the village of Buenavista, free of quotas and Knights Templar."
A checkpoint was installed near a white altar with a red cross built by the Knights Templar on the side of the road in honor of Nazario Moreno, alias "El Chayo," a drug lord the government believes was killed in a clash in 2010.
His body was never found and the religion-inspired cartel reveres him like a saint. The words "Saint Nazario" are painted on the Buenavista altar, which is riddled with bullet marks.
Buenavista's vigilantes say the area has become safer since they took up arms.
The Knights Templar accuse the vigilantes of being backed by their enemies, the Jalisco Nueva Generacion cartel, which is linked to the Sinaloa syndicate led by Mexico's most wanted man, Joaquin "El Chapo" Guzman.
The self-defense militias deny any links to drug traffickers, but the defense minister suggested Tuesday that some were getting support from dubious groups.
Copyright (2013) AFP. All rights reserved.
Support HuffPost
The Stakes Have Never Been Higher
Related
Before You Go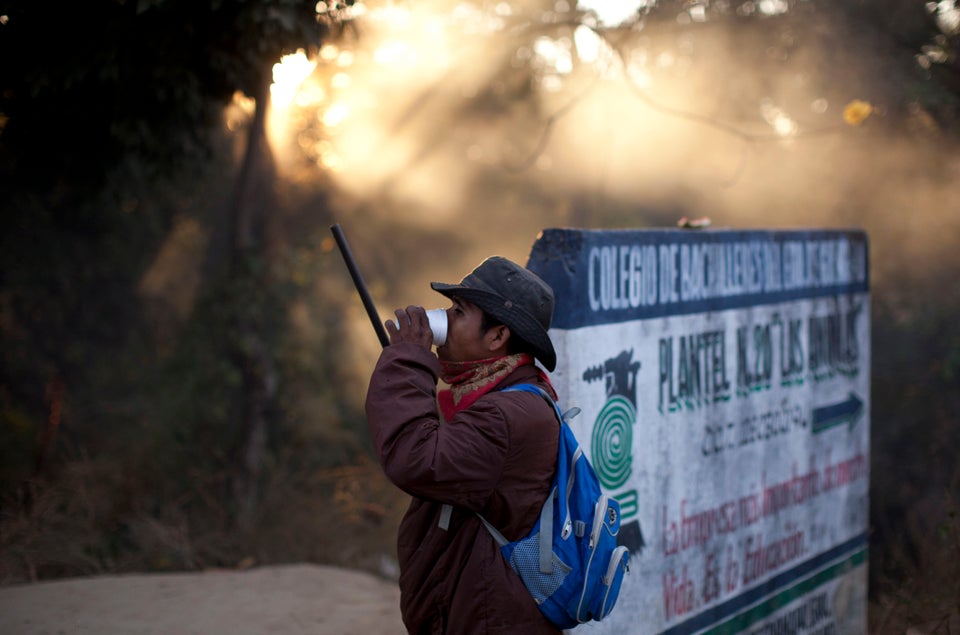 Mexico's Self-Defense Squads
Popular in the Community