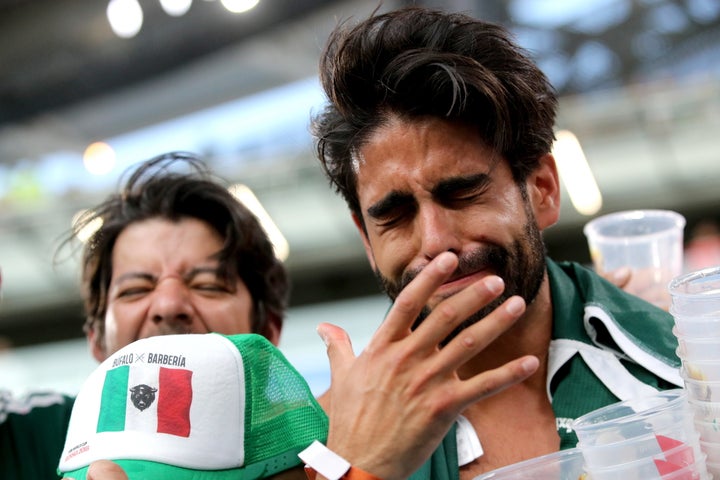 WASHINGTON — Five years ago, the Mexican national soccer team needed a dramatic late goal from the United States to secure its place in the 2014 World Cup in Brazil. On Wednesday, El Tri once again found itself requiring help from someone else after a 3-0 thrashing from Sweden in the final group stage match of the 2018 World Cup.
And once again, Mexico got it. South Korea scored twice in stoppage time to win, 2-0, over defending World Cup champion Germany, sending Mexico into the tournament's single-elimination knockout stage for the seventh consecutive time.
Mexico entered the match having won its first two group stage matches and needed only a draw to lock down its spot in the knockout rounds. The early wins, which included a defeat over Germany to open the World Cup, inspired Mexican striker Javier "Chicharito" Hernández to urge the nation's snake-bitten fans to "imagine amazing things."
Instead, the Mexico fans who gathered at Public Bar in Washington on Wednesday morning entered the match fearing Hernández and his teammates would find a way to blow it all ― no matter how celebratory the atmosphere was outside.
"You hope for the best but expect the worst," said Hector Acevedo, a Mexican-American who was among the hundred or so El Tri fans in attendance, before the match. "That's how it goes when you're Mexican."
That sort of World Cup fatalism ― encapsulated in the expression ya merito, frequently used by Mexico fans ― is not unique to El Tri, but the sense that Mexico is only "almost just" good enough permeates the side anyway, thanks to the devastating string of World Cup defeats it has suffered.
It was that sense of ya merito that Chicharito was trying to wish away with his calls for Mexico fans to believe; it was that sense of ya merito that returned immediately when Mexico took the field against Sweden and delivered its worst performance of the tournament ― exactly the sort of effort Acevedo and his fellow fans had feared.
El Tri was sloppy from the beginning. Defender Jesús Gallardo earned a deserved yellow guard just 13 seconds into the match ― the fastest in World Cup history. Goalkeeper Guillermo Ochoa conceded a free kick just a minute later after handling the ball outside of his own penalty area. Mexico dominated possession over the match's first half hour, but rarely threatened to score; the best chances went to Sweden, with Mexico's first good opportunity a shot from midfielder Carlos Vela that curled just wide.
"This is fucking tense," a green-clad El Tri fan said as the halftime whistle blew, with the match still scoreless.
It would only get worse from there.
Mexico opened the second half once again in control of the ball and the game's pace. But it was Sweden that struck first ― and second, and third. The first goal came from Swedish defender Ludwig Augustinsson, who found himself alone on the back post and pushed a shot past Ochoa. The second followed 10 minutes later, after Mexico's Héctor Moreno conceded a penalty. The third was an Edson Álvarez own goal, after a deflected shot squirted off his shin and past Ochoa in the 74th minute.
It was the disaster scenario Mexico fans had prepared themselves for but were not ready to deal with. A single German goal, against a team that had lost both of its World Cup matches and was among the tournament's lower-ranked sides, would send El Tri home.
So all eyes turned away from the projection screen and toward the smaller ones showing Germany repeatedly batter South Korea's keeper, Cho Hyun-woo. He saved a German shot in the 68th minute; a second later, German midfielder Toni Kroos blasted an open shot over the bar. Another chance in the 71st, another desperate save, this time on a dangerous cross, in the 78th. Now the minutes, which had already dragged by like hours earlier, felt like days.
In the 81st minute of Mexico's match, the bar patrons broke out in chants of "Si se puede" as Vela ― to that point, El Tri's player of the tournament ― stood over a free kick. He blasted it into the Swedish wall, and it was, in all likelihood, the last kick of their match any Mexico fan saw.
A minute later, the chants changed: "Co-RE-a," the Mexico fans screamed, urging the world's 57th-ranked team forward as two players barged out, alone, on a counter-attack against the top-ranked side. There were gasps of excitement when South Korea approached the goal; cries of desperation as every chance went awry.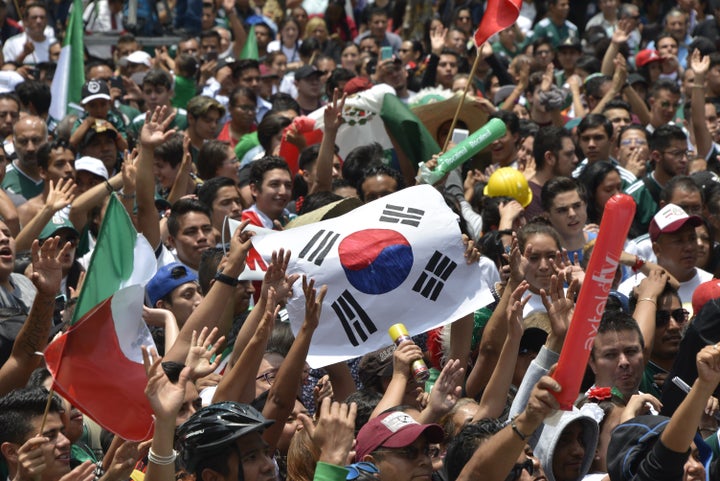 Finally, it came: a deflected shot fell to South Korea's Kim Young-gwon, who lifted the ball past a diving Manuel Neuer and into the German net. Mexico was surely through now ― except that the assistant referee had raised his offside flag, voiding the goal. The Mexico fans swore and cursed and buried their heads in their hands ... until the referee signaled that the call would go to video review. He came back a minute later, having correctly determined the Korean player was onside, and declared the goal good.
South Korea was on the brink of its biggest World Cup win since 2002, when it reached the semifinals of the tournament it hosted. Germany was minutes from becoming yet another defending champion to fail to advance past the group stage.
But it was Mexico's fans who might have enjoyed the goal most.
It was a fitting end. Mexico was bad on Wednesday, but Germany has been worse since the tournament began. The right team is going through. And besides, for all those expecting the worst this morning, Mexico rarely delivers the heartbreak so soon.
El Tri entered this World Cup hoping to break its "curse of the fifth game," praying for an end to its 32-year World Cup quarterfinal drought and its failure to ever play more than four matches at soccer's biggest spectacle. There is still time for ya merito to return, and it may yet arrive on schedule: Mexico's loss lines it up for a Round of 16 meeting with pre-tournament favorite Brazil.
"It was too tense. But we get to keep playing," Rogelio Granguillhome, a Mexico City native who lives in Washington, said as he grabbed his chest and exhaled. "We have never played that fifth game. Costa Rica has, Colombia has, even the U.S. has. We haven't."
Thanks to South Korea, the dream of snapping the World Cup's most ignominious of streaks is still alive. Mexico fans can "imagine amazing things" for a few more days. The worst hasn't arrived quite yet.
Popular in the Community