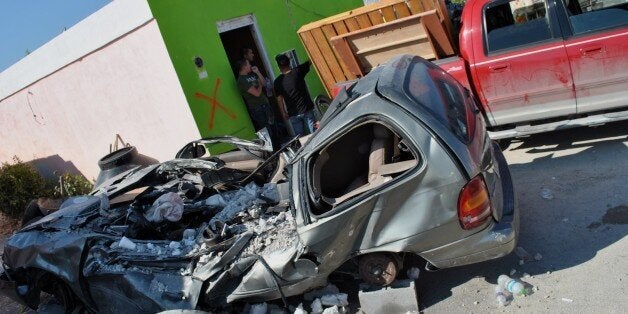 Mexican federal and state officials visited Ciudad Acuña on Monday to help coordinate a response to a tornado that barreled through the border city, leaving at least 13 people dead and 200 injured.
Peña Nieto stopped several times to speak with people affected by the tornado, promising that he would return within the week to supervise reconstruction efforts.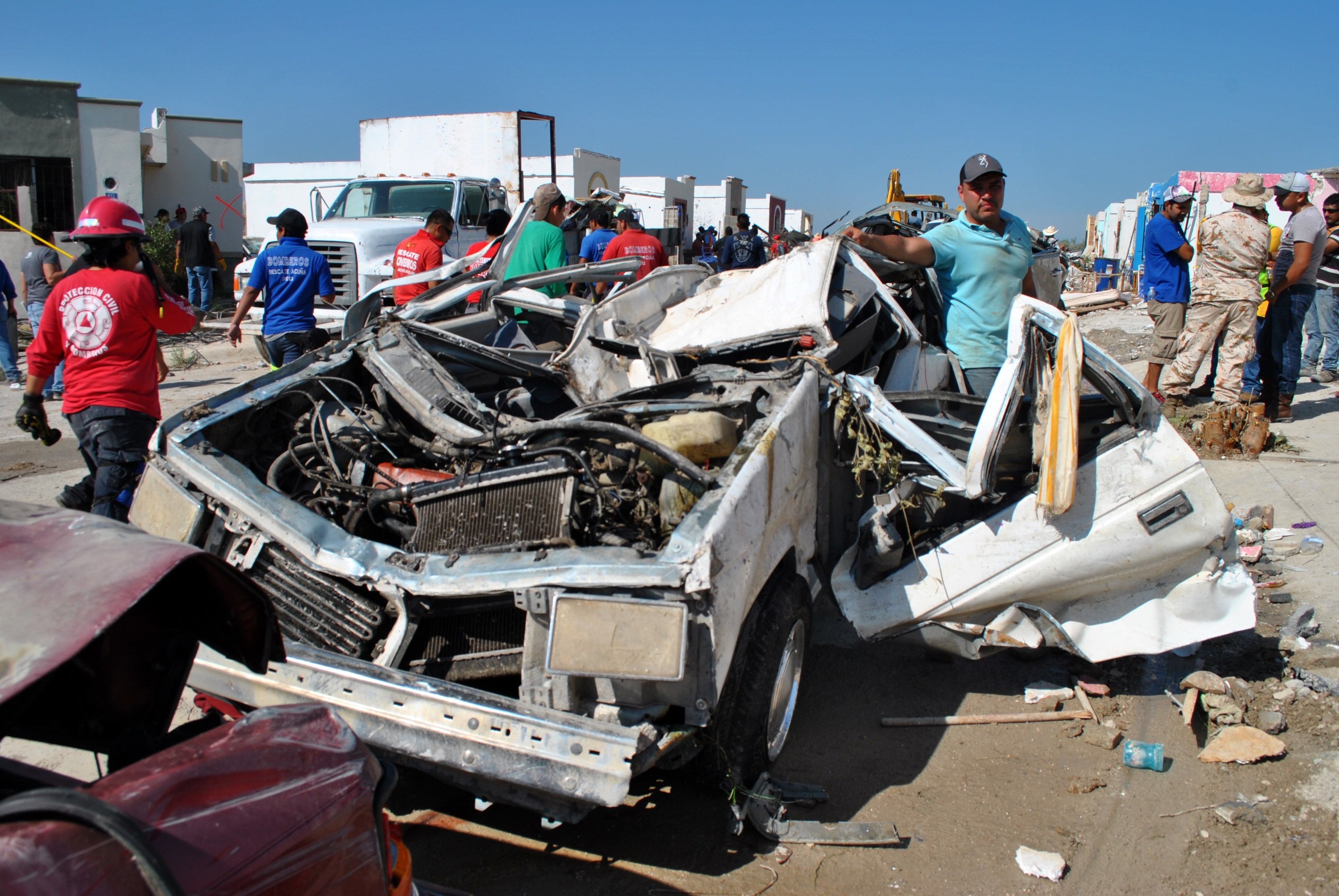 People survey a destroyed car in Ciudad Acuna, Mexico, on May 25, 2015. A tornado ripped into a town in northern Mexico on Monday, killing at least 13 people and flattening hundreds of homes in a deadly six-second blast of carnage. (RAUL LLAMAS/AFP/Getty Images)
Ciudad Acuña resident Natalia Saucedo told El Zócalo, a newspaper based in the state capital of Saltillo, that she was at home with her family when the walls of her house collapsed as the tornado swept through at just after 6 a.m.
"We were laying down when everything started moving and my husband was grabbing onto the door so that the wind didn't take him away," Saucedo said. "I was taking care of my kids as I watched the walls of the house fall. ... When everything was over, one of my children, who is 5 years old, was under a wall safe and sound, and with the help of the neighbors we pulled the other [child] out because a lot of debris had fallen on him."
Firefighters, Red Cross workers, state police and members of the military all participated in the response effort. Hospitals performed surgery on at least eight patients for injuries that included hip and leg fractures, according to the state government.
State authorities have set up three shelters for people who lost their homes, and are serving food to families at the municipal gymnasium.
Authorities discovered the body of an 8-month-old baby on Tuesday amid the ruins of destroyed houses. The mother had lost control over her child's stroller as the tornado ravaged the city, according to The Associated Press. The announcement that the missing baby's body had been found caused confusion on Tuesday, with several outlets reporting the death toll had risen to 14. Local officials later said the child had already been included in death toll of 13.
Four members of the same family remain missing, though state authorities said they think the family may have traveled to another city before the tornado struck. Emergency responders continue to search damaged homes for other victims.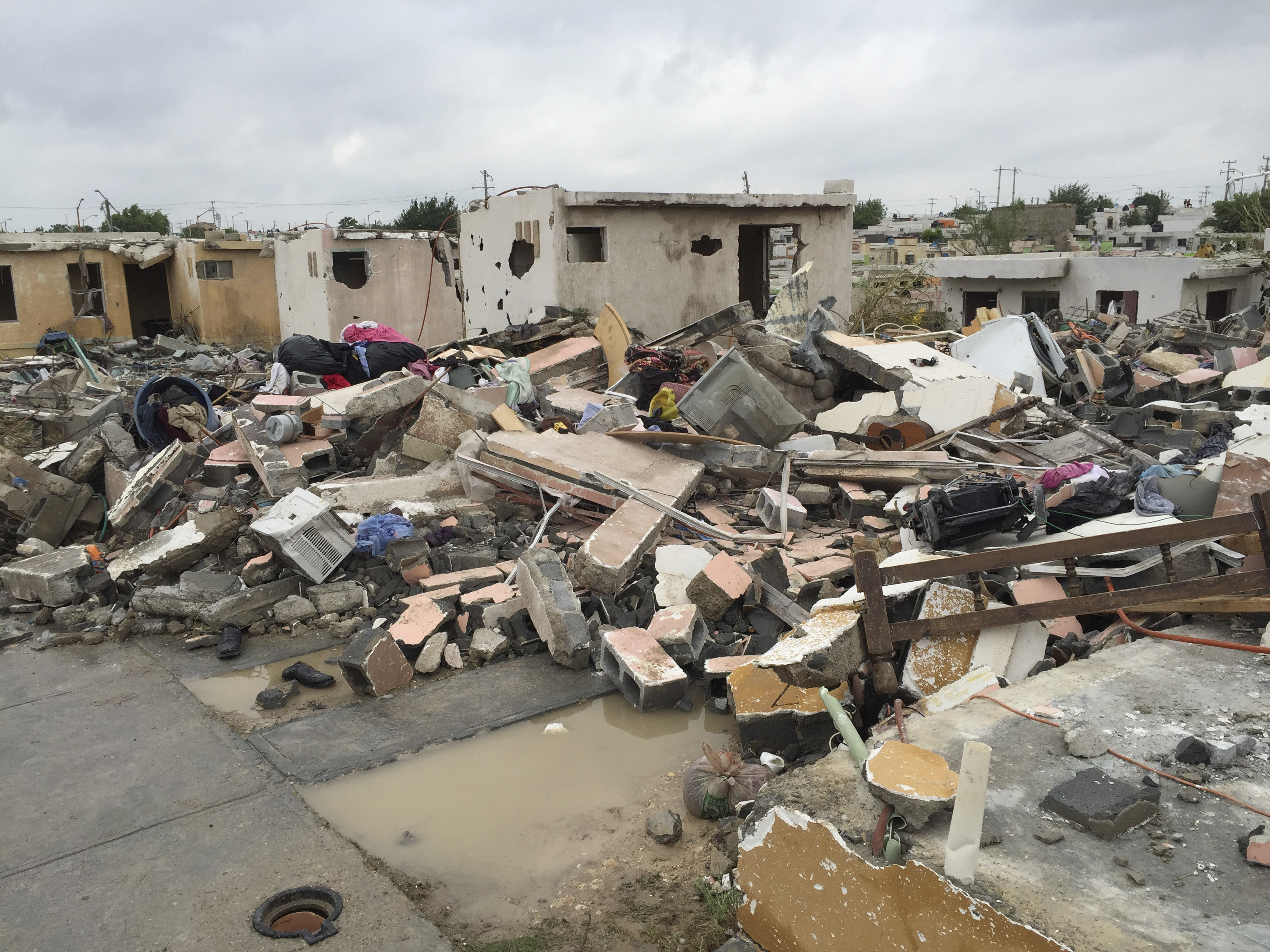 Damaged homes stand next to others that were razed when a powerful tornado touched down in Ciudad Acuna, northern Mexico, Monday, May 25, 2015. The tornado raged through the city on the U.S.-Mexico border Monday, destroying homes and flinging cars like matchsticks. At least 13 people were killed, authorities said. The twister hit a seven-block area, which Victor Zamora, interior secretary of the northern state of Coahuila, described as "devastated." (AP Photo)
In addition to the 13 deaths in Mexico, three people on the U.S. side of the border died during the tornado.
AP reported that the devastation has raised questions about why no early warning system has been put in place, though tornadoes are not common in Mexico. Ciudad Acuña Mayor Evaristo Lenin Pérez Rivera said the city did not receive any alert ahead of the disaster, beyond a warning for heavy rains in Coahuila state and the U.S. state of Texas, according to Mexican daily Excelsior.
Both Coahuila and the neighboring northern state of Nuevo León are experiencing heavy rain and flooding as part of the same weather system that has struck central Texas.
Heavy rains, flash floods and tornados battered Texas and Oklahoma over the weekend, leaving at least 11 people dead.
Calling all HuffPost superfans!
Sign up for membership to become a founding member and help shape HuffPost's next chapter