Sergio Tristan couldn't believe he was alone. His beloved Mexican national soccer team was about to face the United States in the final of the 2011 Gold Cup, the regional tournament that the two North American rivals have dominated over the last two decades. The Rose Bowl, in Pasadena, California, was split almost evenly between Mexican and American fans. But in the Austin, Texas, bar where Tristan had chosen to watch, he was the only fan wearing Mexico's traditional green jersey. The American Outlaws, the main organization of U.S. supporters, had taken over the bar.
"It was all U.S. soccer fans," Tristan said. "I thought, 'We could do this for Mexico fans, too.'"
So a little over a year later, as Mexico's qualifying campaign for the 2014 World Cup began, Tristan launched a Facebook group to connect Mexico fans who lived in the United States.
Five years later, as the 2018 World Cup begins, Pancho Villa's Army has chapters in 32 American cities, and more than 5,000 official members. The group has roughly 80,000 followers across social media, and it organizes regular watch parties and trips to Mexican national team matches.
Despite what you may have read, the United States does have a team playing in the World Cup. That would be Mexico. And Pancho Villa's Army, of which Tristan styles himself el general, is an index of Team Mexico's popularity hereabouts.
There are an estimated 36 million people of Mexican descent in the United States, and many of them are, like Tristan, Mexican Americans who were born here but chose to root for El Tri, as the Mexican team is colloquially known in reference to the tricolor flag, instead of the United States.
"I'm proud of my heritage, and cheering for Mexico gives me something to hang onto."
For Tristan, a first-generation Mexican American, tying his allegiance to Mexico was an easy choice. The concept of U.S. soccer barely existed when he was growing up in Texas in the late 1980s and early 1990s. The Americans failed to qualify for every World Cup played between 1954 and 1986, and there was no U.S.-based professional soccer league.
"People forget that for many of us first-generation, second-generation kids born in the '80s or '90s, there was no U.S. national team that we could see until 1994," Tristan said, referencing the year the U.S. hosted the World Cup. "In our communities, that's all we consumed: Mexican soccer and the Mexican national team."
"Whenever Mexico comes to the U.S. for a game, for six hours it's a celebration of our identity and our culture. We use it as a vehicle to express ourselves in Spanish, to maintain that connection to where our parents came from. Every couple months we get to come together and celebrate that identity and what brings us together. That's the team we grew up with, and it's the team we'll pass down to our kids."
Gabriela Hernandez, a first-generation Mexican American who now lives in Tampa, had never heard of Pancho Villa's Army before this week. But her reasons for cheering for Mexico are similar: Her stepfather played soccer in Mexico, and nearly made it to the national team before retiring. El Tri is her link back to Mexico.
"I don't really visit Mexico all that often. I see my family at Christmas and talk to them for the annual birthday phone call," she said. "But I'm proud of my heritage, and cheering for Mexico gives me something to hang onto."
That's true for millions of other immigrants and expats from other countries who call the U.S. home, too. But no country has cultivated and expanded its fan base in the United States like Mexico, which has played more than 60 friendly matches north of the border since 2008, in addition to the competitive matches it plays on American soil during Gold Cup and World Cup qualifying. This year, as El Tri tuned up for the World Cup, it played four friendlies in the U.S. — two each in California and Texas — before Mexico's first actual "home" match.
Those matches routinely draw larger numbers of fans than even the U.S. Men's National Team can muster for similar friendlies: Mexico drew an average of more than 80,000 fans over its final two World Cup tune-ups in the U.S., and its matches against the U.S. ― be they friendlies or competitive matches ― often attract huge numbers of Mexican fans.
The Mexican Football Federation has marketing and sponsorship deals with American firms and corporations, and broadcast agreements with U.S. television networks. If you combine Spanish- and English-language broadcasts, El Tri typically draws larger TV audiences in the United States than its American counterparts. Before the World Cup, the Mexican federation launched English-language Twitter and Facebook accounts to continue catering to Mexican-American fans.
Those efforts have further fueled the region's hottest soccer rivalry, which began in earnest when the United States knocked Mexico out of the 2002 World Cup in South Korea. The 2-0 victory sparked the American adoption of "Dos A Cero" ― or "Two To Zero" ― as a taunting chant aimed at Mexico fans. Hearing those chants in the bar helped inspire Tristan to finally launch Pancho Villa's Army in 2013.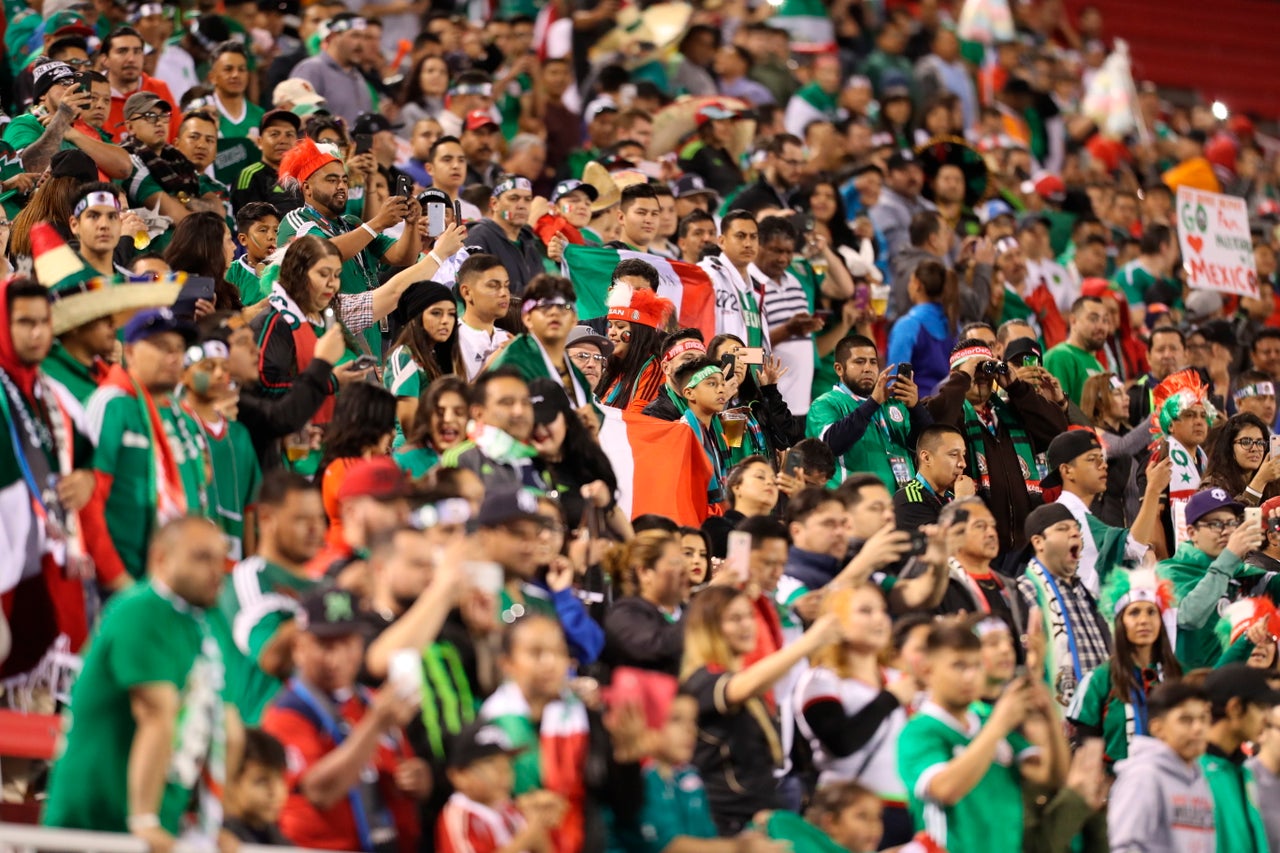 The group grew slowly at first. Pancho Villa's Army would organize tailgates and travel packages for El Tri matches, mixing the traditions of American sports ― Tristan graduated from the University of Texas, a college football powerhouse ― with celebrations of Mexican culture and identity. The group's growth exploded in 2015 ahead of the U.S.-Mexico CONCACAF Cup final at the Rose Bowl. With a berth in the 2017 Confederations Cup on the line, Mexico and the U.S. took the pitch in front of a raucous crowd in Pasadena. As the Mexican national anthem played, Tristan and the Army unfurled a giant banner across their designated supporters section. Across the tricolor blocks of the Mexican flag, they had painted the slogan Sigo Siendo El Rey: "I'm Still The King," they shot back at the Americans across the stadium.
Mexico won the match, and from there, the rivalry could have taken an ugly turn. Fox Sports had given the game a xenophobic tint with a promotional ad that relied on then-presidential candidate Donald Trump's anti-Mexican bigotry, and the next meeting between the two sides was a World Cup qualifier that fell on a precipitous date: Nov. 12, 2016, just four days after Trump won the presidency.
Tristan and Pancho Villa's Army weren't able to secure tickets to the match in Columbus, Ohio, where U.S. Soccer has scheduled its qualifying matches with Mexico since 2001 ― a move some have speculated was meant to limit the presence of the Mexican fans who so often take over venues in cities with larger Latino populations. But members of the group and other Mexican-American fans who were able to get tickets were anxious about the atmosphere they'd encounter.
The American Outlaws, the official U.S. supporters group, have been credited with "transform[ing] the atmosphere at U.S. matches" with their organized pregame events and raucous chants. Founded in Lincoln, Nebraska, by three fans in 2007, the group now has more than 30,000 members and 200 chapters worldwide. It was the Outlaws who popularized "Dos A Cero," who helped turn the rivalry into a real one. But the Outlaws have also dealt with allegations of racism and xenophobia within their ranks. Mix that with Trump's election, and members of the Pancho Villa's Army and other Mexican-American fans who were able to get tickets were anxious about the atmosphere they'd encounter.
Instead of exacerbating tensions, though, Trump's election seemed to calm them. The American Outlaws circulated messages on social media and among its chapters urging fans to be respectful of Mexico's supporters, and stationed monitors throughout the stadium to prevent fans from chanting "Build That Wall" or anything else that played off Trump's rhetoric.
"Fans are starting to appreciate each other as soccer fans rather than just as opposing national team fans. We're neighbors. We just have a different soccer team we support."
The Outlaws removed a portion of the banner they planned to unfurl that they now worried would cross the line from soccer-specific banter to outright racism (news stories from the time don't say what that portion of the banner said). Before the match, American fans sang a verse from Woody Guthrie's "This Land Is Your Land." On the pitch, players from Mexico and the United States gathered before the match for a joint photograph meant as a rebuke to Trump. It was, Tristan said, a turning point in the rivalry.
"Fans are starting to appreciate each other as soccer fans rather than just as opposing national team fans," he said. "One of the messages we've strived to send out is, 'We might support a different national team, but on Saturday morning, my kid plays with your kid on the club team, and on Sunday, we play in the same beer league.' We're neighbors. We just have a different soccer team we support."
Since then, local chapters of American Outlaws and Pancho Villa's Army have worked closely together. In Phoenix, for instance, the two groups have held clothing drives and charity soccer matches. Other chapters have gathered their members to watch matches together.
That doesn't mean USMNT fans will rally behind their North American neighbors. Even if they don't, Tristan would rather this World Cup foster a deeper legacy than the temporary fandom of disappointed Yanks. He hopes that Americans, and especially U.S. media outlets, will fully realize that Mexican soccer fans are as much a part of the American sporting fabric as Stars and Stripes-waving suburban USMNT supporters.
Something similar has happened in other sports, albeit quietly, behind the back of the dominant sports media in America. Top boxing promoters long ago realized that Latino fans ― and Mexicans and Mexican Americans specifically ― were their biggest market, thanks to fighters like Canelo Alvarez, a Mexican boxer who has fought in two of the four richest title bouts of all time. The weekend before the World Cup began, a lightweight title bout featuring Mexico's Leo Santa Cruz in Los Angeles drew more fans than a welterweight title fight featuring Terence Crawford, the American who is perhaps the best pound-for-pound fighter alive.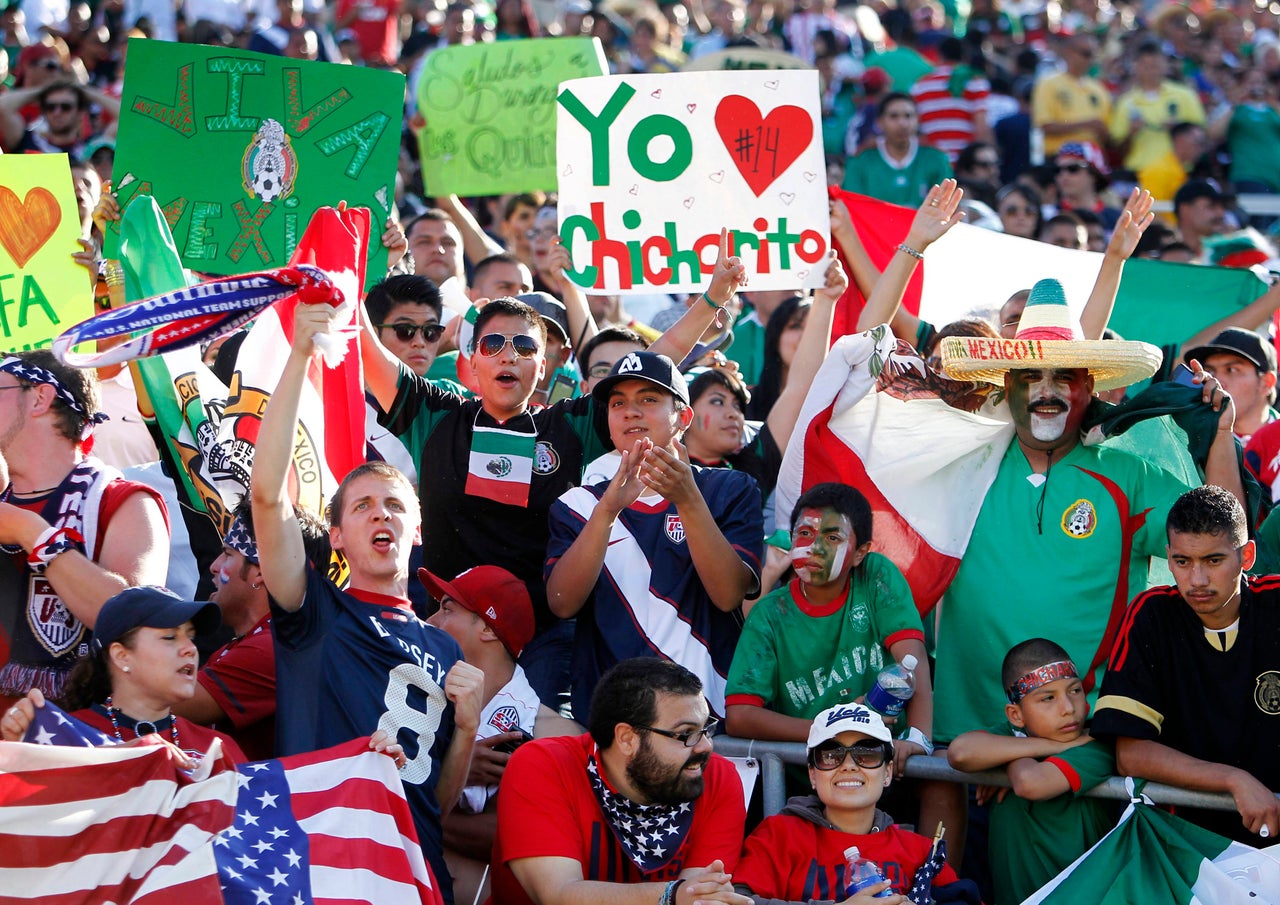 El Tri, meanwhile, has grown into a "marketing juggernaut" thanks in part to the Mexican federation's cross-border efforts and to engaged groups of fans like Pancho Villa's Army. Mexico is always among Adidas' top-sellers for World Cup jerseys and apparel, and this year, Mexican and U.S.-based beer companies alike have seized on the absence of the USMNT by expanding their World Cup marketing efforts aimed directly at El Tri fans. On TV, Fox Sports, which holds English-language World Cup broadcast rights in the U.S., had already pledged to treat Mexico "as if it's a second home team" even before the U.S. began to qualify.
Media coverage that caters to Mexican-American fans, however, has lagged. There is still a dearth of English-language coverage of El Tri — Tristan primarily follows FutMexNation and a few independent blogs that devote almost all of their attention to the Mexican national team and the Mexican national league. And while he has willingly shared his perspective with reporters from U.S. outlets who want to cover El Tri now that the U.S. isn't heading to Russia, he's also hopeful that attention will "lead to more opportunities" for journalists "who've been covering the Mexican-American fan base and the Mexican national team in English already."
"Let us bring you in," Tristan said. "Let us tell you who were are, what we do, and just overall: celebrate what it means for us to be Mexican American, how we're prideful of being Americans but culturally prideful of being Mexican, too. Let us tell our story in our way."
Pancho Villa's Army continued its growth in the months before the World Cup, adding two new chapters. One is in Alabama. The other? Tristan chuckled. It's in Lincoln, Nebraska, birthplace of the American Outlaws.
Related
Popular in the Community