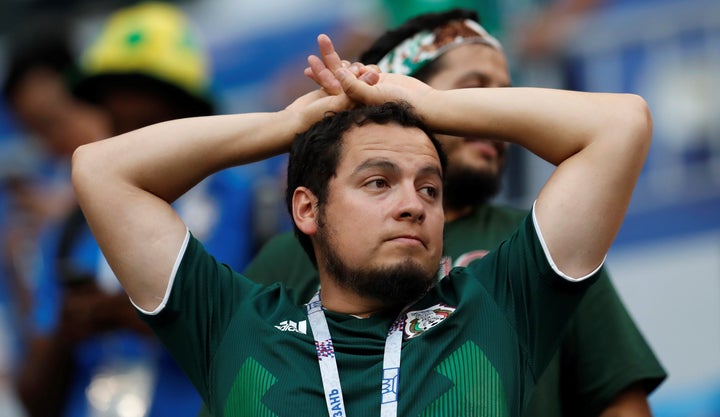 It would be easy to say that Mexico's failure to reach the quarterfinal of the World Cup for the seventh consecutive time came down to the workings of the same remorseless fate that has doomed El Tri in each of the last six tournaments. It would be nice to believe that Mexico was simply snakebit again; that this was the 2018 version of ya merito ―  the hex, supposedly peculiar to Mexico, of being "almost just" good enough. It'd be comforting to think that it was always destined to end this way, with a loss to tournament favorite Brazil in the round of 16 that was written in the stars, and that there was nothing Mexico could have done to prevent it.
Mexico entered the 2018 World Cup with the goal of ending its so-called "curse of the fifth game." Few teams have been as consistent as El Tri over the last seven World Cups ― only it and Brazil have managed to advance to the knockout stages of each of those tournaments. But where Brazil has won two World Cups during that span and has advanced past its first knockout stage match all seven times, Mexico hasn't recorded a single win past the group stage. Each time, there's been something else to blame: bad draws, bad calls or bad luck.
That streak continued Monday, after Brazil dispatched Mexico 2-0. But this time, there was no point even trying to chalk up Mexico's heartbreak to fate or bad juju.
The truth is much more prosaic: Mexico, in the end, was exactly what many thought it was when this World Cup began — a decent team that was not quite good enough to deserve a spot in the quarterfinals, not when that spot required beating Brazil. Ya merito isn't some mystical force. Every four years the knockout rounds feature 15 teams who are almost just good enough. Mexico just happens to be one of those 15 more often than anyone else. 
Two weeks ago, when El Tri opened the tournament with a thrilling win over top-ranked Germany, it seemed as if Mexico was on the cusp of something new. It followed that performance with a clinical, if not dominating, victory over South Korea. Mexico had six points, was in line to win the group and needed only a draw to avoid Brazil. The door was open for Mexico to "imagine amazing things," as Javier "Chicharito" Hernández, the team's star striker, urged his teammates and Mexico fans to do.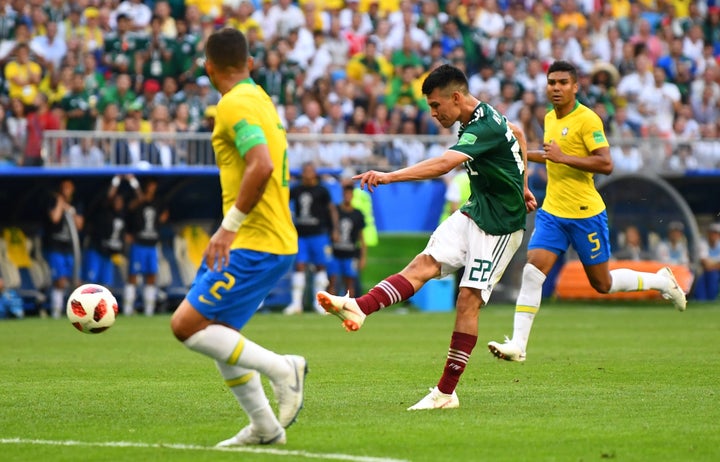 In reality, the Germany win revealed far more about Die Mannschaft than it did about Mexico. For all the pre-tournament hype, this German side was toothless in attack and incapable in the midfield. Those truths would become evident later, against both Sweden and South Korea, but it was Mexico that exposed them first. The Mexicans ran rampant over the Germans, sprinting past Germany's midfielders and bearing down on the German goal time and time again. 
It was a stunning upset, and even if Germany wound up crashing out of the World Cup after losing to South Korea and Mexico failed to reach the quarterfinals yet again, it should still go down in Mexican soccer lore. But it also should have served as a warning sign about Mexico, because for all the space Germany provided and for all of the marauding runs Mexico made toward the German goal, El Tri's wastefulness in attack led to just four shots on target and just one goal on the scoreboard. It wasn't luck that kept Mexico from thrashing the Germans. It was the lack of quality necessary to deliver the beating that Germany deserved.
Mexico's Juan Carlos Osorio has a reputation as a studious manager capable of exploiting the holes he spots during his hours of preparation for each opponent, and early in the match against Brazil, it appeared as if he might have done it again. He set his team up right, and Mexico frustrated Brazil over the first 20 minutes by mucking up the midfield and refusing to allow the Seleção space it so desperately wanted to find. Mexico found itself moving forward in attack more often than anyone might have expected, and worked its way to open looks in front of Brazil's goal on multiple occasions early.
But the worry about Mexico before the World Cup was that it had struggled to score in its tune-up matches, and breaking down Brazil ― a team that has conceded just six goals in the last 18 months, and just one through four matches in Russia ― requires a level of speed and efficiency and precision that Mexico simply lacked. El Tri was always a step slow, a bit short of the talent necessary to execute the ideas it had or exploit the spaces it found.
So for all of the moments that might have made Mexican hearts leap, El Tri entered halftime without a single shot on goal. Forty-five minutes later, Mexico ended the match having only minimally worried Brazilian keeper Alisson. Mexico managed just one shot on target, and even it was hit directly at Alisson, who calmly tipped it over the bar and behind his goal.
In the meantime, Brazil settled in and did what it has done so ruthlessly under Tite, the manager whose team has not lost in 16 matches thanks to a defense that doesn't break and a dazzling attack that eventually forces its opponents to do just that. In the 51st minute, Willian pushed a ball past two Mexican defenders and drove it across the box to a sliding Neymar, who slotted it into Mexico's goal. Brazil kept up the pressure all while absorbing Mexico's, and Roberto Firmino sealed the match with an even easier tap-in goal in the 88th.
Mexico out-possessed and out-passed Brazil, and might have been better overall Monday than it was against Germany, considering what we know about both of those opponents now. But it didn't really matter, because the Brazilians were better when and where it mattered, and better across the 90 minutes, anyway.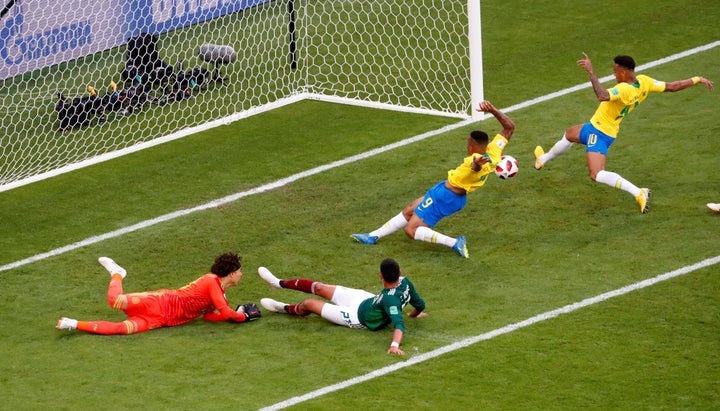 If there was a ya merito moment for Mexico in this World Cup, it came last week, when El Tri needed only a draw against Sweden to win Group F and avoid this matchup with Brazil in the round of 16. That would have matched Mexico up with Switzerland on the opposite (and easier) side of the knockout stage bracket. But El Tri lost 3-0 in a match where it never managed to pose much of a threat and came up empty ― again ― when it did.
But was that fate, a lack of mental fortitude or was there something simpler at work? Sweden, after all, was a slight favorite to advance out of Group F ahead of El Tri before the tournament began, and outplayed Mexico at its own counterattacking game. Even if Mexico had finished atop the group, Switzerland is ranked above it both in FIFA's rankings and those that rely on more sensible metrics. El Tri would have been underdogs against the Swiss, too. Mexico's tournament might have ended the same way.
The World Cup thrives on narratives, in part because the stories we craft around this event help provide comfort in the face of inevitable defeat. Only one team can win; only eight ever have. It's easier to blame the gods than to seek solace in reality, to choose the fatalism of ya merito over the truth, which is that the World Cup is meant to be lost far more than it is won. It seems to defy the odds that Mexico's moment of realization comes at the exact same time every four years, that it hasn't returned to the quarterfinals despite coming so close so often. But in Russia, it made perfect sense. There were no controversial calls, missed chances or cosmic injustices to blame. Mexico was good enough to make it this far; it just wasn't good enough to keep going. 
REAL LIFE. REAL NEWS. REAL VOICES.
Help us tell more of the stories that matter from voices that too often remain unheard.