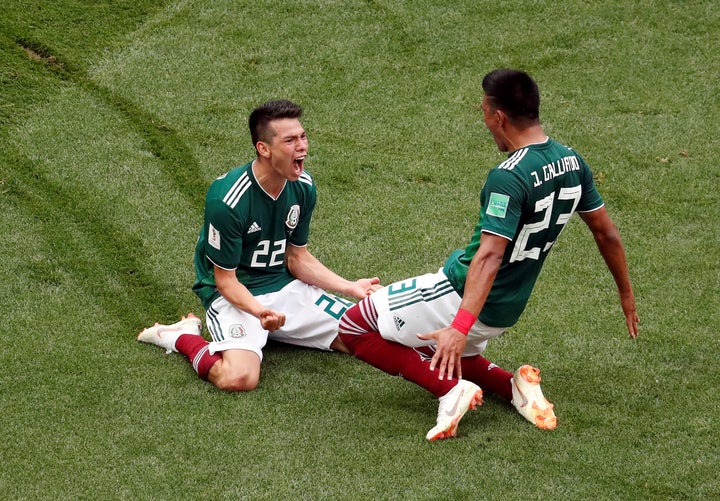 WASHINGTON — By dumb luck, the two Washington bars where huge crowds of Germany and Mexico fans decided to watch their teams face off in the 2018 World Cup sit right next door to each other. By 10 a.m. on Sunday, a stretch of Connecticut Avenue swarmed with soccer fans wearing the signature green kits of Mexico's team or the white shirts of the German squad, the defending champions who went to Russia as a favorite to win again.
The German pub was already full, the line stretching for more than a block even though the men at the door had already told the fans outside that they had no hope of entry.
And so it was that I wound up standing next to two German men, both wearing replica Die Mannschaft kits, on the third floor of the other bar ― the three of us, German and German and American, shoulder-to-shoulder in a sea of Mexico fans who, in the United States' absence, have helped turn Mexico into America's World Cup team.
"It's more fun anyway, I think, to watch here with the Mexico fans," one of the Germans said as those fans sent the opening lines of the Himno Nacional Mexicano ringing through the bar, just as Mexico's supporters in Moscow were doing inside the stadium.
Mexican fans had already brought the party to Moscow, and on Washington's streets, you could have been forgiven for not realizing the World Cup was actually underway until it was Mexico's turn to play. Not that the result of the country's first match seemed much in question. With a roster made up of players from the world's biggest clubs ― Bayern Munich and Barcelona, Juventus and Real Madrid ― the Germans were overwhelming favorites. As for El Tri, the consensus was that the real tests would come later on, against South Korea and Sweden in the group stage and then, perhaps si Dios quiere, in the single-elimination round of 16.
No one thought Mexico had much of a chance, maybe least of all the Mexican fans. This is the nature of things at the World Cup. Basically, every World Cup country clings to the maudlin belief that it is unique in its fatalism. If anything about this sort of fatalism is unique, it's the culture that gets constructed around it — the various shibboleths and talismans and pop psychologies. Mexico has ya merito: "Nearly there but not quite. Almost just." Six straight losses in the knockout rounds? Ya merito. Holland's Arjen Robben taking a dive to win a penalty in 2014? No era penal, and also, ya merito.
Mexico does have some cause for feeling particularly bedeviled. Only Germany and Brazil have joined it in advancing to the knockout rounds in each of the past six World Cups, but those two countries have combined to lift the trophy three times in that span. Mexico hasn't so much as reached the quarterfinals.
Still, there is nothing uniquely Mexican about losing a tournament that in its 88-year history has been won by only eight different nations. Ask the English about penalty shootouts, the Dutch about World Cup finals. Ya merito is a near-universal condition in soccer, shared by 31 teams every four years.
But fatalism is no less powerful for being imprecise, and so in the runup to the World Cup, it was ya merito setting the terms by which Mexico fans would view the team. Its particular World Cup plague ― the so-called "curse of the fifth game" ― had dominated coverage before the tournament, in promotional ads and news stories alike.
But it wasn't just a storyline. In 2016, manager Juan Carlos Osorio added a "mental coach" to his staff after Chile steamrolled Mexico, 7-0, at that year's Copa America Centenario. He was trying to shatter the apparent belief within Mexico's players that El Tri's problems were of an existential nature.
The results on the field back then were mixed, and Osorio's belief in the mental side of soccer led only to more criticism that his team was soft. Mexico entered this World Cup in a state of flux after struggling through its pre-tournament tuneup matches.
Osorio was unpopular for his constant lineup shifting; the team was under siege at home amid reports of a pre-tournament party that apparently involved more than 30 prostitutes. The window on a golden generation of talent wasn't just starting to close ― some began to suggest it already had. That Mexico could finally break its streak of six straight World Cups without reaching the quarterfinals seemed unlikely. That they could beat a team like Germany was too impossible even to consider.
But whether because of a newfound mental fortitude or the liberation of reduced expectations, Mexico opened Sunday's match against Germany by absorbing Die Mannschaft's advances and then punching back. It was Mexico marauding through the midfield and slicing up a sluggish defense with sharp passes and unrelenting sprints, Mexico creating chances and ... Mexico failing to break through. German goalkeeper Manuel Neuer stymied each attack ― a very large man reminding Mexico that it had a very large problem.
"It's different," one of the Germans at the bar said, "when you have the best keeper in the world."
Finally, Mexico's moment arrived. In the 35th minute, Andres Guardado sprang a counterattack, striker Javier "Chicharito" Hernández sliced through the German defense, and Hirving "Chucky" Lozano ― Mexico's hottest young scorer ― fired a shot inside the left post past a diving Neuer. Mexico, 1-0.
The next hour was spent somewhere between frantic desperation and breathless optimism, an entire bar full of people chanting "Si se puede" when they weren't engaging in the same deep breathing exercises Osorio had taken up on the sidelines. But that sense of ya merito never returned: It was El Tri, not Germany, that created the best chances to score.
Mexico had pulled off big results on the World Cup stage before. In 2014, for instance, a scoreless draw with host Brazil provided a crucial point that helped El Tri advance to the knockout stage. But aside from the team's 1970 win over Belgium, which secured its first-ever berth in the World Cup quarterfinals, Sunday's result may go down among the biggest in Mexican soccer history.
It was beautiful because so little of it made sense. It was Germany that entered the World Cup with, supposedly, soccer's best midfield, but it was Guardado, Héctor Herrera and Carlos Vela who ran roughshod over their opponents. It was Mexican goalkeeper Guillermo Ochoa who made the match-defining save that Neuer has produced so many times before. It was Osorio who deployed the tactics necessary to suffocate and frustrate a German side that has spent the last four years suffocating and frustrating everyone else. It was Germany that wilted under the pressure of opening its championship title defense. It was a near-perfect performance from a team that needed one, and it wasn't a fluke: A slightly sharper Mexican attack might have produced a goal or two more, and would have deserved them.
Now El Tri's door is wide open. Mexico should enter its matches with South Korea and Sweden as the clear favorite, especially after the lackluster contest between those two sides on Monday morning. El Tri could win the group, thus avoiding a potential matchup with another tournament favorite, Brazil, in the round of 16. It could put it all together in a way this star-crossed generation of Mexican talent has never quite done before.
Those questions will answer themselves eventually, but what happens next hardly seemed to matter for many hours after the final whistle blew on Sunday. Not during a World Cup in which Mexico had turned in the tournament's first truly breathtaking performance, and not amid the celebrations that erupted in cities from Moscow to Mexico City to Washington. For now, at least, Mexico is on top of the world, and on the happy side of almost just.
Calling all HuffPost superfans!
Sign up for membership to become a founding member and help shape HuffPost's next chapter