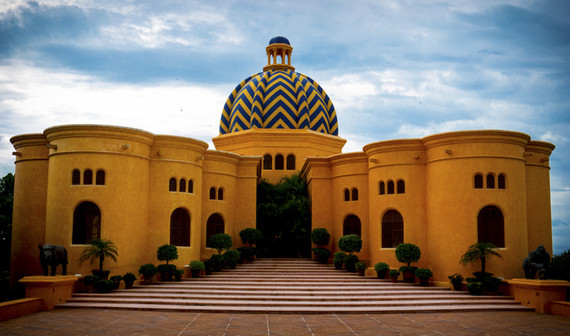 Fancy your own patch of paradise? So did a very wealthy man called Sir Jimmy, who once acquired a huge tract of virgin jungle on Mexico's untamed Costalegre, which stretches along the Pacific coast from Manzanillo to Puerto Vallarta. He then transformed part of it into a lush private playground for him and his jet-setting pals.
It took Sir Jimmy two years and two thousand workers to build a magnificent domed Moorish beachfront castle, followed by three posh guest villas. Then he stocked his Garden of Eden with herds of zebra, gazelle and eland, wild boar, ring-tailed coati and other exotic creatures, along with horses to ride. Finally, this one-time corporate raider had his new realm declared an ecological reserve, thereby protecting a vast array of flora and fauna - from sea turtles and crocodiles to jaguars, pumas and parrots - for generations to come.
Today, three decades after controversial Franco-British billionaire tycoon turned politician and environmental activist Sir James Goldsmith created his own private jungle estate called Cuixmala (which means 'the soul's resting place'), one of the world's most alluring tropical getaways remains a well-kept secret.
"Cuixmala is the essential 'non' resort and we are really trying to maintain that feeling of a family property," explains Goldsmith's daughter, Alix Marcaccini, who, along with her husband, Goffredo, is custodian of her late father's magnificent obsession.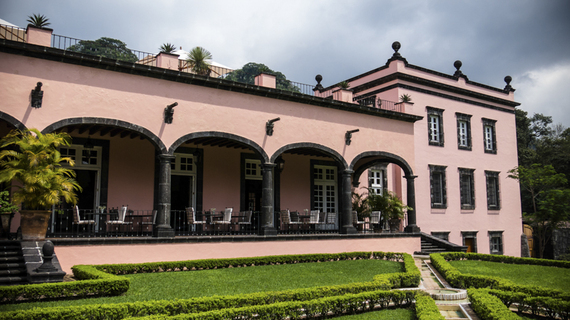 The Goldsmith family's holdings here also include a sister property, Hacienda de San Antonio, a meticulously restored coffee plantation near an active volcano about three hours' drive inland, near Colima. And whereas once only friends of Sir Jimmy - from Mick Jagger and Madonna to Ronald Reagan and Richard Nixon - had exclusive access to his Mexican masterpieces, mere mortals can today also savour them - if you can afford it.
Castles in the sand
Nothing reflects Goldsmith's grandiose vision more than La Loma, Cuixmala's palatial, pink and white Moorish inspired main villa designed by French architect Robert Couturier. Once Sir Jimmy's private abode, this 37,000-square-foot, four bedroom architectural fairytale is guarded by life-size bronze statues of a rhino, a gorilla and an elephant, and topped by a blue-and-yellow dome.
Moroccan, Mexican and Mediterranean styles merge seamlessly in La Loma's gigantic cool-white, art-strewn, rooms with arched ceilings so high as to be an agoraphobiac's nightmare. The master bedroom even has its own terrace with Jacuzzi that offers panoramic sunset ocean views, while the library, two-tiered media room, vast living and dining rooms, saltwater pool and numerous outdoor salons are all lavishly decorated, fit for an eco-emperor.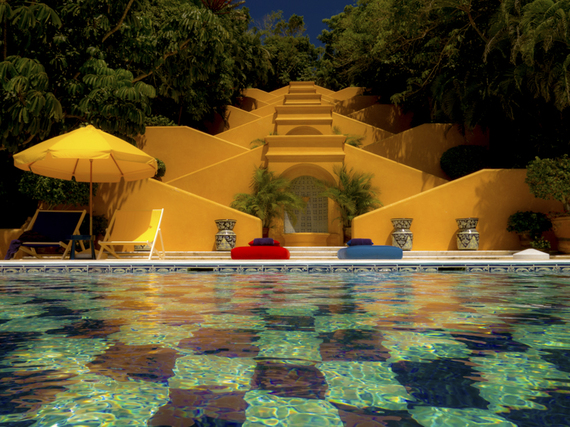 Surrounding La Loma are six equally luxurious satellite bungalows which, booked together with La Loma, will set you back, depending on the season, a mere ten to sixteen grand U.S. a night, not including meals. Stretching beneath them are kilometers of some of Mexico's most unspoilt beaches, great swathes of jungle wilderness, crocodile friendly lagoons, a coconut plantation, and an organic farm. On my first evening dining on the terrace of my exquisitely decorated three bedroom villa called Alborada, I can see distant La Loma on its seaside bluff across the reserve, its signature dome illuminated at night like a fantastical interplanetary communications orb.
Along with La Loma and Cuixmala's two other villas, Alborada is staffed with butlers, chefs, maids, waiters and gardeners. All are distinct in design, but share a common trait - absolute privacy. You could happily spend an entire vacation in one of them, soaking up the sumptuous decor, indulging in poolside massages, and dining on gourmet meals prepared using organic produce from Cuixmala and the ranch at Hacienda de San Antonio in the Mexican
highlands.
But why just linger round your villa's infinity pool when Cuixmala's self-contained bioverse has so much to explore? The estate is so vast that guests are advised to bring a rental car to navigate the network of dirt roads that intersect it. And this exclusive tropical playground is just a small part of Sir Jimmy's greatest gift to the world - the 10,000 hectare Chamela-Cuixmala Biosphere Reserve that he established in 1993 to protect the habitat for over 1,200 species of plants, 72 species of mammals, 270 species of birds and innumerable species of reptiles and
amphibians, including the rare and venomous Mexican bearded lizard.
I opt to explore Cuixmala's jungles on a mountain bike, wander its unspoilt beaches, watch snowy egrets, great blue herons, and yellow-footed boobies soar overhead from a boat on its tranquil lagoon, and admire herds of skittish zebra and the elegant white tailed deer. One afternoon I even take a hike, careful to keep an eye out for giant crocs dozing by the side of the trail.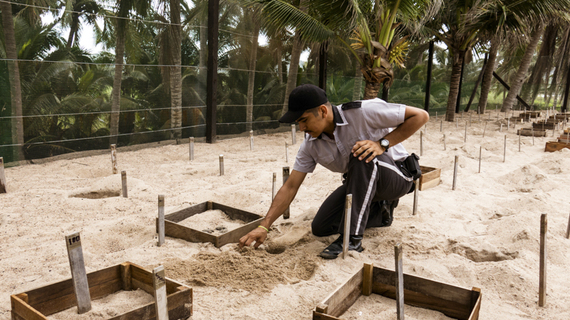 But what most impresses me is Cuixmala's beachfront sea turtle sanctuary, where eggs from over a hundred nest are collected by resident biologists and protected from predators until they hatch. In the evenings, guests are invited to help launch hours-old baby turtles into the sea, helping to give them a fighting chance to survive and return here one day and lay their own eggs.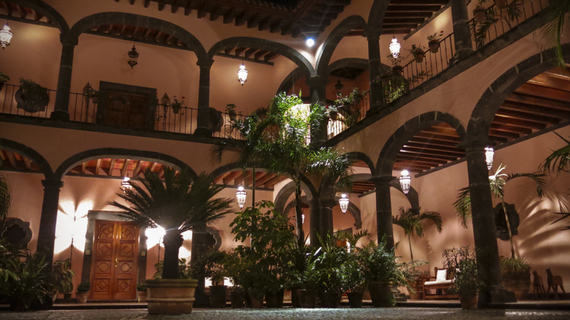 High-end hacienda
A fighting chance is also what Sir Jimmy gave to his other pet project, Hacienda de San Antonio. This coffee plantation dating from the late 19th century had seen better times when he purchased it, along with 200 hectares of prime agricultural lands. A macho yang to Cuixmala's pastel yin, the Ranch, as Alix Marcaccini affectionately calls her family's other Mexican country house, is now an exclusive boutique hotel surrounded by rich organic farmland and framed by the majestic smoking cone of the Colima volcano.
Meticulously restored by the Goldsmith family, San Antonio's cluster of coral pink arched buildings enclose a verdant courtyard containing 26 lavishly decorated guest suites, several salons, a spa, and even a private chapel.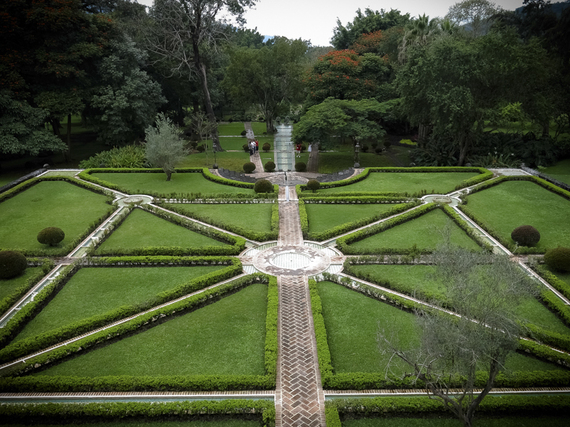 The stream flowing through the property's immaculately manicured lawn and gorgeous gardens leads to a huge swimming pool where I spend an afternoon contemplating the smoking volcano looming nearby.
The next morning I set out on horseback along the ranch's winding mountainous trails through woodlands and grassy meadows to a pre-arranged picnic spot beside a tranquil lake. Here, my guide departs with our horses, leaving me with a basket of delicious fresh organic salads, cheeses, meats, fruit - and the promise of a blissful siesta beneath an enormous oak tree.
Besides equestrian outings, Hacienda de San Antonio also offers myriad other activities - from hiking and mountain biking to bird watching and touring its working farm, ranch and coffee plantation. Employing nearly seventy workers year-round (to Cuixmala's nearly 300), this resurrected ranch is clearly thriving year-round.
"Because they are both fully functioning, sustainable agricultural enterprises, both Cuixmala and the Hacienda have a life, regardless of whether there happen to be guests or not," Alix Marcaccini explains the next day as we tour Cuixmala's school, recently built to educate her own and the staff's children, along with kids from a nearby village.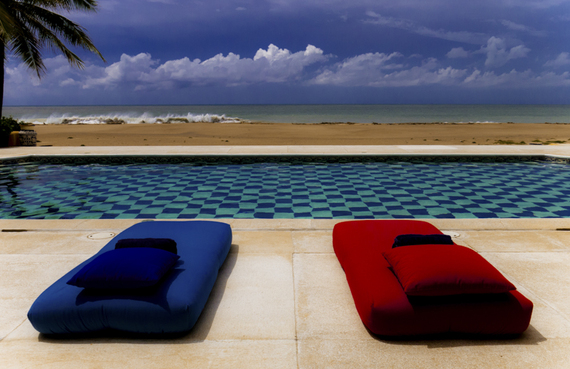 Therein lies a key to Sir Jimmy's country houses' unique appeal - beyond their opulence, stupendous scale and natural allure. Over lunch at the restaurant catering to Cuixmala's cluster of 'casitas' - former staff quarters transformed into affordable yet still luxurious accommodations - Ali Miller, an LA based fashion buyer celebrating her first anniversary here with her husband Trevor, sums up what I've been sensing since I arrived: "Cuixmala is very unique, like you're in a private vacation home," she says. "It feels very luxurious and organic and gracious without feeling manufactured. You get to discover its beauty in your own way."
Sir Jimmy would have been pleased to know that visitors to his grand experiment in holistically sustainable living in the Mexican jungle are still able to appreciate the original method to Cuixmala's magic.
"I think my father would be very happy to see that we have kept Cuixmala the way he left it, says daughter Alix, who has devoted her life to nurturing and extending her father's dream. "My hope for the future," she adds, "is to expand and acquire more land for the Cuixmala Ecological Foundation. And to one day create a community here of people who feel the same way we do about nature and the world".
Hitching a ride back to Puerto Vallarta airport aboard Cuixmala's tiny four passenger, single engine plane, which shuttles guests between the properties and nearby airports, I ask the pilot if we can fly past La Loma. He complies, and as we buzz at coconut treetop level past the late billionaire's eco-Shangri la on Mexico's Virgin Coast, I can imagine Sir Jimmy out on the terrace, chomping a cigar, cheering us on.
Getting there
Cuixmala is located on Mexico's Pacific coast about 100 miles south of Puerto Vallarta. Hacienda de San Antonio is three hours' drive inland from Cuixmala, near Manzanillo. Private car transfers can be arranged. Crew Air Charter also offers flights from Puerto Vallarta or between properties. From $2,000 round-trip. (52-333/ 813-1073)
Cuixmala
Guests can book either La Loma (the main house), one of four private villas, or any of nine casitas. Revenue helps underwrite the work of the Cuixmala Ecological Foundation. From $400 for a one-bedroom casita; $2200 for a four-bedroom villa, and $10,000 for La Loma. Casita rates include breakfast; additional meals are $95 a person a day. In villas, meals are $140 each a day. Each villa comes with a full complement of staff. (866-516-2611 or 52-312/314-3143)
Hacienda de San Antonio
Jimmy Goldsmith's other Mexican mansion, set in the shadow of an active volcano, has 26 lavish guest rooms. From $700. (866-516-2611 or 52-312/314-3143)
Chamela-Cuixmala Biosphere Reserve
The first in Mexico to conserve tropical dry forest, this 13,142 hectare reserve was created in December 1993. It hosts a wide variety of ecosystems and one of the highest concentrations of endemic species in the country, including endangered marine turtles.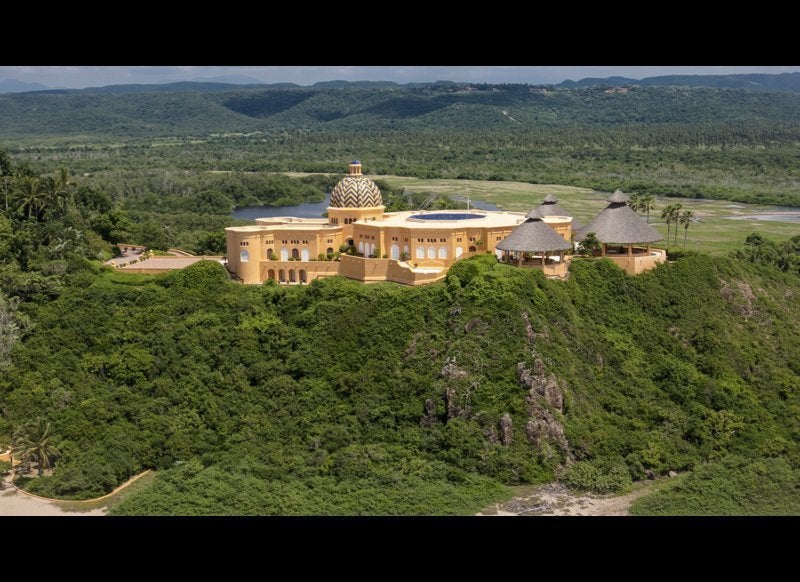 Mexico's luxurious Cuixmala and Hacienda de San Antonio eco-resorts