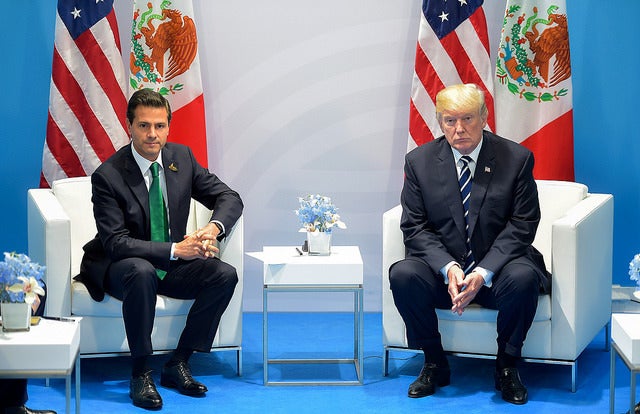 Last month, Mexico co-convened the Conference on Prosperity and Security in Central America with the U.S. Department of State and the U.S. Department of Homeland Security in Miami. The government officials discussed, among other issues, how to facilitate the Trump administration's plan to stem the flow of Central American migration.
Mexico's prominent role in the conference, and its role as enforcer of military led-U.S. foreign policy in the region, demonstrates the country's willingness to facilitate Trump's policy of discrimination and violence against migrants in the region. This is the contradiction at the heart of the Mexican domestic and foreign policy around migrant human rights.
Eighteen months after President Donald Trump first floated his campaign promise to build a massive wall along the U.S.-Mexico border, Enrique Peña Nieto finally confronted him. In televised remarks delivered in January, Mexico's president said his country wouldn't pay for any such wall, despite Trump's insistence. He later canceled a state visit over the issue. As an administration marred with corruption scandals and a human rights crisis, Peña Nieto seemed firm in his support of Mexican nationals living in the United States.
"Our communities aren't alone. The Mexican government will offer the legal counsel to guarantee the protection they need," Peña Nieto said. "Where there is an at-risk Mexican immigrant in need of our help, we should be there, their country should be there for them."
For many Mexicans, the firm response from Peña Nieto was long overdue. Peña Nieto already suffered the lowest approval rating of any Mexican president in recent history and the public largely viewed his delayed response to Trump as more evidence of weak leadership.
Peña Nieto appears to be taking more actions to protect Mexican migrants abroad, as the Trump administration's crackdown on illegal immigration intensifies. Mexico's Foreign Minister Luis Videgaray has pledged to seek United Nations intervention if necessary to defend the human rights and due process of Mexicans living in the U.S. The Undersecretary for Multilateral Affairs and Human Rights Miguel Ruiz Cabañas also condemned what he described as U.S. racism and xenophobia in the U.S. in front of the UN Human Rights Council in March.
But it remains to be seen whether those increasingly confrontational words will be matched by government policy.
Ironically, while the Mexican government insists that "all Mexicans should be treated with absolute respect to their civil rights and human rights," domestically the ruling Institutional Revolutionary Party has failed to uphold a basic respect for rule of law and security. Not only have human rights abuses skyrocketed under Peña Nieto, but so has the criminalization of Central American migrants.
Mexico's treatment of Central American migrants and its inability to address human rights issues reveals deep contradictions underlying the promises made earlier this year. Leading up to the Miami conference, Trump commended Mexico's role in the summit—which builds on the regional plan Alliance for Prosperity started in 2014—while Homeland Security Secretary John Kelly has said it sees Mexico as a potential ally for stemming the migration flow. Vice President Mike Pence also called for an end to "illegal and dangerous migration" from Central America.
While government representatives discussed the economic, security, and governance challenges in the region, the glaring omission of the conference was talk about human rights. Mexico has largely failed to protect Central American refugees and migrants in the last decade.
Instead, under the Southern Border Program launched in 2014, Mexico has prioritized the detention and deportation of Central American migrants. Reports of extortions, mass deportations, kidnappings and other human rights abuses against migrants have spiked since then. According to an Amnesty International Report, 174,526 migrants had been apprehended and detained and 136,420 deported since November of last year. Approximately 97% were from Central America.
It's difficult to believe Mexico's promises of protecting migrants against the Trump administration's discrimination when we look at how Mexico protects human rights at home. Mexico has one of the worst rates impunity in the world, where 98 percent of crimes go unpunished, according to the Center for Impunity and Justice Studies. The UN High Commissioner for Human Rights Zeid Ra'ad Al Hussein visited in 2015 and in his report revealed that 151,233 people have been killed over the last ten years, and at least 26,000 have gone missing since 2007.
In January, when Trump signed the executive orders to increase the prosecution of undocumented immigrants and expand construction of the border wall, Mexican president Peña Nieto scrapped his plan to visit the White House. Leaders across the political spectrum called on the president to cancel visit, which he heeded. "I regret and condemn the United States' decision to continue with the construction of a wall that, for years now, far from uniting us, divides us," Peña Nieto said in a video.
Laura Carlsen, a political analyst and director of the Center for International Policy's Americas Program in Mexico City, remains skeptical whether Mexico's opposition of Trump's immigration policies will move beyond rhetoric and support migrants on the ground. "It's not clear if there has been a big change, if you measure it by actions and not just mere declarations," Carlsen said in an interview. "It's very important for Peña Nieto, who has had the lowest popularity rating in modern history, to appear firm against Trump now."
In addition to examining the Peña Nieto administration's sincerity in protecting migrants' rights in the U.S., the question remains how exactly will Mexico monitor rampant human rights abuses. The foreign ministry has promised to offer mobile consular services, 24-hour telephone lines, and other consular services like passport transactions available to immigrants. But, if Trump's immigration policies are to be taken seriously along with the threat they pose to thousands of immigrant families, then Mexico should be compelled to monitor the human rights abuses that often occur in immigration roundups and detention centers.
Gerardo Cruz Sánchez was arrested in California for crossing the border in 2016 and immediately placed in the Otay Mesa Detention Center in San Diego. He contracted pneumonia while in prison. As his illness worsened, his pleas for medical attention were continually rebuffed, according to the San Diego Tribune. Cruz Sánchez languished on his blood-soaked mattress for months. He eventually was taken to a local hospital where he later died.
Inadequate health care, physical and sexual abuse, overcrowding and discrimination is prevalent in the country's 200 detention centers, according to the American Civil Liberties Union. It is still unclear how Mexico will monitor these human rights abuses. Besides the creation of Immigrant Defense Centers in the 50 consulates and embassies, an initiative to provide consular assistance as well as legal representation to all Mexican migrants, the statements from Mexican officials released in the last few months have done little to clarify how Mexico will protect its nationals in these situations.
In his opening remarks at the Miami conference, Secretary of State Rex Tillerson said the U.S. and Mexico share a commitment to enforce the rule of law at both of Mexico's borders. Tillerson spoke about protecting U.S. security interests, fighting transnational crime networks and promoting legal migration. In his opening remarks, Vice President Mike Pence emphasized the administration's commitment to thwarting undocumented immigration.
"President Trump has already taken decisive action to protect the American people from the harshest consequences of illegal immigration and the transnational drug trade," Pence said. "Thanks to President Donald Trump, illegal crossings at America's southern border are down nearly 70 percent since the start of this year. And we are grateful for our partners in Mexico and across the Northern Triangle who have contributed to our progress in this area."
While Mexico's Minister of Foreign Affairs Luis Videgaray emphasized sustainable development and investment in Central America's Northern Triangle as a solution to drive down migration, U.S. representatives at the conference emphasized security and enforcement. Heightened immigration enforcement, and in effect the criminalization of thousands of migrants, unites Mexico and the U.S. in its approach to Central American migration.
As the Trump administration plans to increase detention and deportations, Mexico needs to make clear how it plans to implement its promise to protect immigrant rights and needs to prepare concrete, on-the-ground plans to protect human rights of detained immigrants and come up with ways to hold the U.S. accountable for abuses. More fundamentally, it needs to address its role in perpetuating human rights abuses against migrants in its own territory.
Calling all HuffPost superfans!
Sign up for membership to become a founding member and help shape HuffPost's next chapter