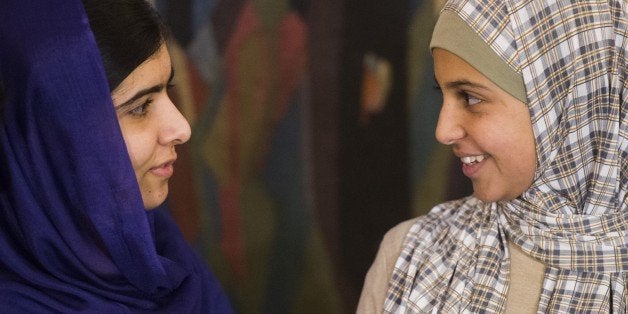 She's been dubbed the "Malala" for Syrian refugees and it's easy to see why.
After fleeing the horrors of her country's bloody civil war, Mezon Almellehan and her family made their way to Jordan where they faced a slew of new struggles, but the 16-year-old's resolve has remained unshaken.
The committed teen believes education is her ticket out of this fraught situation and she works to impress this ideal on the other girls in her Azraq refugee camp.
Each morning, Almellehan ventures from tent to tent urging her neighbors to go to school, the Malala Fund, a group that fosters education opportunities worldwide, wrote in a recent blog post.
"We have the right to attend school and I feel I have a responsibility towards the community," Almellehan told the human rights organization "As a girl, I can find friendly ways to convince a girl to continue with her studies."
Almellehan's sentiment mirrors her alter ego's advocacy mission.
After getting shot in the head by the Taliban while on her way home from school in Pakistan in 2012, Malala Yousafzai's commitment to education only grew stronger. Since then, the Nobel Peace Prize winner has dedicated her life's work to bringing education to children worldwide who have been deprived of that basic right.
She wrote a memoir about her experience and helped found her eponymous fund to propel her work forward.
Yousafzai has played an indispensable role in helping to inspire Almellehan.
The two met last year when Yousafzai visited the Zaatari refugee camp in Jordan, where Almellehan was living at the time. About 25,000 school-age Syrian refugees live in the camp, and Almellehan served as one of the school's "ambassadors," according to the UN Refugee Agency.
"To me, Malala is a big hero because she suffered a lot and she almost died of her injury," Almellehan said, according to the Malala Fund. "For me, as a refugee, this means I do not have to give up hope, which means I can get an education."
Having a vocal advocate engaged in the camps is particularly critical in Jordan where education rates have remained concernedly low among Syrian refugee children.
So impressed with Almellehan's passion, Yousafzai invited her friend to attend the Nobel Peace Prize ceremony with her in Norway in December, along with three other young advocates, Time reported.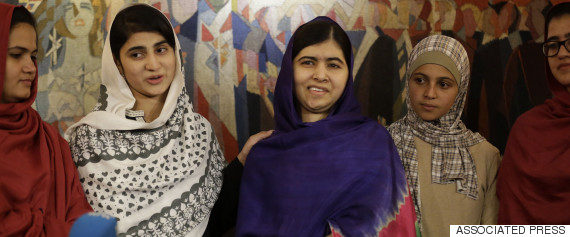 Joint-Nobel Peace prize winner Malala Yousafzai, centre, stands with four of the five young women she invited to attend the Nobel Peace Prize ceremony, from left, Pakistan's Kainat Soomro, school friend Shazia Ramazan, Syria's Mezon Almellehan and school friend Kainat Riaz, as they speak to the media at Malala's hotel in Oslo, Norway on Dec. 9, 2014.
While Almellehan faces a number of overwhelming obstacles, including not having electricity in school and seeing other girls pressured to get married young, she's undeterred.
"I want to be a journalist," she told the Malala Fund. "My future, I think it will be very nice."
Related
Before You Go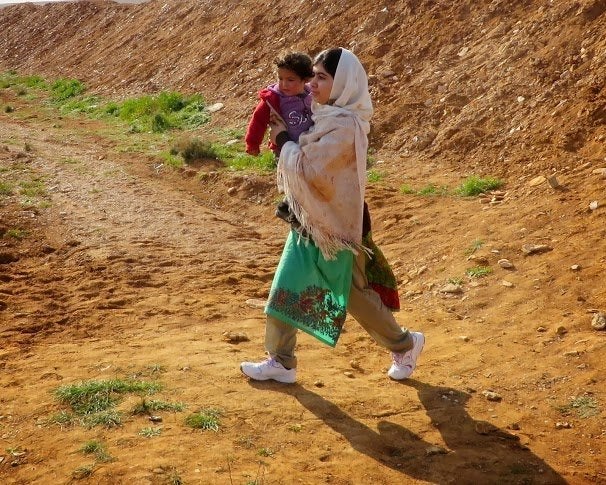 Malala Helps Syrian Refugees Cross Border