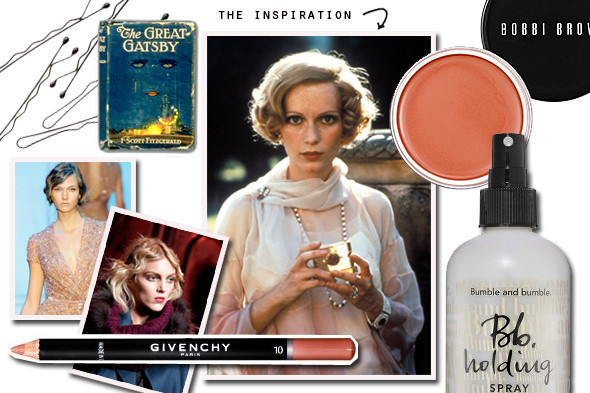 Clockwise from left: The Great Gatsby, Mia Farrow - Getty Images, Bobbi Brown, Bumble and bumble, Givenchy, Christian Dior FW 2011 - Photo: Gianni Pucci / GoRunway.com, Elie Saab FW Couture 2011 - GoRunway.com
This week we're paying tribute to Daisy Buchanan, the main female character in "The Great Gatsby" written by F. Scott Fitzgerald. The book -- which was first published in 1925, and later made into a film in 1974 -- follows a group of young socialites living on Long Island in the 1920s. Given their hugely extravagant lifestyles, picture-perfect good looks and tons of free time, complicated relationships and drama ensue.
Yes, Mia Farrow's Daisy Buchanan is shallow, vain and somewhat intolerable, but we're looking past that, and focusing on the actress's soft romantic hair and makeup: Her curly, cropped bob paired with dusty-rose-colored lips and cheeks created a seriously dreamy effect throughout the entire film.
The models at Elie Saab Couture emulated a similar look with touchable waves that were loosely pinned back, worn alongside stunning-yet-subdued makeup. At Christian Dior, rumpled, wispy hair also evoked a 20s Jazz Era vibe.
Click here to learn more about "The Great Gatsby."