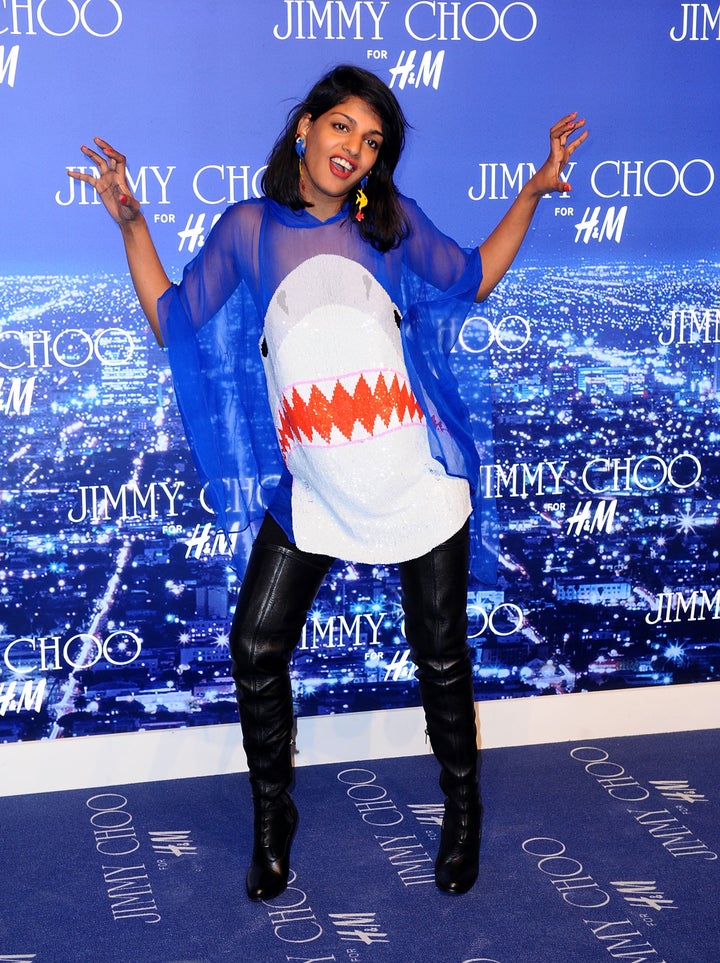 "917.834.3158 CALL ME IF YOU WANNA TALK TO ME ABOUT THE N Y T TRUTH ISSUE, ill b taking calls all day bitches ;)" she wrote.
Because MIA presented the number as her own, Hirschberg has been deluged with calls from fans wanting to hook up with MIA.
Hirschberg told the NY Observer that she thought MIA's tweet was "infuriating."
"It's a fairly unethical thing to do, but I don't think it's surprising," she said. "She's a provocateur, and provocateurs want to be provocative."
The NYT profile, titled 'M.I.A.'s Agitprop Pop,' covers MIA's political alignment with the Tamil Tigers and points out the group's terrorist tactics and massacres of Sinhalese villagers. It accuses the singer of taking a simplistic view of the ethnic conflict in her native Sri Lanka and supporting a violent separatist movement:
Her rhetoric rankles Sri Lankan experts and human rights organizations, who are engaged in the difficult task of helping to forge a viable model for national unity after decades of bitter fighting. "Maya is a talented artist," Kadirgamar told me, echoing the sentiments of others, "but she only made the situation worse. What happened in Sri Lanka was not a genocide. To not be honest about that or the Tigers does more damage than good. When Maya does a polarizing interview, it doesn't help the cause of justice."
Hirschberg reveals that MIA has gone from claiming her father was a famous Tamil Tiger freedom fighter to now saying he has worked for the Sri Lankan government for 20 years.
She also writes that MIA's fiance, Ben Bronfman, is the son of the Warner Music Group chief executive and heir to the Seagram fortune, which doesn't really jibe with the personal narrative of struggle and adversity the singer has self-consciously constructed and exploited in lyrics and public statements.
In one of many contradictions that seem to provide the narrative for Maya's life and art, Ikhyd was not, as she had repeatedly announced he would be, born at home in a pool of water. As usual, she wanted to transform her personal life into a political statement. "You gotta embrace the pain, embrace the struggle," she proclaimed weeks before Ikhyd was born. "And my giving birth is nothing when I think about all the people in Sri Lanka that have to give birth in a concentration camp."

As it happened, Maya, who is 34, gave birth in a private room in Cedars-Sinai Medical Center in Los Angeles. "Ben's family insisted," she told me a year later, when we met in March for drinks at the Beverly Wilshire Hotel, in nearby Beverly Hills. Before the Grammys, Maya and Bronfman moved to Los Angeles from New York, buying a house in very white, very wealthy Brentwood, an isolated and bucolic section of the city with a minimal history of trauma and violent uprisings.
M.I.A. says her quotes were taken out of context.
"NEWS IS AN OPINION! UNEDITED VERSION OF THE INTERVIEW WILL BE ON neetrecordings THIS MEMORIAL WEEKEND!!! >>>>" she tweeted soon after outing Hirschberg's number.
"FUCK NEW YORK TIMES! DO YOU THINK YOU NEED TO GO HERE ON VACATION?" she tweeted along with a photo of a pile of mangled bodies.
Popular in the Community