 Wanted: Young women for careers in science, technology, engineering and math
Soccer great Mia Hamm has never been accused of being an underachiever. Sixteen years after winning Gold at the 1996 Olympics, the busy mother of twin girls and a new baby boy is still promoting her sport, speaking out for young women and running a non-profit.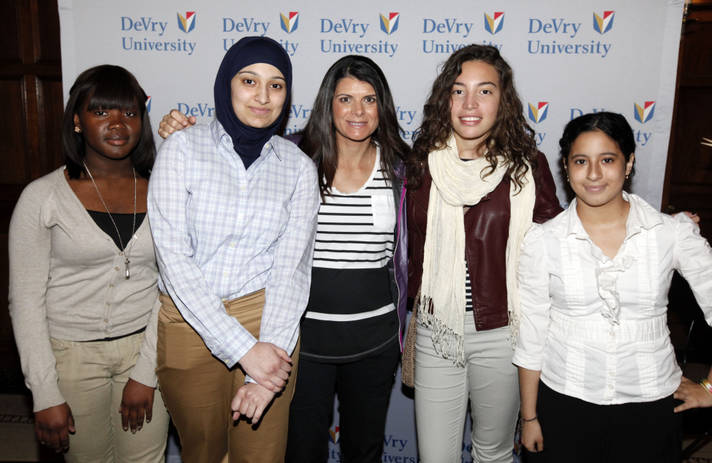 Olympic Gold Medalist Mia Hamm (center) and Girls at HerWorld Event In New York. (Photo by Jason DeCrow/AP for DeVry University)

As DeVry University's 2012 spokesperson during National HerWorld Month, the three-time Olympic medalist and two-time World Cup soccer champion is on a mission to empower high school girls to "go for their goals." The month-long program is designed to attract young women to science, technology, engineering and math (STEM) careers that they have been discouraged from pursuing.
"Mia Hamm is the perfect spokesperson to encourage girls into non-traditional STEM careers," says David Pauldine, president of DeVry University, an Olympic sponsor. "We focus on career-oriented education at the associate, undergraduate and graduate levels, and HerWorld helps raise awareness that young women must begin preparation early in high school to pursue their goals."
"We think of Olympians as perfect, but many are so devoted to their sport, they never finish college," says Pauldine. "We offer scholarships so they can take classes online in a time frame that works for them."
Hamm, the all-time international leading scorer -- male or female -- knows all about naysayers who tell students "your goal is unrealistic." Prior to getting a full soccer scholarship to the University of North Carolina (UNC), she was told her passion for soccer was a waste of time for girls. There was no career path beyond college. But with her mind bent on being the best she could be, Hamm persisted and helped lead UNC to four NCAA titles and catapulted women's soccer into a professional sport.
Her determination paid off. At age 19, she became the youngest team member in history to win the World Cup. In 1996 and again in 2004, Hamm and her teammates won Gold for the United States. Other accolades include Soccer USA's Female Athlete in the Year five years in a row (1994 to 1998) and Most Valuable Player of the Women's Cup, Soccer Player of the year and Female Athlete of the Year in 1995. In 2004, Hamm and teammate Michelle Akers were named to The International Federation of Association Football's (FIFA) list of 125 greatest living soccer players -- the only two woman and Americans on the list.
As a busy mother and wife to Major League Baseball standout Nomar Garciaparra, Hamm is still opening doors. She remains heavily involved in promoting her sport as well as running the Mia Hamm Foundation which is dedicated to bone marrow research in memory of her brother, Garrett, who died shortly after Hamm won Gold in the 1996 Olympics. She has also authored two books, Go For the Goal: A Champions Guide to Winning in Soccer and Life and Winners Never Quit, a children's book.
In Winning the Global Talent Showdown: How Businesses and Communities Can Partner to Rebuild the Jobs Pipeline, author Gordon E. Edward, an international expert on talent, training, careers and education, predicts that because of the world's increasing dependence on technology and the projected retirement of Baby Boomers, there will be a shortage of 8,000 highly skilled workers by 2020. Without a new influx of qualified STEM candidates, nearly two-thirds of these high-paying jobs will go unfilled.
"Both education and sports played a huge part of my life and taught me about setting goals, time management and pursuing my dream," says Hamm. "I tell girls to invest in themselves. 'Look in the mirror and say, darn it, I have value and worth. I can make a difference. The sooner I start, the better I will become.'"
Occasionally, girls complain that a big star like Hamm can't possibly understand the struggles they face. "I tell them that I didn't get it right all the time. I worked hard. Don't close any doors," she says.
HerWorld began 15 years ago in Columbus, Ohio, when DeVry faculty members found a way to help demystify careers in technology for women. The idea caught on system-wide and takes place every March. This year's partners are Microsoft, Cisco and Hewlett Packard, tech companies all concerned about filling jobs in the future. The final 2012 events take place this week in Miramar, Fla., and Atlanta, Ga.
"We invite both public and private high schools to attend events which are accepted on a first come, first serve basis," says Pauldine. "We hope HerWorld will be a myth buster. Not only are the STEM fields appropriate for women, they can be as good or better than their male counterparts."
The university's approach is working. According to Pauldine, in 1985, 75 percent of the student body was male. Today, it's nearly even. "We owe this changing mix to women wanting be enter the tech and business fields," he says. "Not all tech jobs go to India or offshore. American companies are seeking qualified employees here at home."
"Involving women in STEM careers is essential, not only to the American economy, but to their futures," says Pauldine. Taking tough preparatory courses in high school will prepare girls for college and help them land lucrative jobs in non-traditional careers in the future.

Related
Popular in the Community