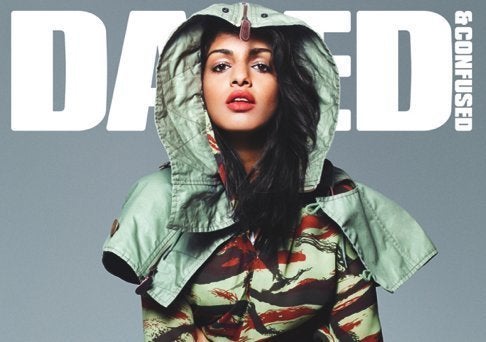 On her video being censored:
"I have seen way more shocking and intense things on YouTube. We saw Saddam Hussein being hung on YouTube and during the end of the war in Sri Lanka, the army tortured and mutilated people and celebrated by putting up horrific videos on YouTube. Coming from that political place, there is some confusion about censorship. But when it comes from a creative place there seems to be more of a hoo-ha about it, which is really strange."
On being told by the Sri Lankan Foreign Secretary she should stick to music and not politics:
I'm not doing it in a Bono way, like, 'We must save Africa.' I just saw something when I was eight and they didn't kill me. I am alive to say this is what happened, and to not have that right just because I make music now is really shit. I am not coming out as a political preacher. I survived it and I'm going to tell you my account of it, just like Jewish people get to talk about the Holocaust and we embrace it."
On how her baby influenced her new album:
"In the last months of pregnancy I watched so much destruction that was happening in Sri Lanka, and saw hundreds of babies being blown up. It was disgusting and it was horrible to watch and I felt so guilty inflicting that on my unborn baby. But at the same time it was a reality. I couldn't really ignore it, I got extra protective. People were sending me death threats and telling me bad shit about my kid... People would write on Twitter and YouTube, 'Your baby is going to die,' because I was talking about the Sri Lankan government and the issues that were going on there. Even though I had all this amazing success, at the same time I was watching this crazy destruction going on over there. No one really wanted to talk about it and then all these people were reaching out to me to talk about it because I am the only one that can represent them. At the same time I was pregnant and I didn't want to have to deal with that shit but I had no choice. It was the month they decided to end a 30 year long civil war so it wasn't like I could go, 'Ooo, sorry I just can't deal with this right now, I've got a baby on the way!' Maybe I should have done that. I think the album is a mixture of all those things - babies, death, destruction, and powerlessness."
WATCH the teaser for her cover shoot:
Popular in the Community