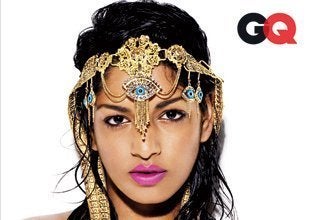 M.I.A. had a conniption last month when a New York Times writer pointed out the stark contrast between her home in whitewashed Brentwood, Los Angeles, and the narrative of poverty and struggle she exploits in her lyrics.
Now the singer claims she only lives in a Brentwood palace because she is too poor to afford similar digs in New York. M.I.A. and her fiance, who is the son of a billionaire and heir to the Seagrams fortune, moved from Bedford-Stuyvesant, Brooklyn, to Brentwood just before their son was born last year. She tells GQ why:
"I wanted an environment where I could have a lot of friends and family come and stay. That was the important part for me. And in New York I wouldn't have been able to afford someplace where I could have, like, all my friends come and crash out and where I could still have a baby."
According to Trulia, the average price per square foot for homes in Bed-Stuy is $169 and in Brentwood it is $636.
Granted, Bed-Stuy is probably a less safe neighborhood for raising her son, but it's got nothing on the war-torn Sri Lankan ghetto of her childhood:
"I lived on a street, a dead-end street. There were like seven or eight houses, and then you turn the corner and there was another seven, eight houses. But my whole family lived on the street. So it was amazing. I grew up with about a hundred of my cousins, playing hide-and-seek all over the village and the temples."