Paradigm Shifters is a series of interviews with a select group of women and men from eclectic walks of life. It will highlight unspoken, real-life insights on how they have been able to turn weakness into strength. A naked soul point of view of how their breakdowns were really a preparation for breakthroughs. They are your quintessential paradigm shifters; internal shifts converted into genuine change.
Everything I have ever done has been focused on this underlying theme of shifting the paradigm because, "What we think determines what we feel and what we feel determines what we do." Hence, why Empowered by You takes lingerie, which has traditionally been seen merely as a tool of seduction and redirected that energy as a tool of empowerment.
I hope from these stories you will look at your own situations, struggles and accomplishments through a different lens. At the very least you will be more equipped with real life tools to change your own paradigm. At the end of the day, we are our own Alchemist turning the silver we were born with into the gold we are destined to become.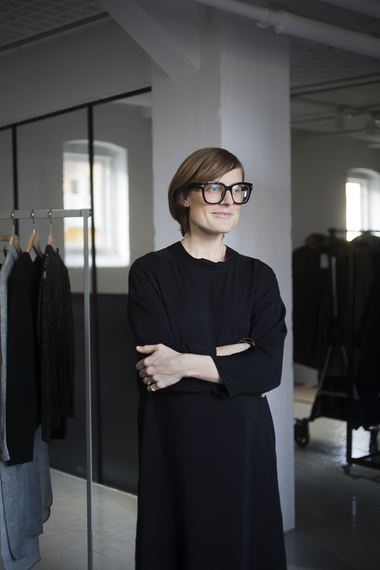 Tell me about the whole way you fell into design? How did this journey start and when did you actually fall in love with it?
The funny thing is, looking back now, I think that maybe it was meant to be. I grew up in a working class family. Design, and subjects relating to that matter, was not really what I thought I could do. But my dad actually worked as a sales agent for a small dress factory in Denmark. I remember being a kid and running around these giant cutting tables and just the pure, unadulterated excitement I would get from visiting him at work.
My father would collect all the leftover fabrics and bring them in these big bags to my after school care for my friends and I to play with. We would usually make small skirts and matching scrunchies from these scraps. I specifically remember creating these MC Hammer style pants. My early passion for designing clothes was forgotten for a while until I moved to London, around that time I met a few people in the fashion business, began hanging out with them and got another insight and glimpse into the business.
After London I had a few years split between working in Denmark, travelling in South America and living in New York. Returning to Denmark still having no plans, my good friend was about to start fashion school. I had her inquire on her first day of school if I could join, luckily there was still space and I just fell in love. I continued taking different courses in design, drawing etc. and eventually applied to a design school and got in.
It never occurred to me until then that I might actually make my living off designing clothes.
Did you experience any skeptics in your pursuit to design clothes?
Yes. I remember when I got into design school; my parents were definitely nervous. I remember my mother calling me and asking me if I was sure, if designing clothes was what I really wanted to do.
Of course now she's like I don't know what I was thinking, but it was a daunting move. I think she, at that point, saw designing merely as a hobby, something I always could do on the side, but I fell in love with the collection building and the stories that surround it. Moreover, I hope that this story could potentially inspire others to believe in themselves and dare to pursue their dreams.
Could you describe your brand?
I'm a believer of a multifaceted brand. Our brand serves for our consumers to create their own stories. Our collection and brand mentality is not about just purchasing a look. The customer creates their own, personal look. Of course our brand is geared towards independent and urban women and men who dare to define their own style. Our brand also believes it's important to know the current trends but not to be dictated by them.
It's simple, functional and timeless. Our approach is classic Scandinavian design with an honest craftsmanship, alongside with high quality fabrics that generate a quite sense of luxury. It's sophisticated, yet always wearable. Our ideal is democratic, approachable and graceful, with a Copenhagen simple-living-edge to it.
How do you get your inspiration?
I'll go see an exhibition or just watch people on the street.
And we travel to New York and Tokyo on a regular basis to collect inspiration.
We have a beautiful, open office and atelier in the creative part of Copenhagen, which I love, but I need a bubble to really develop my best work. I like to look at as much variety as possible. I'm drawn to strong, but clean, lines, varying color shades, and a variety of textile designs. The famous designs of Denmark that I grew up with was the modern Danish, democratic style from the mid-century. Some of those ideas developed back then perform an important role in developing our current collections. I love incorporating foreign materials and functionality in our clothing. We definitely have a scandy mentality at Samsøe & Samsøe.
How do your collections develop?
Well, our group will discuss materials and color, which forms the starting point for a mood board.
This mood board will often incorporate ideas from previous collections. We believe in the importance on building off previous collections, instead of just leaving them behind. It's such an incredible feeling to see people wearing our designs but I absolutely adore the early stages in developing collections, when everything is still open and possible.
There is a lot happening internationally for us, so it's important to hit the right designs and markets. Building a collection is exhausting but also exhilarating; it's a journey. We've grown so much from where we began, but we also take pride in staying true to our original form.
Your brand has focused on expansion beyond Denmark. Can you tell us where are you expanding?
Norway and Sweden have been strong markets for us for quite some years now, and we are grateful for the fantastic positioning we acquired in Scandinavia.
Besides that we are continuously gaining success in the UK, Spain, Benelux, Germany and France are also growing markets for us. The expansion and flagship store openings at premium locations in fashion capitals is definitely exciting. I'm a designer; of course I love it when people buy our styles and to have them purchasing it from different realms of the world is amazing. When sales are up and it's working it feels good.
Something that makes your company so unique is your communication? What makes it so unique?
Well, we're a very grounded company. A typical Danish person has grown up, encouraged through childhood and in ground school, to be a caring, creative, critical and communicative citizen.
This is why a flat structure, individual responsibility and a shared sense of community is still a huge part of the company.
In terms of our communication, we have lots of discussions and it's clear that everything is open to debate. Every voice is heard and valued generating a very inclusive, creative environment. This open essence is a bit of the beauty of the brand and why I love working there. It's quite extraordinary, especially in this business.
Calling all HuffPost superfans!
Sign up for membership to become a founding member and help shape HuffPost's next chapter