 When Mia Love addresses the Republican National Convention on Tuesday afternoon, it will be the coming-out party for the mayor of Saratoga Springs, Utah, one of the fastest-growing cities in the country. Love, a Mormon, is running for the congressional seat in Utah's 4th District, and is aiming to defeat Jim Matheson, the popular Democratic incumbent. If she wins, she'll be the first black woman the GOP has ever sent to Congress.
Polls have shown her trailing Matheson by a sizable margin for some time, but her speech Tuesday could put her on the radars of donors across the country, whose dollars might enable her to tighten the race.
"I can win those votes: the independents, the moderates, the women voters, the people who've kept Jim Matheson in office for a dozen years through six elections," she said at Utah's Republican nominating convention in April. She said she would counter the notion that "if you're poor, if you're an immigrant, if you're of a different color or female, the deck is stacked, you don't have a chance and the Republicans are the enemy." (Love's campaign declined to be interviewed for this article.)
But despite her claims about her appeal to centrists and the undecided, Love's politics are in line with conservative Republican orthodoxy. She is anti-abortion, favors lower taxes and a repeal of President Barack Obama's health care law, and also wants to close the Departments of Energy, Education and Environmental Protection. She's also a darling of Tea Party groups.
"[Democrats] believe that federal government should educate our children, control our lands, regulate each business and provide our health care by force," Love said to Utah Republicans in the same speech.
LaVar Webb, a Republican strategist from Utah, told Reuters that Love's election could change perceptions about the Beehive State. "They wouldn't discuss this publicly, but the fact that a black woman could be elected in Utah I think would signal that (the state) is more diverse and open-minded and cosmopolitan than people believe," he said.
But Utah isn't that diverse, ideologically or racially: It's both both ruby red and lily white. Matheson, her opponent, is the only Democrat in the state's congressional delegation. And he's not exactly that far to the left himself, having voted against the Affordable Care Act, opposing abortion and is a member of the Blue Dog Coalition, a caucus of conservative Democrats.
According to the 2010 census, the Beehive State was around 2.5 percent black and more than 84 percent white. Those numbers are even more pronounced in Saratoga Springs, which is nearly 93 percent white and whose black population, which was never substantial, has shrunk even more as the city's population has exploded. About half of 1 percent of the town's population is African American. At home, at least, there just aren't that many black folks or moderates whom Love can court for votes.
The GOP is spotlighting black Republicans in speaking roles at this year's national convention even as the party's share of the black vote has continued to shrink. After making slow inroads among black voters in national elections -- President George W. Bush appealed to socially conservative African Americans and managed to get double-digit support among that demographic in 2004 -- Republicans nabbed less than 5 percent of the black vote nationally in 2008. But a recent poll found that Mitt Romney was pulling in 0 percent of the black vote. (The poll had a margin of error of 3 percent.)
Love has also been vocal in her disdain for black lawmakers in Congress. Earlier this year, she told the Deseret News that she would join the Congressional Black Caucus if she were elected, and then "take that thing apart from the inside out."
She's said that CBC lawmakers "profit from promoting an unsustainable entitlement system rife with failed poverty programs that perpetuates the culture of government dependency and discourages self-reliance among black Americans," and said that black voters need to know that their representatives "want to keep them on the 'government plantation.'"
Some black conservatives are heartened by Love's growing fame. Demetrius Minor, a political commentator and a member of Project21, a network of black conservatives, said Love is an icon among black conservatives. "The media, they kind of think being a black conservative ... you don't exist," Minor said. "She just so happens to represent an area that is predominantly white, but I think they like her character, and that transcends the color of her skin."
Before You Go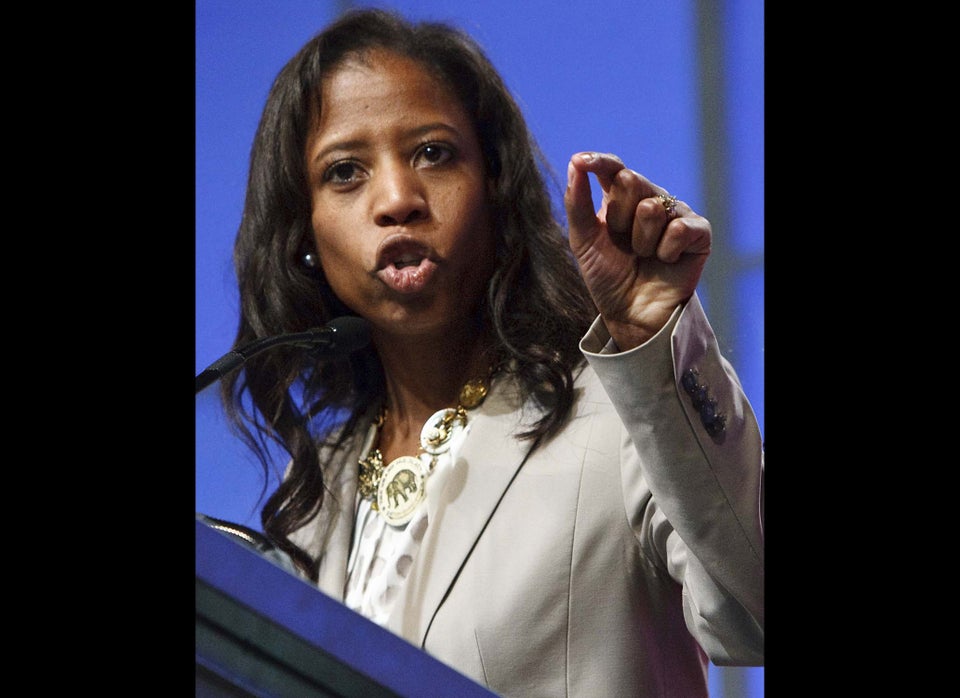 Mia Love, Utah Republican
Popular in the Community