 SALT LAKE CITY, Aug 27 (Reuters) - Rock star. Novelty. Myth-buster. Surprise.
That's how some pundits describe Mia Love, a Republican congressional nominee in Utah who is upending stereotypes about the state and its predominant faith. A rising star and mayor of a small Utah city, she will have a brief prime-time speaking role on Tuesday at the Republican convention.
Love, 36, is a black Mormon in a deeply conservative state where her race makes up less than 3 percent of the population. If she bests the popular, right-of-center Democratic incumbent, Jim Matheson, in November, Love would be the first black, conservative woman elected to the U.S. House of Representatives, although polls show she faces an uphill battle.
"I believe our country is in big trouble," said Love, also a runner who teaches fitness classes. "If I can make a difference, not only should I do it, it's my obligation as a parent and an American."
In 2010, she was the first black woman elected as mayor of a Utah city. She's also a first-generation U.S. citizen whose parents immigrated to New York from Haiti in the 1970s in search of the American dream and who wanted to make sure their daughter contributed to society.
Love, a mother of three, says she's running against six-term incumbent Matheson in the newly created 4th District in central Utah to do just that. Matheson represents Utah's 2nd District and opted to run in the 4th after redistricting scattered his constituents.
That Love captured the Republican nomination was a surprise both in and out of Utah. A Tea Party darling, she is now seen as representing the strongest chance in a decade for Republicans to push Matheson, the lone Democrat in Utah's congressional delegation and a fellow Mormon, out of office.

Little-known outside of Saratoga Springs, a farming hamlet turned city of 18,000 about 35 miles south of Salt Lake City, Love leap-frogged over a crowded field including two better-known state lawmakers to snag the nomination with over 70 percent of the vote at the state Republican convention in April.
Utah political insiders chalked up her victory to a confluence of events, including infighting between two front-runners and an engaging speech by Love that hit all the right notes for the traditionally conservative delegates.
She champions limited government, fiscal discipline, personal responsibility and state's rights. She's pro-gun and holds a concealed weapon permit, opposes abortion and has said she would favor dismantling the federal departments of energy and education.
She also supports Utah's effort to reclaim public lands from federal agency controls and would vote against regulations she believes would restrict economic development.
"She was clearly a wild card," Matthew Burbank, a University of Utah political science professor, said. "She's not all that different in the sense of her political views and her being a member of the majority religion. On the other hand, she does have a life story that is different than anybody I can think of in Utah politics."
Love has the backing of the National Republican Congressional Committee, which has given her campaign nearly $1 million for fall television ads.
"I have never had a problem with people calling me a shiny new toy, but hopefully it's what I stand for that matters," Love said. "I was elected as mayor with 60 percent of the vote, and it wasn't because I'm black and I'm female."
Republican Senator John McCain of Arizona and House Speaker John Boehner have campaigned for Love in Utah. Former Secretary of State Condoleezza Rice is due to appear at a Utah event on Sept. 7.
Ann Romney, wife of Republican presidential contender Mitt Romney, has endorsed Love, as has Romney's running mate, Paul Ryan. But national support, or even her speaking role at the Republican convention, may not help Love gain enough ground to win.
A recent poll conducted for Salt Lake City media outlets the Deseret News and KSL television found she trailed the race 53 percent to 38 percent.
Still, there's no question that Love's race is part of what's drawing the attention of party leaders, said LaVar Webb, a longtime Salt Lake City-based Republican strategist.
"They wouldn't discuss this publicly, but the fact that a black woman could be elected in Utah I think would signal that (the state) is more diverse and open-minded and cosmopolitan than people believe," Webb said.
Matheson, the son of Utah's last Democratic governor, has held his seat because he's viewed as a moderate who breaks party lines to vote with Republicans on issues that align with Utah's more conservative values, pundits said.
Matheson, however, disagreed that Love offers voters anything dramatically different from past challengers.
"I don't think most Utahns want to get rid of the Department of Energy or the Department of Education," Matheson said earlier this year at a community event. "It just sounds like more of the same, extreme positions from someone who will go to Washington and vote the party line." (Editing By Cynthia Johnston and Leslie Adler)

Before You Go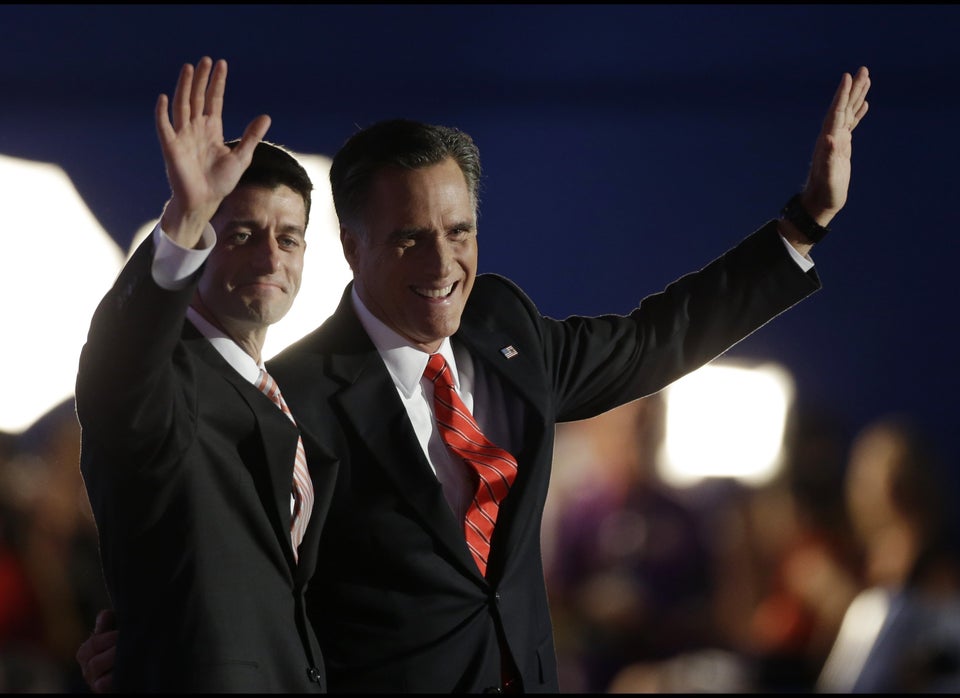 Republican National Convention 2012
Popular in the Community