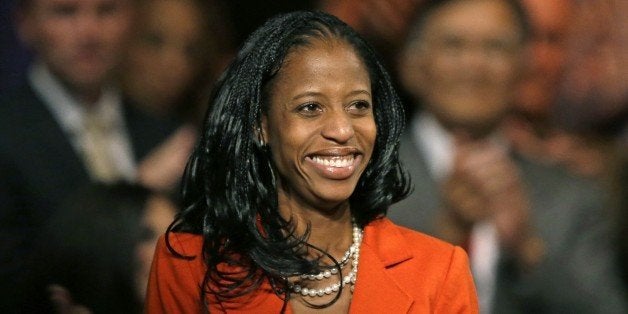 Mia Love made history on Election Night 2014 as she beat out Democratic contender Doug Owens to become the first black (Haitian-American), female Republican to be elected to the U.S. House of Representatives. This is a stunning triumph in the predominately white and conservative state of Utah, where only 1.3 percent of the population is black. For many Americans unfamiliar with the significance of race, racism and inequality within our nation's borders, Mia's victory seemingly sends a clear message that America is truly " post-racial," particularly if a black woman can get elected to office by a majority-white, conservative and religious constituency. Her white supporters likewise congratulate themselves, proclaiming that Love's achievement is indicative of a more progressive and democratic society in general where tolerance and inclusion are on the rise, moving beyond the evils of individual bigotry. Starkly exposed since the election of President Obama in 2008, her GOP colleagues and supporters hope that her presence as a newly elected official will demonstrate how far the GOP has come, embracing difference that was so clearly lacking. Some believe her victory will do wonders for the GOP, which struggles to gain a significant share of the coveted "minority vote." But will her election play a major factor in gaining greater access to black Americans, or is it merely a veil?
To many African Americans and other individuals engaged in politics who followed Mia Love's House candidacy up to her historic victory, she is a paradox. As a black, female Mormon, her conservative ideals are deemed peculiar as she begins her office in the House of Representatives while balancing a triad of oppressive social constructs that are leveled against her. Not only have blacks historically and continually had to battle for their right to coexist as equals in U.S. society, but women have similarly pushed against a glass ceiling. Even today, women still struggle for equal pay, equal rights and equal protection under the law in the workplace. Mia, as a black female, represents one of the most discriminated-against racial groups in the country. To a degree, the same can be said for her Mormon identity, as the LDS faithful endured bitter hatred and state-sanctioned domestic terrorism in Missouri and Illinois in the 1800s. Mormons remains grossly misunderstood and often unfairly judged with respect to their religious views, while mainline evangelical traditions continue to wield Christian privilege at the expense of "fringe" religions like Mormonism. How does a black, female conservative and Latter-day Saint manage to negotiate so many foreboding white contexts?
Love's political convictions show a strong support for values that do not necessarily represent her interests as a member in any of these oppressed groups. For example, blacks are not doing well with respect to education, economics and health outcomes, while women still trail behind in salary and significant positions of power, and conservative politics are not typically known to aid these groups in such key issues. These actualities of Mia's existence seem to be diametrically opposed to her values that are grounded in a white, male, Christian context. She appears publicly unhampered by the daily grind of white racism that affects other racial minorities within the United States. Unlike most of them, Mia gets to walk through the hallowed doorways of white institutions controlled by elite, powerful men. She is allowed to pass through in her black, female body with the understanding that she must not see, speak or openly advocate for anything related to race or gender -- an unholy compromise. Hence, she might look black, but her politics are red. This is one way white privilege is reproduced at the legislative level of government. In fact, Mia, along with other notable black conservatives such as Allen West, Michael Steele, Amy Holmes, Alan Keyes and Tim Scott, subscribe to a party that rejects any notion of systemic racism as a central cause of black suffering within its basic tenets of individualism. What many conservatives fail to recognize is that individuals are connected to larger groups, and the group in which these Black Republicans belong persistently lags behind in every major social indicator.
Mia and others like her are seemingly out of touch with the political realities of African Americans and what remains at stake for them. It would be a mistake to assume that all black people are monolithic and share the same political inclinations -- the Pew Research Center estimates some 3 million self-identified black Americans are registered Republicans -- but there has yet to be a groundswell of support for the right-wing ideology among the vast majority of black voters. Thus, for most African Americans, it appears counterintuitive that someone black, female and Mormon could possibly endorse the GOP given its history of anti-Black, anti-feminist and anti-Mormon sentiment. Whether this is due to her LDS faith and the apparent Stockholm syndrome of black Mormons (in the past, the LDS church perpetuated racist folklore to justify the marginalization of black people) or due to her racial consciousness, this may not be so preposterous when we recognize that American politics is a deeply partisan and fractured system, in the business of servicing big corporations, wherein Americans are duped into voting their values even when they contradict their success as a social group. Black Americans are the only racial group that votes in a bloc and, arguably, the only group to vote their political interests. But Mia Love, viewing herself and others through the prism of individualism, strays from the political stances that would benefit the black community as a whole, which is why a political figure like her is so compelling.
As the Republican Party contemplates their approach to the 2016 presidential election, the first black, female Mormon in the House has captured their attention on the national stage. This win serves as a psychological victory for them after launching a political strategy to gain more of the "minority vote" since losing the presidency in 2008 and 2012. This pattern of using blacks to further white interests was foundational in the emergence of American society and has been carried forth with each proceeding generation, whether blacks are used physically or, in this case, symbolically. In the end, however, her new role as a freshman GOP congresswoman serves more as window dressing for the red states and is unlikely to result in a shift of more blacks to a party that continues to relegate them to the borders of society. Instead, her accomplishment is quite dangerous for people of color, sending a message that society is post-racial when, in fact, hate crimes, police shootings of innocent and unarmed black men and boys and vitriolic online attacks have dramatically increased since the election of our first black president. Mia Love and her red political ideology do not align with the needs of black Americans, historically disenfranchised people who remain left out and left behind.
Correction: An earlier version of this post misstated Tim Scott's name as Tom Scott.