The museum will be named after developer Jorge Pérez, who has pledged $35 million in cash and art, museum officials announced Friday. The new Herzog & de Meuron-designed space is already under construction in Bicentennial Park and slated to open in 2013. But the proposed name, Jorge M. Pérez Art Museum of Miami-Dade County, is causing a stir in the MAM board of trustees.
And it's not even all that much cash, either. According to Frank, Pérez has only paid $5 million to date, and the rest of his $30 million is promised over the next ten years -- half of it in the form of donated Latin American art. On the other hand, the City of Miami donated the priceless waterfront land on which the new MAM sits and $100 million of the $167 million raised has been city and county taxpayer money.
Historically, city art museums are not treated like stadiums. Their names are not sold to the highest bidder, much less the second-highest. (Consider New York's The Metropolitan Museum of Art and L.A.'s Los Angeles County Museum of Art.) What's more, someone visiting Miami will likely think the Pérez Art Museum is just another private collection like De La Cruz, Rubell Family, and Margulies instead of the city's central art museum.
Frank calls on Miami taxpayers to demand that the board of trustees reverse its renaming decision by joining the protest on the MAM not PAM Facebook page. In the ad, Frank also provided MAM director Thom Collins's email, but sources say that after a deluge of emails, Collins's email has been shut down. (Huffington Post sent Mr. Collins an email and it did not bounce back.)
The Miami Science Museum is also breaking ground nearby MAM's new site in Museum Park. Set to open in 2014, the new science museum will be named the Patricia and Phillip Frost Museum of Science after a $35 million donation from the billionaire entrepreneur and his wife.
This renaming is not causing as much controversy. Perhaps Miamians take their art more serious than their science. Nonetheless, whenever this many city institutions start bearing sponsor names, we're not too far away from living in Morgan Spurlock's The Greatest Movie Ever Sold. Get ready for POM Wonderful Presents the City of Miami.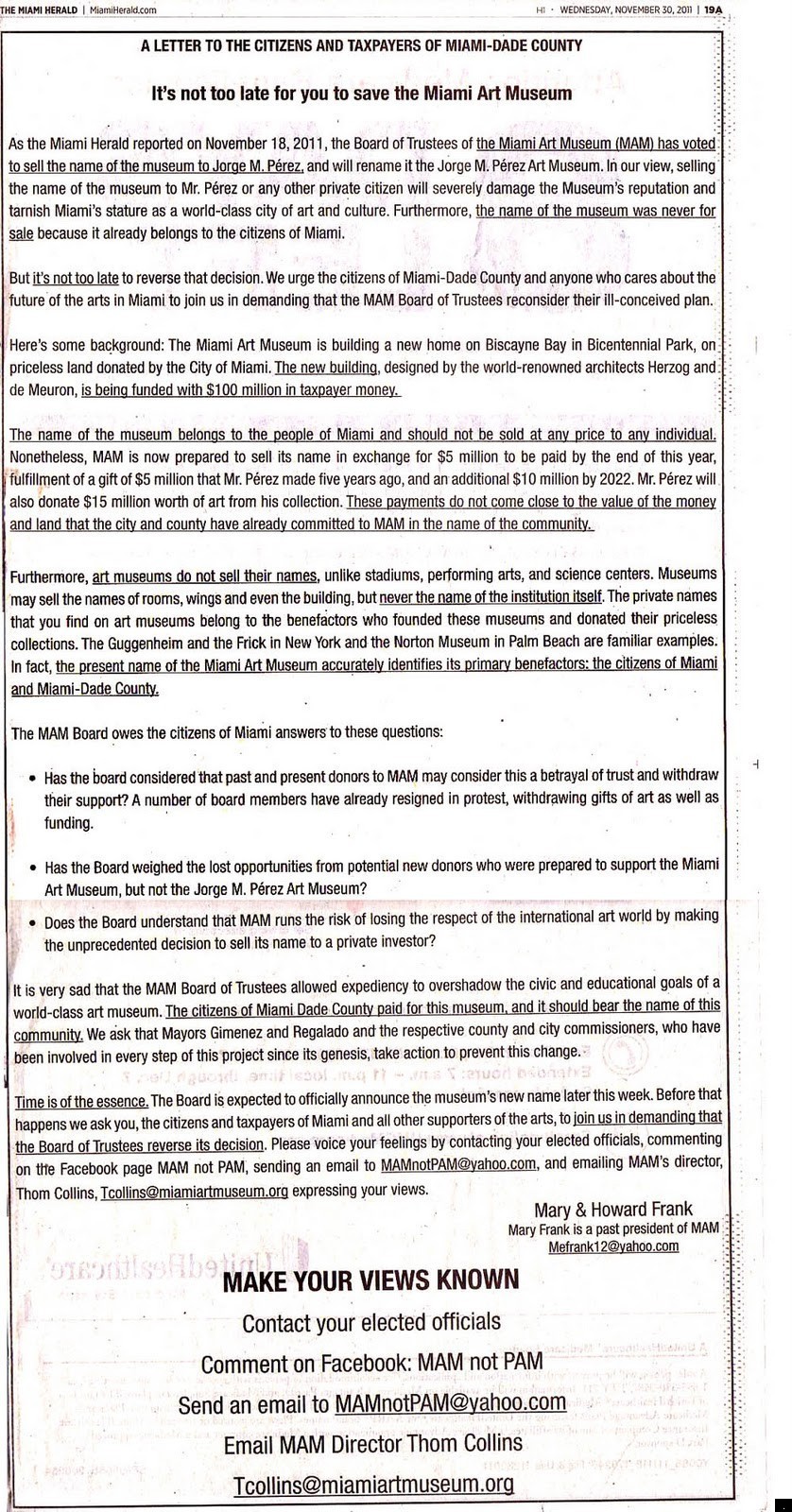 Popular in the Community