From community yoga to the Miami Flea to the silent disco on the Metro Mover to live music and movie nights, slowly but steadily, they are crushing it.
All of their events are free (which we like) and turned out.
This begs the question: who are they?
Well, the Arts & Entertainment District is an emerging, neighborhood connecting Wynwood to Downtown Miami in an area generally known as the Omni District.
They host events at Canvas (on NE 17th Street) where soon they (NR Investments) will build a 38-story condo. They also host events at the Filling Station Lofts. And in the near future, we will see retail and restaurants start to open. But let's be clear --since we are attending these events --- if you lift the veil of their culture you will find real-estate wizards who want to sell us condos most of us can't afford.
A younger version of myself would wag a finger with phrases like "gentrification" and "one-percent big-wigs" and "real estate scam" but this viewpoint is immature.
At the end of the day, the area needs development. At least the developers are hiring brilliant twenty-something marketers and publicists to create awesome events that include the whole community. At least they are paying musicians and artists. At least they are bringing together small businesses and connecting the area.
The A & E District developers are literally and quite figuratively building on top of us, with us, for us, and even if we can't afford to live there, at least we are welcome. At least it feels like it. In contrast, there is a lot of development in Miami that pushes us aside, whether we like it or not, regardless if we care.
The challenge for the A & E Entertainment District is to not play itself out, which is ironic since they are only emerging. But remember, this town is fickle and trendy and shallow -- and when the winds change --when word gets out that they want us to buy expensive condos -- if the events start to feel redundant -- well, they run the risk of becoming blase. For now let's say a prayer and toast them.
Here's to staying relevant.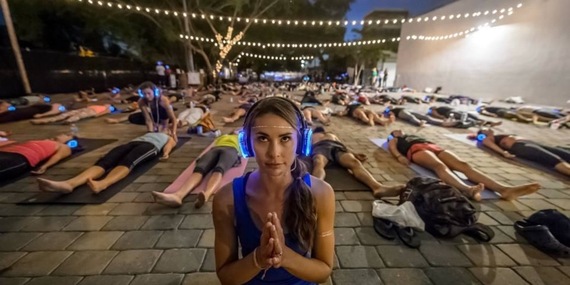 Popular in the Community