I just returned from attending Miami Basel for the first time and a week later all I can still say is WOW.
In seven short years Miami Basel has become one of America's most important art fairs with a huge international audience and it turns out that the art is not the only worth staring at--- the people watching, the parties, Miami itself-- it all combines into an intoxicating brew that will surely take a year to recover.
I would comment on the art which would require one hundred thousand blogs, so I've taken a sampling of photos to share with you below. I was struck most of all by the painting, especially the Germans in the satellite fairs (more on those fairs later.) I initially attempted to record every artist and gallery's name that I captured along with the image, but that turned out to be too massive an undertaking, so I decided instead to recreate the art blizzard that one experiences-- something I could never get away with it in the print world.

Unlike other types of conventions where people are noisily talking and pitching and selling and meeting, wandering through an art fair, even one as massive as this one filling the entire Miami convention center, is very Zen. People quietly walk from booth to booth, as though visiting a different temples, trying to decide whether to join its religion or not. (It fittingly occurs the same week as the Hajj.)

For most artists, the fair hovers around our consciousness like a distant moon or planet that we know is there but that we don't actually visit. My paintings have attended for a few years with my gallery, but I myself had never gone in person. That said, I hear more and more galleries suffering from fair fatigue and given the economy, I fear the degree to which these fairs will carry on with the gusto they have in the past will diminish. In fact, I met many people who said, "you shoulda seen it last year -- there were twice as many Basquiat's and Warhols.... Clearly the dealers were holding back their best stuff". That may have been true, but it was still pretty spectacular.

The trip was especially fascinating since I recently finished the vocational thriller "7 Days in the Art World" by Sarah Thorton about how things really work. She, or perhaps it was John Baldessari, likened an artist going to a fair to catching one's parents having sex. Artists don't like to think of their work as merchandize, let alone see their dealers in the "act" of treating it that way.

The anatomy of the fair goes something like this: there is the main fair, Miami Basel, where you see really big artists, many dead ones (Magrittes, Bacons and Warhols, etc.) but far more living artists' work such as John Curry, David Hockney, Elizabeth Peyton, Lisa Yuskavage, Francesco Clemente, Cindy Sherman, John Baldessari, Alice Neil and Peter Doig which was fascinating to see in person, in some cases for the first time. The big fair is also in South Beach, near all the swanky hotels and where most of the parties flourish at night.
The satellite fairs are clustered about thirty minutes away in what is normally a rough neighborhood. These smaller fairs have cool names like "Aqua, Pulse, Scope, Nada" in general feature younger more emerging artists. My work was exhibiting at Aqua Wynwood which was my favorite of the Satellite fairs and not just because I was in it. In these fairs more than the main one, Obama was clearly the star of the show. And thank you, Florida, for that. As we were shuttled through the neighborhoods of the satellite fairs you could see posters sprinkled along the side walk that said "Mission Accomplished" with Obama dressed as Superman.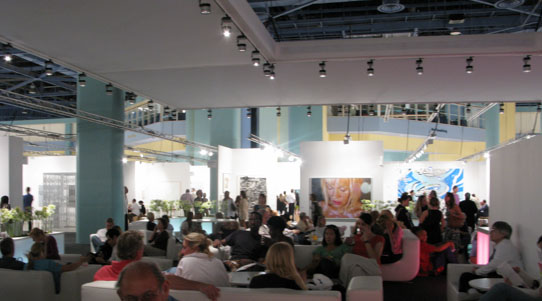 The people might not eclipse the art entirely but they sure come close. The opening night at the main fair is called "The Vernissage" which technically means "varnishing" in French but in this case means private preview. Living in Los Angeles, I can tell you that I have attended my share of fancy parties, but nothing can compare to the chic and sex appeal of an international crowd speaking many languages at this event. Where women in America often dress like grown up version of their teen-age daughers, the European women, escorted by their handsome men in tailored shirts and a scarf casually draped around their neck, slink in the lanes like Catherine Deneuve of every age was put through a cloning machine. It's fashion/people watching heaven.

The Miami nightlife or "scene" is certainly dramatically enhanced during the fair, with dinners and parties all over town, especially in South Beach. Often, I thought to myself, "Gee, either there are more people in Miami, or just more people out having a good time." Every place seems to be teaming with slick looking people, the city has a vibe more like Chicago with better weather and better looking people (sorry Chicago.) It was definitely not a West Coast vibe where most people like to be in bed by 11:00.
My last night really took the cake. After attending a Vanity Fair Party then a lovely dinner for Tory Burch, the next thing I knew I was at a concert with a thousand pulsating Miamians dancing the night away while Lyor Cohen, Jay Z, Beyonce, Marc Jacobs, Missy Elliott, the Williams Sisters were grooving on stage behind a great performance by Estelle at the Fountainbleu. This is apparently what happens at Miami Basel-- you go, and there are rivers of people and parties and you go with the flow. What a blast. And what a far cry from my studio in Venice. Miami left me exhausted but inspired. In the coming weeks I will be highlighting emerging artists that struck me so stay tuned for more.
Related