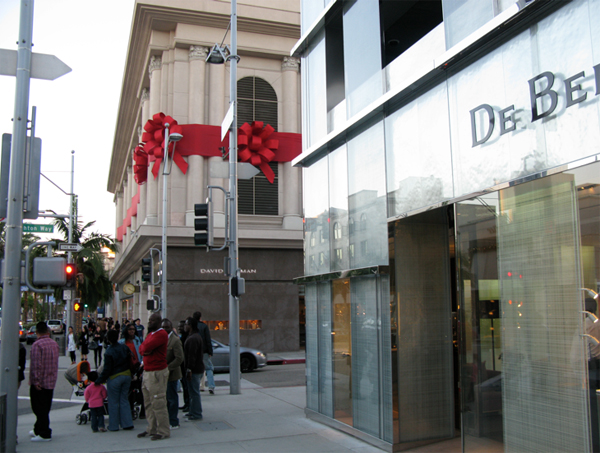 On what turned out to be "Black Friday" in the late afternoon, I headed east to Beverly Hills to see Joan Mitchell's The Last Decade show at the Gagosian Gallery. I found a parking space a few blocks away and fought my way through throngs of shoppers looking for -- for what? A gift, an Hermes bag, a deal? They were everywhere. When I walked in the quiet gallery, the paintings hit me like a train and tears started to well in my eyes as I stood before the first piece at the gallery.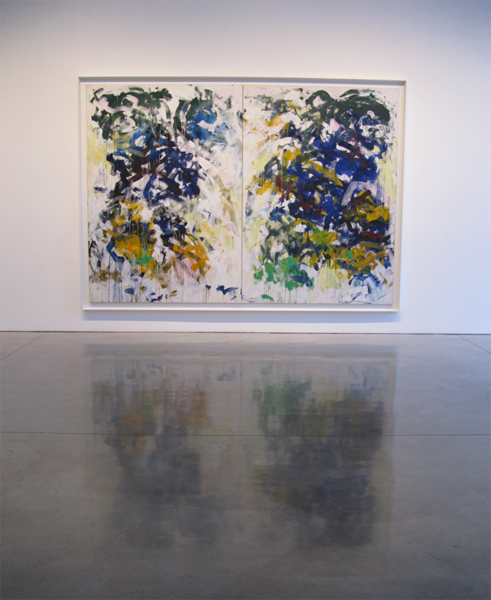 Joan Mitchell at the Gagosian Gallery, Los Angeles
Art affects us all in different ways. I am currently working on my own large-scale paintings. I'm in the big struggle for less -- less strokes, fewer colors, more gesture, more impact -- brevity. The simultaneity of the riot and the stillness, on Mitchell's canvases vs. that perfectly quiet room, especially in contrast to the throbbing streets outside, caught me off guard. Their vibrancy, created towards the end of her life, was equally disquieting.
Another couple entered the room and they were just as hushed. They didn't have shopping bags and didn't seem to be shopping at the stores that day either. It was as if we had decided to go to church and worship art instead. What is the difference between the people lusting over Hermes and those looking at the art? What would it look like if we could all walk around with MRI scans hovering above our heads as we took in the sights? Do different parts of our brains light up when we're taking in a beautiful painting or coveting a cashmere coat?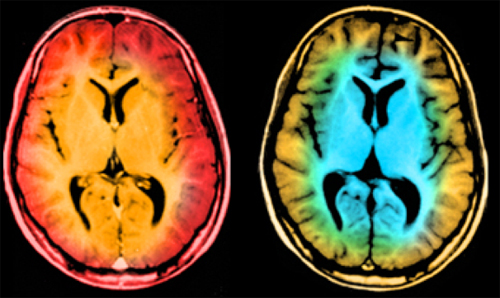 This is Your Brain Shopping (left), This is Your Brain on Art (right) Credit: Wikimedia Commons
Actually, I just made that up. But I'm about to go to Miami Basel this week, and I look forward to the total immersion that is the experience of an artist attending an art fair. It is uncommonly quiet at the fairs -- compared to other types of fairs or conventions -- each booth is an alter or shrine and people stop by to pray, absorb and if you're lucky, cry a little.
It's been five months since we launched the Arts page, and I am more exposed to and aware of what is going on in "the art world" than I have ever been before. And yet, and yet, the imagery more often flies at me digitally, from my inbox in the morning and the evenings, and I hardly have a chance to see shows in person. Of course I make time for the biggies, certain museum shows and certain artists that I love or want to discover, like Joan Mitchell's. But never often enough.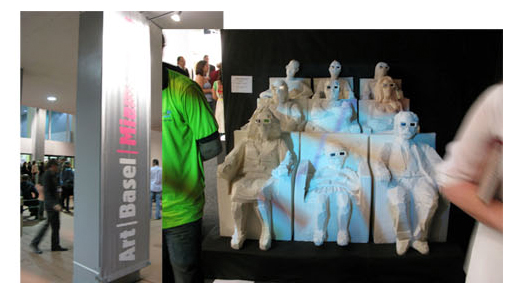 Miami Basel 2008
The anatomy of the fair goes something like this: The main fair, "Miami Basel," is located in South Beach, where you see really big artists, many dead ones (Magrittes, Bacons and Warhols, etc.) but far more living. Then the satellite fairs, with cool names like "Aqua, Pulse, Scope, Nada," are clustered about thirty minutes away and in general feature younger more emerging artists.
John Baldessari once likened an artist going to a fair to catching one's parents having sex. Artists don't like to think of their work as merchandise, let alone see their dealers in the "act" of treating it that way. For most artists, the fair hovers around our consciousness like a distant moon or planet that we know is there but that we don't actually visit. My paintings had attended for a few years with my gallery before I had come in person. But now that I've gone several years in a row, I'm hooked. I'm ready for the artist pilgrimage where I will no doubt pray, cry and enjoy some of the best people watching on planet earth.
On the flight home, my camera will be full and I will feel like I always do, like I've just gone through a car wash without a car. I hope to see you there!
Popular in the Community