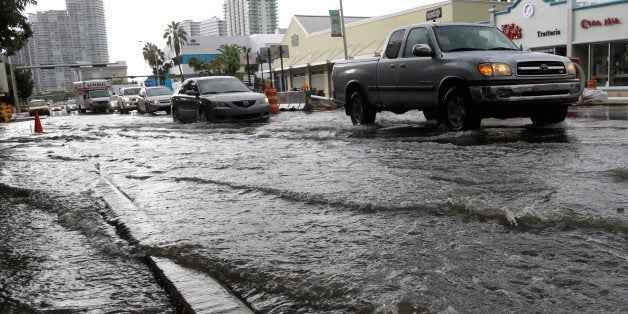 MIAMI BEACH, Fla., Oct. 3 (Reuters) - Construction crews are wading into chest high pools of muck in a race against time to install pumps Miami Beach officials hope will help control an annual super-high tide threatening to flood south Florida's popular seaside city next week.
Around Oct. 9, a so-called "King Tide" is expected to push almost an extra foot (30 cm) of water onto streets, going over sea walls and forcing residents to wade through flooded streets, an annual event causing widespread damage.
"It's been a nightmare," said Andreas Schreiner, who has seen past high tides bring water up to and even inside his group of neighborhood restaurants, causing tens of thousands of dollars in losses due temporary shut downs and cleanup.
The event, caused by the alignment of the sun, moon and Earth, provides a taste of the potential impact of a longer-term two-foot sea level rise predicted for south Florida by 2060, according to the United States Geological Survey.
The low-lying greater Miami area, with a population of 5.7 million, is one of the world's most at-risk urban communities, scientists told a U.S. Senate subcommittee hearing in April.
The King Tide is expected to rise to almost four feet. With seven miles of coastline, Miami Beach is already seeing more frequent salt-water street flooding at high tide, according to Miami Beach City Manager Jimmy Morales.
To combat such widespread flooding, the city has set aside $300 million to 400 million to install up to 50 pumps in the coming years in what some say is a vain effort to protect an estimated $23 billion of real estate.
Bigger sea walls are not an option as Miami Beach's flooding is caused largely by water rising underfoot through porous limestone bedrock. Officials concede pumping water back into the ocean is only a short-term solution.
Standing near four pumps that will each push 7,000 gallons per second when switched on, Miami Beach's chief engineer, Bruce Mowry, said rising seas pose a constant challenge.
"The technology is never as effective as it was when you first installed it," he said.
The city is also retrofitting 300 outflow valves that allow stormwater to drain into the bay, inserting plugs to prevent the reverse flow of sea water. Dunes are being reinforced with sea oats and engineers are looking into pumping water into underground storage.
Apart from these measures, Miami Beach has begun to develop a long-term plan for coping with sea level rise, including pushing developers to sacrifice street-level space for more elevated building designs.
"It's a retreat up," said Morales.
Doing so is critical to quell concerns of insurers and lenders backing the city's blockbuster development.
"In order to keep the real estate market hot, we need to assure people who understand this that we are doing everything in our power," Morales added. "Do you wait till it's at your ankles and knees?" (Editing by David Adams and Steve Orlofsky)

Support HuffPost
The Stakes Have Never Been Higher
Related
Before You Go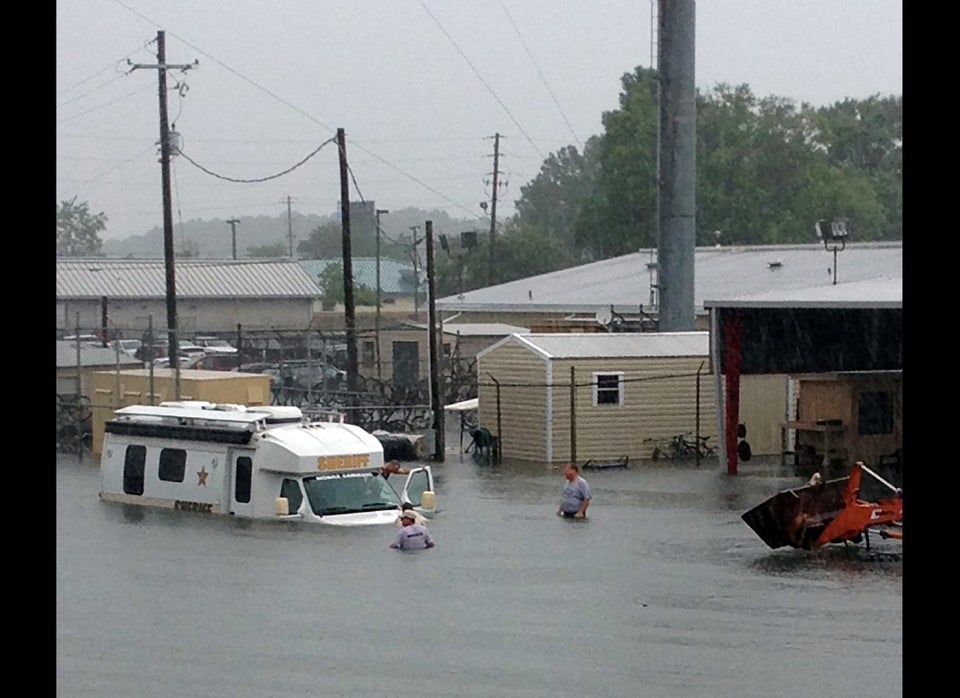 Florida And Gulf Flooding
Popular in the Community