A successful Washington D.C. entrepreneurial bachelor, Bill Dean had the vision to buy the late S.S. Kresge's, historic home in Miami Beach. Just before going to auction in 2009, Dean grabbed this Mediterranean Revival estate built in 1937 which served as the summer home for the man whose company later became Kmart, for a mere $8 million. Dean then put in an additional $32 million bucks for a "renovation" putting his total outlay to $40 million making it the most expensive "redo" to anyone's recollection in Miami's history.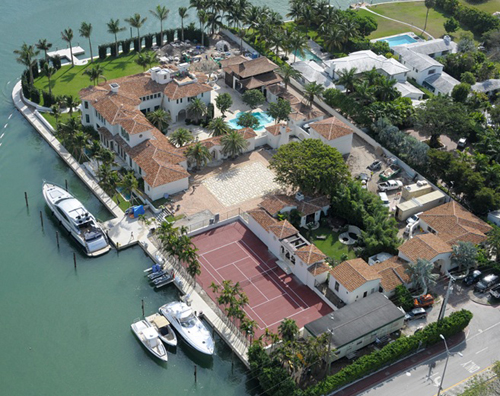 4949 Pinetree Construction/Renovation Site
This was not merely an impulse buy on Dean's part. As C.E.O. of his family's company, M.C.Dean Inc, a Dulles, Va based engineering company that creates high-tech infrastructure projects providing electronics, telecommunications and energy for governments and corporations, he is accustomed to being analytical and detailed-oriented. Bill is the third generation running the privately held family business that grew from being an electrical contracting company with 55 employees to 3000 with plans to hit over one billion in revenue in 2013.
Bill Dean or "Billy" as his friends call him, likes to work hard and play hard. With 34 offices and projects around the world, he is always jetting off somewhere. He wanted to find a warm winter home to escape to. He searched everywhere and decided on Miami for its proximity to his Washington D.C. base and because he found it to be the 'Playground of the East Coast'. He also loves the water accessibility in Miami Beach being a boater and fisherman.
One season Bill rented the penthouse at The Setai and that sold him on South Beach as his favorite location. Dean wanted a home on the water where he and his buddies could dock their boats. "I like to walk outside onto my yacht. It amplifies the experience," says Dean. "At the end of the day, all you have is your experiences in life," he adds. And Bill loves historic homes (his Georgetown home is Federal period 1800's). "You can save a lot of money with a bulldozer, but the reality is you can't build a historic home," comments Dean.
The 18,100 square foot waterfront property at 4949 Pinetree Drive in Miami Beach on 2.5 acres with 670 feet of water frontage, the largest available sitting on a corner lot was just perfect for what Dean wanted. He lived in the house for two years before undergoing the renovation to figure out exactly what to transform. He wanted to build a place to enjoy outdoors and incorporate a combination of Zen and Tuscan style. He wanted to have plenty of space for guests, but keep them out of the main house. "My goal was to have a great home for the rest of my life, says Dean. " I was looking to build to enjoy initially as a bachelor, but also to be an awesome place for family," remarks Dean. He vowed to preserve the property's original colonial-style elements while ushering in a new era complete with an elaborate geothermal energy system that runs off the power of the canal system, one of the most cutting-edge, green-living components in existence.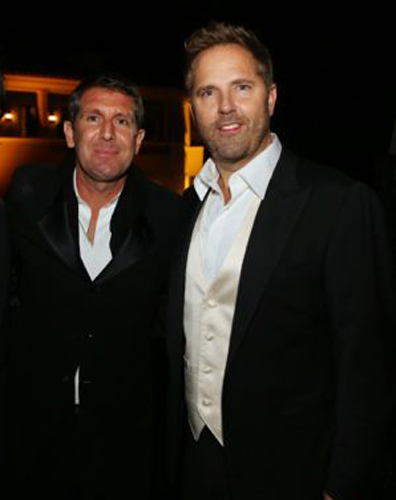 Bill Dean on right with Michael Capponi of Capponi Construction on left
In February of this year, Bill Dean unveiled his new masterpiece during his Black-Tie birthday celebration for 3000 of his closest friends. The extravagant remodel overseen by Capponi Construction and Dale Overmyer Architects honored the historical roots while transforming existing spaces into casually elegant areas that evoke a resort-style feel. The original six bedroom, eight bathroom house now has 15 bedrooms, 20 full baths, six half baths, and two kitchens in the main house. The estate also features a "Spa Wing", a lushly landscaped poolside beach club and cabanas, a breakfast porch that floats above a lap pool, a Venetian pool, a rooftop deck with impressive views of Miami Beach, and all the luxuries money can buy from marble floors to keystone decks. Additional amenities include a tennis court, volleyball court, sports lawn, four outdoor hot tubs and spa, one cold-plunge pool, three fountains and waterfalls, seven car garage and on-site parking for several dozen cars. In all, there is the main house, three guest cottages, a Spa building, a nightclub and pool house with cabanas.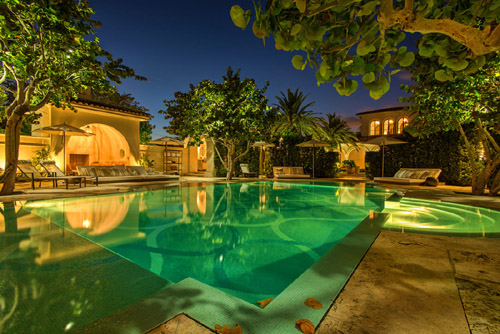 Pool at 4949 Pinetree Estate
The pool house which doubles as a nightclub is a pagoda-like building resembling the Katsura Imperial Villa in Japan. It is a multi-purpose area for partying or relaxing with an onyx and granite bar, state-of-the-art sound system and beds and banquettes for lounging. The other corner of the property by the canal houses the guest-suites, gym and spa around a lawn of diamond zoysia grass. The spa includes hydrotherapy tubs, sauna, steam room and a hamman.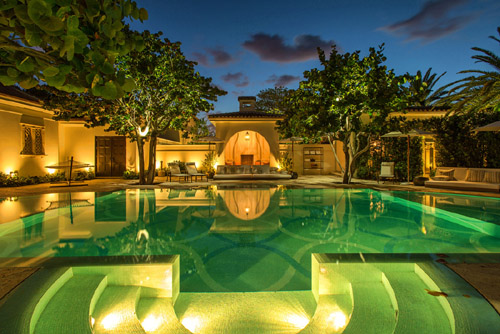 A wing was added to the main house to serve as the owner, Bill's personal hideaway far away from the pool and nightclub debauchery. Bill purposely wanted it located far away. "A lot of times, you want to go to bed, but your guests don't," laughs Dean.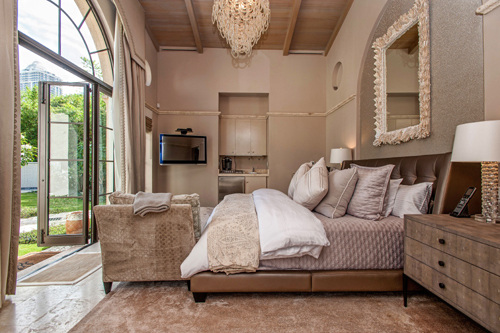 The interior spaces were designed by Linda Lewis of Elizabeth Hague Interiors. The majority of the furniture is custom-made in a mix or classical and contemporary style. Colors are ivories, blues and greens with orange accents to marry the inside with the outside spaces.
Bill Dean has already put his estate at 4949 Pinetree to good use. He graciously hosted several charities on-premises. The unveiling party honored National Young Arts which supports the next generation for artists. Alumni violinists, cellists, ballerinas, classical guitarists, tap dancers and hip-hop dancers performed throughout the elegant evening late February.
The following weekend in March, Dean once again opened his doors for a good cause. This time it was the annual Hearts & Stars Gala benefiting the Little Lighthouse Foundation, a local organization that supports underprivileged children and their families in Miami. The evening under the stars was a Casino de Monte-Carlo themed night complete with gambling tables and live performances. In July, Dean hosted a charity for the Paradise Fund benefiting educational programs for children in Haiti with a Havana Nights theme.
Bill Dean's family created their own foundation that promotes education through their M.C. Dean Foundation.
When it comes to naming his properties and possessions, it is a task Bill Dean puts a lot of thought into. His 90 foot Warren luxury yacht is named "Moksha". In Eastern religion it means reincarnation to achieve perfection. Bill calls it, "A cool verb meaning to transcend from this world to nirvana." He seems to have accomplished that many times over with his newly named Miami estate, "Terra Veritatus" which means land of truth and freedom. Lucky for us, it is free to enjoy, but for Bill it came with a "$40 million price tag. Bless you Bill and welcome to Miami!
HOPE GAINER is a luxury real estate property specialist based in Miami Beach with Douglas Elliman Realty which has offices from Palm Beach to Boca Raton and throughout Miami and Miami Beach. Elliman also has offices in New York and The Hamptons. Gainer represents both buyers and sellers of residential and commercial properties and does property management for investors as well. She also represents trophy properties worldwide including one of the largest historical apartments in Buenos Aires where Evita once lived, and a polo estancia in the Argentine countryside. Plus, she is selling property at an 800 year old village in Tuscany, Italy and trendy condos at the marina in Ibiza. www.ehopeinternational.com
www.ehopeinternational.com/HopeProfileSofiMagazine.pdf
Related
Popular in the Community