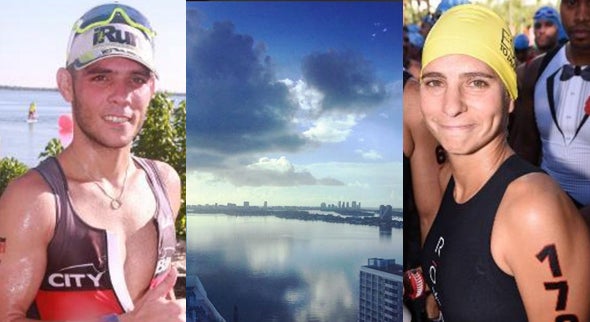 The health of hundreds of Triathletes is being threatened by Miami Beach's rutty discharge of storm-water and sewage into the island's western waters.
A new Miami Herald report showed the results University of Miami scientists obtained by tracking currents in Biscayne Bay, and they show that the City of Miami Beach has turned its western islands into an open air sewer system.
The Escape to Miami Triathlon is 90% sold according to their website and while their organizers were already planning for potential tropical weather systems and dealing with zika virus spraying - which they say the county shifted to another day to protect racers - there is a looming problem they've begun this week to consider.
Miami Beach is pumping sewage into Biscayne Bay with their storm water, and it may be impossible to hold a swimming competition there.
King Tides are returning to Miami Beach this week.
"As a user of the bay, things could be and should be better. All we can do is let the triathletes know that the water has passed our regular safety standards as reported by DERM," said Frank Ruiz of Lifetime Fitness who is overseeing the event, "As per our governing body's standards, we are monitoring water quality closely, should anything change we will notify participants."
Escape refers to the informal name of one of the small islands off of Miami, which local boaters use as a picnic spot, which is where triathletes are supposed start their race with a swim to Margaret Pace Park on the western shore of Biscayne Bay.
"I wouldn't swim in those waters myself next week," the scientist told me yesterday, "but I will be there sampling the water in the next week and beyond."
"When you swim you'll always swallow some water and if it carries pathogens they will do their job inside your gut. So, in that uncertain state, I wouldn't recommend to swim in those bay waters by the seawalls. I think it should be good idea to have the opinion of a public health specialist to back-up your report."
The waters of Biscayne Bay will likely be too polluted for swimmers after Miami Beach experiences this year's "King Tides."
Miami Beach's Mayor Phillip Levine likes to say that he kayaked into office, promising voters quick fixes to the existential problems posed by sea level rise which is occurring due to man made climate change.
Levine then switched the city from a gravity based storm-water removal system to a pump driven system, and in the process protected his real estate holdings from so-called "sunny day flooding" and buttressed the city's defenses against the unusually high tides plaguing the island city each year in September and October in the most flood prone areas, but not all flood prone areas.
Federal scientists at NOAA tested the samples collected by Dr. Briceño - who is also an FIU professor, who you can see below on video - which revealed that human fecal bacterias and nutrients are being pumped into the bay at alarming rates hundreds of times above allowable limits.
If the race cannot continue, it would most likely be re-routed.
"I've been part of the production of the New York Triathlon every year and there have been years that the water in the Hudson River did not meet water standards," said Ruiz who has a delicate balancing act ensuring racers' health, a national governing body's rules and being dependent on county health authorities at DERM (Miami-Dade's county environmental agency) for the official verdict, "and USA Triathlon has taken measures to alter the course accordingly."
It wouldn't be the first time that a South Florida swimming event had to be altered to maintain the health of the racers.
Doctor Briceño wrote us the following about the kinds of testing used by DERM:
As far as I know, DERM has only tested for the indicators (i.e. Enterococci) but not for the enteroviruses, the pathogens like the Hepatitis virus. According to the available scientific results viruses remain in the water longer, posing a risk to swimmers. We know there are high levels of Enterococci, and those levels would increase after a major flooding of Miami and the Beach, suggesting higher levels of pathogens too, and indicators die comparatively faster than pathogens.
In other words, Miami-Dade County may not be doing the extensive testing required to detect the presence of the harmful microbes most likely to make racers sick.
But until the King Tides roll in, there's little that race officials can do, and after that they're still going to have to rely on public officials to make a race decision - unless the race's governing body decides to take no chances.
"We are also taking part in a bay cleanup that Saturday too," said Ruiz, "with the goal of cleaning up the shoreline of Margaret Pace Park and Escape Island, if the race continues as originally planned."
REAL LIFE. REAL NEWS. REAL VOICES.
Help us tell more of the stories that matter from voices that too often remain unheard.
This post was published on the now-closed HuffPost Contributor platform. Contributors control their own work and posted freely to our site. If you need to flag this entry as abusive,
send us an email
.