Chaos ensued at Miami-Dade Elections headquarters Sunday when officials closed the doors early on nearly 200 people who had been promised an extra four-hour period to vote -- then reopened an hour later with more staff.
"Let us vote! Let us vote!" chanted those who refused to leave the line when doors first closed. College student Blake Yagman told The Huffington Post he was next to vote when officials decided they couldn't serve those who showed up.
"I was there for about three and a half hours," said Yagman, who added that because he is severely hypoglycemic he spent several hours throwing up after standing in the sun for so long. He said he had already tried to vote three times earlier this week, at two different Miami locations.
"Each of the lines was about four to five hours," he told HuffPost. "It took my mom eight and a half hours to vote at Aventura."
Election officials indicated they had been unprepared for the high response to a last-minute announcement Sunday that the office would open from 1 p.m. to 5 p.m. The move was a workaround to Gov. Rick Scott's (R) refusal to extend early voting hours despite extremely long lines, over which Florida Democrats to file an emergency lawsuit Sunday morning.
"While state law does not permit early voting today, we are permitted to provide and accept absentee ballots," officials had advertised, promising that "any voter in line at 5 p.m. will be allowed to vote."
But the Miami Herald reports the department had only two workers, one printer, and five voting booths ready for the four-hour shift. By 2 p.m., staff told the ballooning line not everyone would be accommodated -- and moments later, closed the office altogether.
"They didn't have the infrastructure," said filmmaker Lucas Leyva, who was among those turned away. "We read the press release and everything that went out this morning, promising we'd be able to get absentee ballots and vote. We got here and there was a line of hundreds of people all being told the same thing, that that wasn't true anymore. You could drop off, but they could not issue one."
Then, armed with additional staff and a second ballot printer, doors to the Doral office reopened around 3 p.m. -- with a renewed promise that anyone in line by 5 p.m. would be served. By 4:45, Miami Herald reporter Kathleen McGrory reported there were nearly 500 people in line.
The confusing afternoon capped a rough early voting period in Miami-Dade, where voters have turned out in record numbers only to be stuck with waits as long as eight hours. The eight-day early vote ended Saturday at 7 p.m., but the last Miamian in line didn't cast a ballot until 1 a.m. Sunday.
Gov. Scott, who signed a law last year cutting the state's early voting period from 14 days to eight, remained unmoved as lines stretched over the week, with a spokesman pointing out the maximum number of hours for early voting had not changed.
Scott's GOP predecessors Jeb Bush and Charlie Crist extended early voting through executive order when lines grew out of control. Crist called Scott's decision not to do so "indefensible" Sunday afternoon.
"The only thing that makes any sense as to why this is happening and being done is voter suppression," he said in an interview with The Huffington Post. "That's unconscionable. I think it's just the wrong thing to do. And the right thing to do would be to sign an executive order to make sure this doesn't happen and you expand the hours."
Yagman, who was unable to return to the elections office after it reopened, said that because of his job and a presentation at school it was impossible for him to vote on Tuesday.
"I figured because of the early voting process I wouldn't have to file absentee," he said. "But I was wrong."
"That was counter to what I said on Friday, which was we were not going to change the game mid-stream," he said. "I said, 'No, there's no way we did this.'"

But Gimenez, who is in a nonpartisan post, quickly realized it was better to let the voting go on, and the voting resumed..."I'm upset at this change, but at the end, when you have 200, 300 voters out there ready to go, you really can't disenfranchise them," Gimenez said. Of the whole situation, he added: "I'm certainly embarrassed."
Before You Go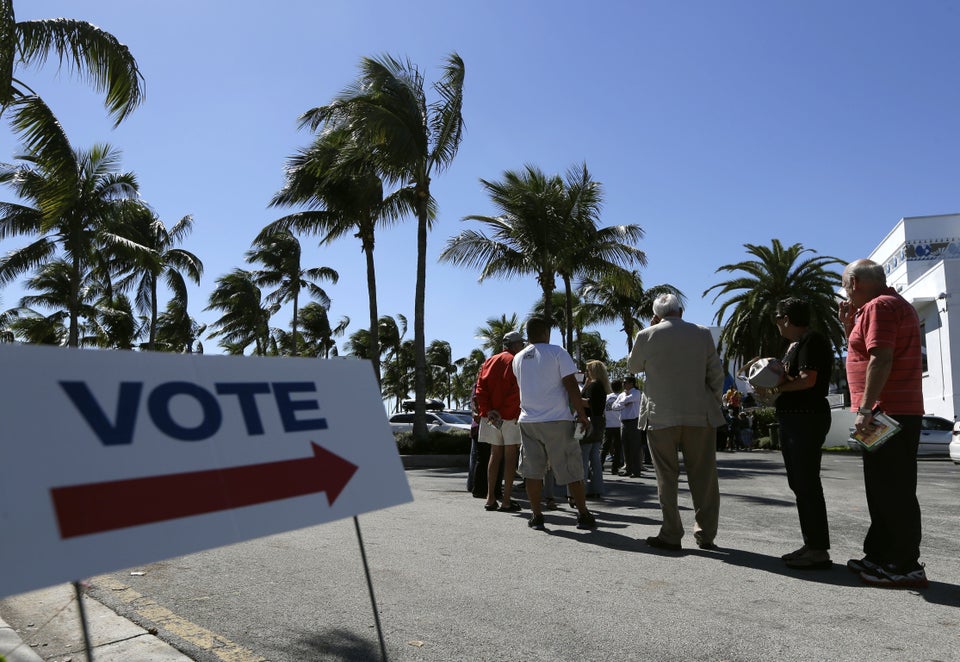 Long Lines For Miami Early Voting
Popular in the Community