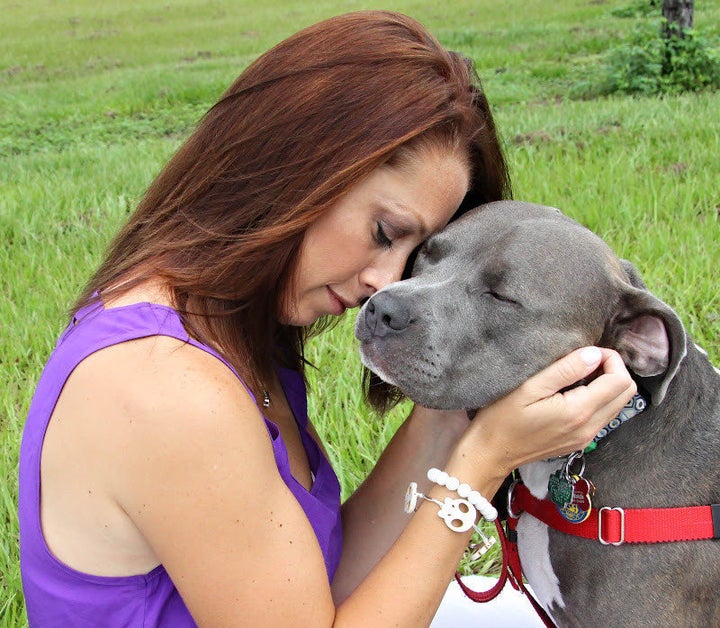 Slater is an aspiring therapy dog, and so far he's rocking his program.
With Humane K9, Inc. trainer Marni Bellavia, the 2-year-old pup has practiced staying calm in busy restaurants, accepting affection from strangers, and remaining in the sitting position while his owners enjoy dinner. At this rate, he could become a certified therapy dog in the spring.
In fact, in her decades of experience training dogs, Bellavia says Slater "far exceeds" other students with his great temperament and ability to get along with other dogs. However, all this may not matter in Miami-Dade County: Slater is a pit bull, a breed that has been banned from living in Miami-Dade for the past 23 years.
"It's the worst feeling in the world," Bellavia said. "It's discrimination on every level."
Slater is also the face of the renewed fight between animal advocates and lawmakers, thanks to his famous owners and a sly move by county legislators to include a repeal of the ban on the August 14 ballot. In exchange for state lawmakers dropping a bill that would outlaw breed-specific legislation in Florida, the county pledged to leave it up to local voters. The only Florida county to ban any dog breeds, Miami-Dade has outlawed pit bulls since 1989, with local officials arguing that they are inherently dangerous.
Slater is one of four dogs living with Miami Marlins pitcher Mark Buehrle, who is known not only for his skills on the mound but also for his and his wife Jamie's animal advocacy, which kicked into high gear when they found out they couldn't live with Slater in Miami-Dade County. When the left-hander signed with the Marlins in December 2011, the couple moved their two small children and four dogs -- they also have three vizslas -- to Southwest Ranches in Broward County. Even when the Buehrles searched for a place to live in Broward, they faced homeowner's associations with bans and biases against the breed.
Ever since, the couple has been working to educate Miami-Dade residents about the upcoming vote to lift the ban on pit bull breeds.
Check out photos of Jamie Buehrle and Slater (story continues below):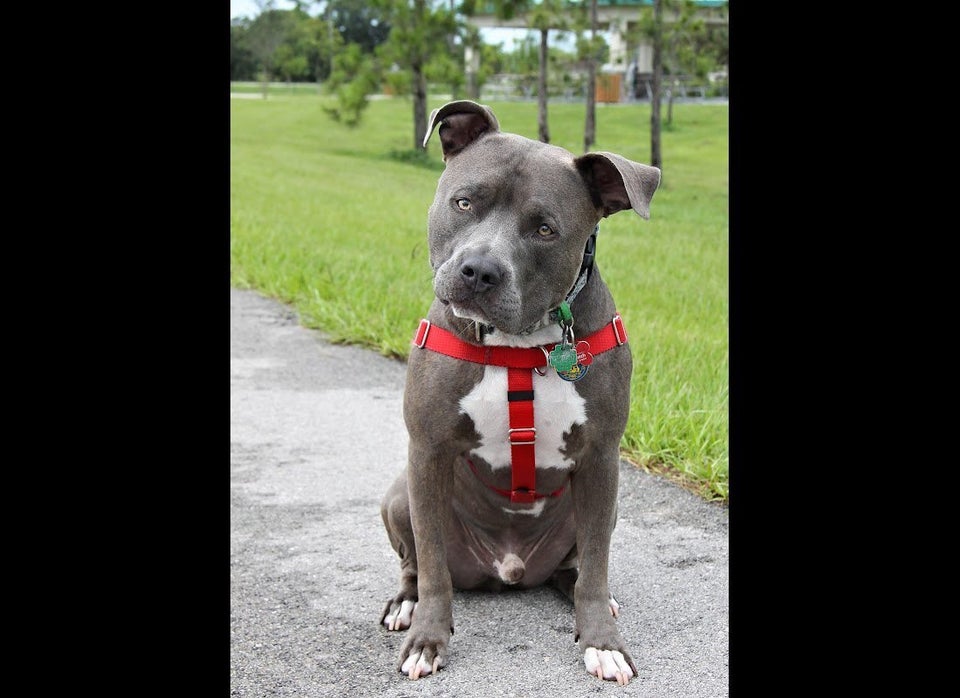 Jamie Buehrle And Slater
Under the county's breed-specific legislation, owners of "pit bulls" -- specifically, American Staffordshire Terriers, Staffordshire Bull Terriers and Bull Terriers -- face a $500 fine and a court action to remove the dog from the county. The legislation, which is based on physical descriptions from the American Kennel Club, has proven nearly impossible to enforce, drawing criticism from the Humane Society, the American Veterinary Medical Association and other animal experts.
Jamie Buehrle said that even before the couple adopted Slater, breed-specific legislation was a hot topic for them. Now, it's more important than ever.
"To me now, it's personal," she told HuffPost.
It was through her work at an animal nonprofit that she met Slater, who was a stray. The family had never owned a pit bull and immediately fell in love. Oddly enough, when the Buehrles have guests over, they have to warn them about one of the vizslas. Slater, on the other hand, loves children and giving kisses.
"He's laid-back, curious, loves to look around," Jamie Buehrle said. "He loves kids."
"Restrictions placed on a specific breed fail to address the larger problems of abuse, aggression training, and irresponsible dog ownership," reads a statement from the Humane Society, which argues for "thoughtful" legislation that addresses responsible dog-keeping. "Breed alone is not an adequate indicator of a dog's propensity to bite."
AVMA made a similar point in its study, cautioning that "because of difficulties inherent in determining a dog's breed with certainty, enforcement of breed-specific ordinances raises constitutional and practical issues. Fatal attacks represent a small proportion of dog bite injuries to humans and, therefore, should not be the primary factor driving public policy concerning dangerous dogs."
Bellavia, Slater's trainer, has trained many breeds of dogs, big and small, to become therapy dogs. Even though each breed has some general characteristics, she said a dog's temperament is the determining factor in its success as a therapy dog -- not its breed.
"Terriers are great learners because they're so eager to learn," she said. "Dogs just want to please you."
With just days leading up to the vote, Jamie Buehrle is attending pet events and trying to bring up the topic in conversation with as many people as she can. She said she sees a light at the end of the tunnel for dogs like Slater.
Lifting the ban would "put the responsibility back on the owner," she said, smiling. "I'm actually getting hopeful."
Related
Popular in the Community