Despite the pizzazz that still enlivens Ocean Boulevard on Miami Beach, a good deal of the gastro-excitement has shifted to other parts of Miami, not least the Design District, which is quickly becoming a destination for tourists as well as those looking to decorate their condos. Here are some of the most enticing new restaurants in the sun-kissed city right now, both on and off the beach.

MC KITCHEN
4141 NE 2nd Avenue
305-456-9948
mckitchenmiami.com
Quick: Name a great Italian restaurant in Miami. No? Okay, how about a real good one? Take your time. Nothing? Then here's the exciting news: MC Kitchen is not just the best and best looking Italian restaurant in Miami, it's one of the best in America right now.
It's hard to imagine an Italian restaurant in Miami having partners with better iambic names than Chef Dena Marino and Brandy Coletta. Dena's national repute comes from working with Michael Chiarello at Tra Vigne in Napa Valley, then at Ajax Tavern in Aspen, where her lusty style of Italian cooking fit like a ski glove in the town's Rocky Mountain chic.
Brandy, a grad of U of M and a business developer who worked on two presidential campaigns, has a canny sense of South Florida style, shown in MC Kitchen's clean, stripped down décor befitting its Design District location, starting with gauzy curtains hung from a 16-foot ceiling, polished wood paneling, a bar backed in chrome and mirrors, and a white marble counter at the stainless steel open kitchen (below). Even the liquor and wine bottles seem artfully placed on glass shelves to harmonize with the rest of the décor.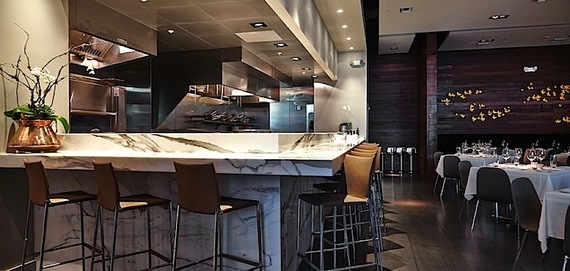 What distinguishes MC's cooking is its elemental simplicity -- the first rubric of Italian cuisine, adapted by Dena Marino with all the gusto she can muster in a dish like her pappardelle of spring ramps and "forever braised" pork ragù, and her crisp, charred pizzas topped with broccoli di rabe, sausage, fontina and caramelized onions. Miami being a hot weather city, she lightens up the menu with a juicy mahi mahi with arugula, licorice-like fennel, tiny, rare Ligurian Taggiasche olives, and tangy orange vinaigrette.
Her food and Coletta's savvy coalesce in a sophisticated balance rare in a sunny city where glitz too often trumps good taste.

OAK TAVERN
35 NE 40th Street
786-391-1818
oaktavernmiami.com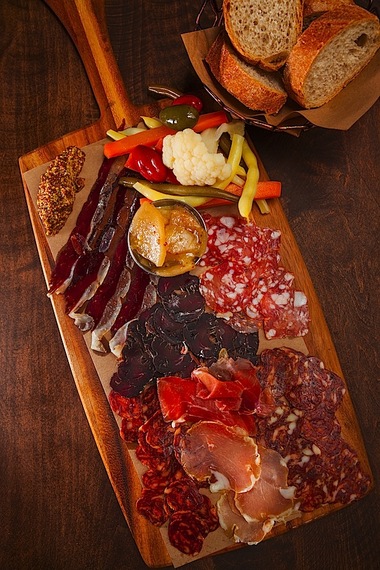 This is another Design District restaurant whose previous occupant, Pacific Time, was much heralded as among the more innovative restaurants of its day. Oak Tavern owes its name to a huge and ancient oak tree on the premises, and it's more down to earth than its swanky predecessor, both in its décor and its menu, which pretty much has something for everyone. It's got a big, long friendly bar, roomy leather banquettes, brick walls and tables made from reclaimed wood, with a large communal table on wheels near the entrance. Of course, this being Florida, there is ample space outside.
Chef David Bracha separates his menu into small plates, pastas and pizzas, large plates, charcuterie (above), cheese and sides, and there's plenty of everything, which means not everything is going to be of equal value. I was really won over by black grouper with an octopus-romesco stew ($26) and by a snapper filet with toasted farro, spring vegetables and pistou ($25). Suckling pig ($24) -- a regular item here -- was crisp of skin and velvety of flesh, served with hearty braised lentils, mustard fruit and a smoked jus.
I wasn't enamored of the bland duck pizza with fontina and truffle ($15) or by the unconvincing St. Louis smoked ribs ($14) -- there's good reason why barbecue places are only barbecue places -- but the boquerones with roasted peppers, kale, and ricotta ($6) are addictively good, and for dessert, if they have the pineapple upside-down cake, order it before they run out. Each day there is a special, like short rib pho or wood-grilled goat, all very modestly priced.
The wine list is short and unimpressive, but there's a serious attitude towards good artisanal beers.
Open for lunch Mon.-Fri., nightly for dinner.
TONGUE & CHEEK
431 Washington Avenue
305-704-2900 www.tandcmiami.com
The name is forgivably duplicitous, for while you will find beef cheek on the menu, I didn't see any tongue; by the same token, the name implies this is a fun, drop-in kind of place with serious food, from charcuterie and cheeses to generous main courses, all served by a chef, Jamie DeRosa, with a very long, very fine résumé that includes working with well-known chefs Allen Susser, Wolfgang Puck, Mark Peel, Joachim Splichal, and Geoffrey Zakarian. Together with fellow industry veteran Michael Reginbogin, he opened the 150-seat Tongue & Cheek on South Beach.
The menu is not unlike Oak Tavern's, though smaller and better focused, starting off with appetizers like bruschetta of heirloom tomatoes with Boursin-style cheese ($9), and finger foodie lettuce wraps of crispy pig's ears with orange and salted peanuts ($14).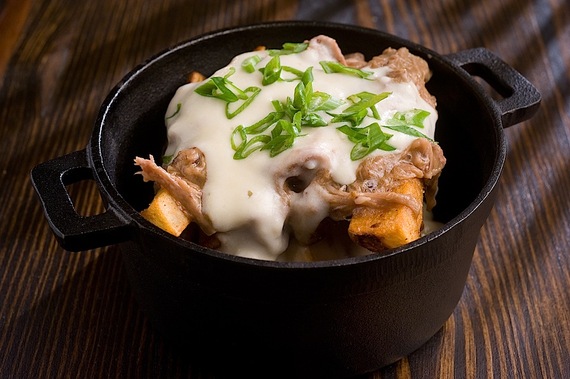 DeRosa picks up plenty of flavors from the most sensible match-ups, like grilled skirt steak with crème fraîche tater tots, maitake mushrooms and Cerignola olives ($33), and his juicy fried chicken comes with pickled red cabbage, cheddar, a delightful bacon biscuit and hollandaise shot through with Tabasco ($24). Shortribs get a Moroccan couscous treatment, with feta and grilled Indian naan bread ($34). And he's particularly proud of his poutine ($12), the Canadian national dish here interpreted as braised beef, cheddar and pastrami spiced fries (above) -- a lot better than most poutines I've had north of the border.
Ricardo Torres does some fine desserts, not least Norman's Key lime pie (in homage to Florida chef Norman van Aken, I suspect), and a Cracker Jack milkshake and Almond Joy bar that is sure to make your head waggle.
The place is big and wide, rich in wood and subway tiles, with views of the Miami skyline painted as a mural. It's a lot of fun, though the music can get way too loud, and there's hardly a dish on the menu that will leave you hungry.
DOLCE
Gale South Beach Hotel
1690 Collins Avenue
786-975-2550
www.dolceitalianrestaurant.com
Pedigree counts when it comes to Italian food, and Chef Paolo Dorigato has a good one: born in Trento, he picked up his American mojo at restaurants like Le Cirque, Osteria del Circo, and Cipriani Wall Street in New York before coming to Miami, where he is doing some authentic cucina italiana in a refined, sleek dining room that could very well be on Milan's fashion street, Via Montenapoleone.
By all means begin with selections from the mozzarella bar with artisanal meats and vegetables ($14-$26). There are pizzas ($13-$17) listed, too, but I found them too trendily thin in the crust, without the proper chewiness. Pastas include an excellent short rib ravioli in a richly reduced Barolo wine sauce ($$22) and a very tasty pappardelle alla bolognese ($20), although it's more a meat and tomato sauce than an authentic rendering alla bolognese. Spaghetti and meatballs ($23) are a nice choice, now becoming again as popular as pasta primavera used to be.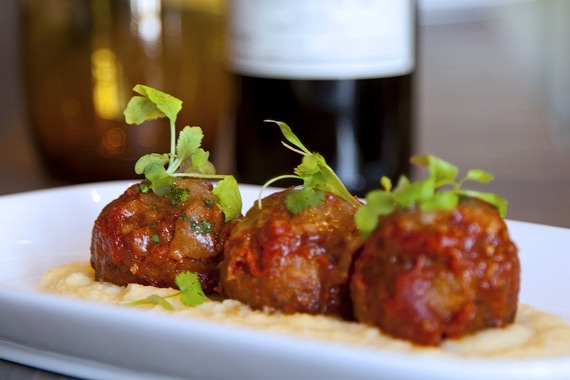 Dorigato is at his finest with seafood: a roasted branzino ($34) was perfect, served with cous cous, baby carrots and cherry tomato sauce, and the seared red snapper ($27) with leeks, asparagus and olives was simple and delicious in every moist morsel. I did not care at all for his veal milanese with Tuscan fries.
The best of the desserts is his budino pudding with salted caramel and a chocolate chip cookie for good measure, followed by a light panna cotta with mango puree and strawberry compote.
Dolce's wine list is not particularly comprehensive but solidly chosen in both white and red categories.

Dolce serves breakfast, lunch and dinner daily.