Vacationers, by the thousands, flock to South Beach crowding the streets, hotels and restaurants. But if you prefer a luxury Miami vacation, away from the throngs, you can find swank havens in Mid Miami Beach, Bal Harbour, Aventura and on Fisher Island. Swank, wellness-orientated hotels. Beverly Hills-caliber accommodations. Golf resorts with championship courses. Private island villas. And no Spring breakers!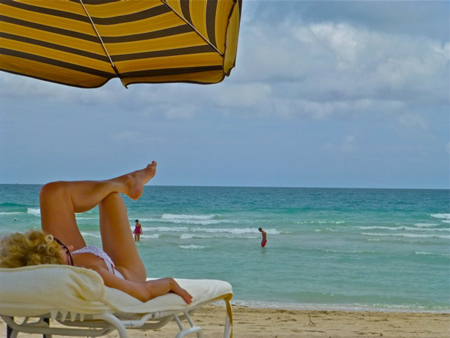 A Healthy Swank Holiday in Mid Miami Beach
Around 68th Street on Collins Avenue, in Mid Miami Beach's North Shore area, hotels are few, condo buildings abundant and Brazilian and Latin restaurants flourish. It's a real Miami neighborhood. There's a Publix supermarket. On 72nd Street, two blocks off Collins, there are North Shore Park clay tennis courts (pick up a game with tennis pro Julio Avila). South Beach is minutes away south, Bal Harbor minutes away north. There's something about this district that is low key, accessible and comforting.
Canyon Ranch Hotel & Spa Miami Beach: When you drive up Collins Avenue to Canyon Ranch, you'll almost miss the driveway on 68th Street. From the outside, the building is very understated. In fact, look to the sky and you see the marquee for the 1950s era Carillon Hotel. This vintage building now houses the all-suite Canyon Ranch Hotel, which opened in its place in 2008. Canyon Ranch has added a new North Tower and South Tower, condos that are called Canyon Ranch Living - Miami Beach, a healthy living community.
When you check-in, the elegance of the vast, sky-high ceiling, beige-colored marble lobby overwhelms you. The light fixtures, floating wooden sculptures and layout are beautiful. Head upstairs to the suites, which start at 720 square feet, with kitchens, living rooms, bedrooms and sublime bathrooms. Suites view the 750 feet white beach, or one of the four pristine pools, which are strategically located so you can swim and sun facing four different directions during the day.
Exercise physiologists and fitness experts analyze your conditioning, health history and lifestyle goals. You can choose from 40 fitness and movement classes in the 70,000 square foot Wellness Spa. There's indoor rock-climbing, Boxer's Workout and Buff Ballet Booty classes. Yes that's right, Buff Ballet Booty! The Spa is the main attraction. Try the Muscle Melt For Road Warriors or the Ayurvedic Herbal Rejuvenation. Walk around the Aquavana® thermal suite, which looks like classy modern European catacombs. Dunk in a Jacuzzi; sit in a sauna or steam.
The Canyon Ranch Grill makes healthy eating, easy. Portions are human-sized, unlike the trough-like portions on a cruise ship. Selections are tempting, like the Lobster Potsticker appetizers, Strawberry Spinach Salad, and the Organically Raised Salmon with sweet soy glaze, white asparagus and crispy leeks. Pair the salmon with the St. Suprey, Sauvignon Blanc from Napa Valley. And end the meal with Crème Brulee.
Stay at Canyon Ranch, and you get a hotel/resort that specializes in mind and body, but without any hint of regimentation or deprivation. The vibe is never snobby, always friendly. And if you want to learn about a cool neighborhood restaurant, book a tennis lesson or golf, ask the super-concierge, Chauncey.
Stay Across the Street from America's Most Posh Shopping Center
Up Collins Avenue at 97th Street, across from the extremely plush Bal Harbour Shops, arguably America's definitive high-end-shopping experience, is the oh-so-lush St. Regis Bal Harbour Resort. It shames high-end Beverly Hills hotels -- and it has a beach! The multi-mirrored lobby with its drop-down, glass chandelier is a study in visual, over-the-top elegance. Butler service, private entrances, and huge suites that are the size of large apartments, with kitchens, dining room tables and balconies large enough for an entire family, set this resort apart. It feels like home, that is if you belonged to a royal family that expects top-notch service.
The gym looks on to the family pool area. Up a flight of stars is an adults only pool that is more serene and exclusive. As attractive as the pools are, the beach scene is even better. The crowd is chic, quiet, reserved. Bring your vacation novel and enjoy.
After a morning in the sun, walk over to the Bal Harbour Shops for a little shopping. Take the AMEX Black Card along, you'll need it! Bottega Veneta, Chanel, Versace, Bulgari, Jimmy Choo, Ermenegildo Zegna... After a hard day of heavy spending, return to the St. Regis to rest your wallet. Remède Spa offers a slew of relaxing treatments: A customized couples massage might give you a nice opportunity to explain to the spouse why you spent thousands of dollars on Harry Winston earrings or a new gold Rolex to impress the golf buddies. It's a thought.
You can continue that conversation at dinner at the J&G Grill; it's curated by renowned Chef Jean-Georges Vongerichten. To break the ice, sip on a Ginger Margarita (Sauza 'Hornitos' Reposado Tequila Ginger Lime, Ginger Salt), start with a Black Truffle Pizza with Fontina Cheese and linger over Sichuan Pepper Crusted Yellowfin Tuna. Try the Coconut Baked Alaska Aged Run Flambé for dessert. Then head back up to your suite and view the moonlight on the ocean from your bedroom balcony. After a little love talk, the earrings and watch will be history.
Tee Up at the City's Most Venerable Golf Resort
Just up the coast in North Miami Beach, in the city of Aventura, Turnberry Isle Miami, which dates back to 1970, attracts golfers and vacationers who like a touch of old world elegance. Four hundred and eight guest rooms (they're cavernously large), in tan-colored Spanish-style buildings, rest on 300 verdant, perfectly manicured acres.
The 18-hole, championship Soffer and Miller Courses, originally designed by Robert Trent Jones, Sr., have been re-interpreted by golf icon Raymond Floyd. Contoured fairways, clever doglegs, and strategically placed water features test the skills of casual golfers and experienced pros. The 18th hole green on the Soffer Course mimics the world-famous Hole 17 at TPC Sawgrass in Ponte Vedra. When you're staring out over water and trying to figure out how to hit the green, don't freak. Remember the basics Turnberry's teaching instructor Gary Knapp taught you: Proper grip, posture and stance. The club and the swing will do all the work. Don't be shocked if you hit the green. Expect it.
When you're lounging around one of Turnberry's three outdoor heated swimming pools, or careening down the 180-foot long and 35-foot high waterslide, or floating along their lagoon river, you don't miss the beach at all. If you do, take the private shuttle bus to the Miami Beach shoreline. When you're playing on one of the four clay hydrocourts, which are managed by former World #8 Player Guillermo Ignacio Cañas, you'd swear you were in tennis heaven. Youlian Nikolov is the resident pro at the Canas Tennis Center and he will run your legs ragged as he helps you get your game back on point. After your legs throb, and you feel you can't go on, head to the 25,000 square-foot Spa. In the 22 treatment rooms (try the Breathe Easy Massage), relaxation rooms, the sauna, full-service The Salon or fitness center you will find your bliss.
Take that bliss to Celebrity Chef Michael Mina's Bourbon Steak restaurant. It looks like a swank New Orleans bar. Start with their trademark appetizer, three flavors of French fries: Rosemary with spicy ketchup dip; Onion flavored with creamy onion dip; Paprika with BBQ sauce. For the entrée, from the Wood Grill, indulge in the 8oz Japanese Wagu New York Strip Steak with a side of Truffle Mac & Cheese. Your first dessert can be Mango-Passion Fruit Panna Cotta. Your second can be a movie. Walk across the street to the Aventura Mall and see a film. Or cruise the Apple store for a new iPad. Or go people watching.
Take a Ferry to an Island So Private You Need an Invite
You know you're getting the ultimate in privacy when your resort is on an island you can only reach by ferry and you can't take the ferry unless your name is registered. This kind of exclusivity seduced Oprah Winfrey and Sophia Loren into buying homes on Fisher Island. You can get some R & R on the same island, at Fisher Island Club Hotel.
Fisher Island, just of the coast of South Beach, was once a wedge of land with coconut palms and mangroves that sat in Biscayne Bay. History says the island was once owned by Dana Dorsey, South Florida's first black millionaire, then Miami Beach founder and developer Carl Fisher, then William K. Vanderbilt, who used it as private winter estate.
These days, the diminutive, exclusive resort features just 15 accommodations, and uses the old Mediterranean style Vanderbilt mansion as a home for entertainment and dining, and adjacent 1930s, bungalow-type cottages and villas for guests' accommodations. Guests are privy to the amenities and creature comforts island residents enjoy. A calm, powder-white sand beach. Hard court, clay and grass courts for tennis, where Anna Kournikova, Andre Agassi and Bjorn Borg have played. The Links at Fisher Island feature a nine-hole golf course and breathtaking views of the downtown Miami skyline. The Fitness and Wellness center has an indoor pool. The Spa Internazionale has an outdoor pool.
The island has privacy to the nth degree. No loud twentysomethings. No throngs of revelers. Yachts pull up quietly to the docks. People drive around in golf carts, not cars. Flamingos and peacocks walk the grounds. It's so quiet you could hear an egg hatch.
The loudest conversations you will hear are about island gossip and politics, which are discussed over dinner at The Garwood Lounge & Piano Bar. You have to be 21 to enter the steakhouse, which means the dialogue at the tables tends to be very adult, as patrons munch on Seared Foie Gras and 18oz Bone-In Rib Eye with bordelaise sauce. The Caramelized Apple Tart Tatin is tempting for dessert, but the Mile High Key Lime Pie, with its wavy meringue topping, is a work of art.
Miami can be a real quiet getaway, if you venture off South Beach's beaten path. You don't have to travel far in distance, but you'll be miles away in body and spirit as you experience healthy swank elegance, lush accommodations, golf course havens and the ultimate privacy.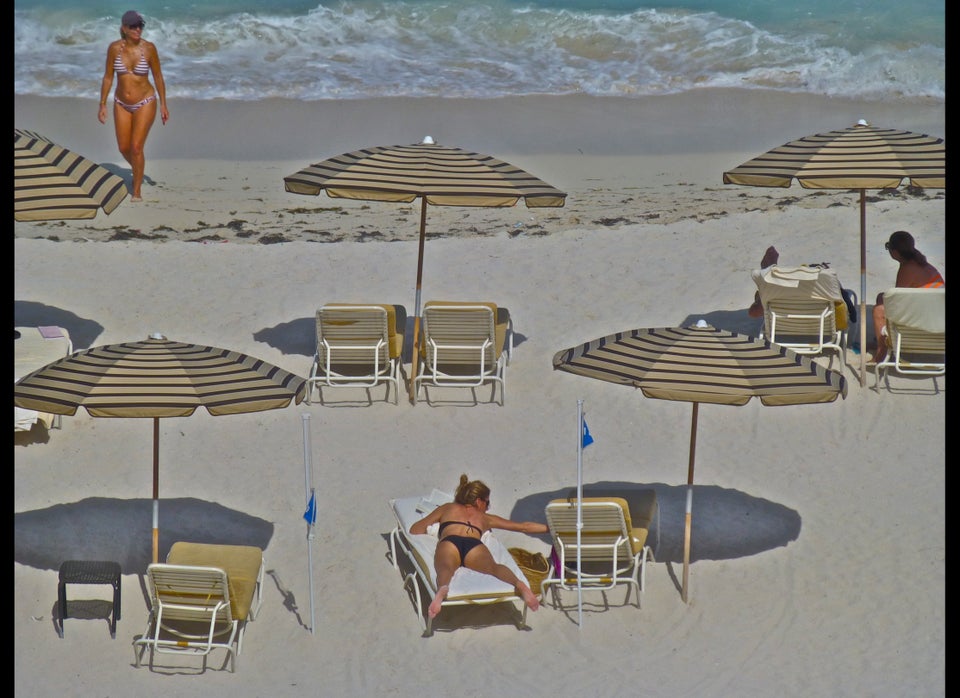 Miami: Discover Luxury Hotels Off The Beaten Path