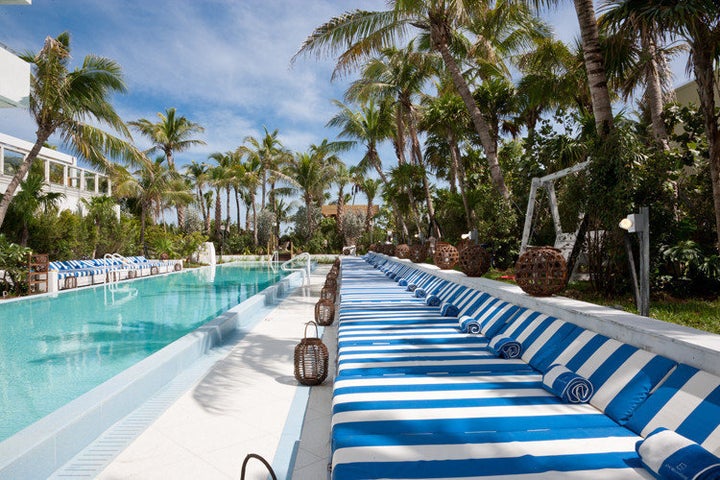 If you've only listened to Will Smith songs or watched "Jersey Shore," you probably think of Miami as a 24-hour party spot, nights spent tearing up South Beach clubs, days spent recovering and basking in the sun. But there's a lot more to Miami than the party scene, and there's a lot more to the city than South Beach. In fact, as locals or seasoned Miami visitors will tell you, the city's real gems lie outside the twenty-block stretch of Collins Avenue known to tourists. Below, find five tips for a South Beach-free visit to Miami.
1. Stay at Soho Beach House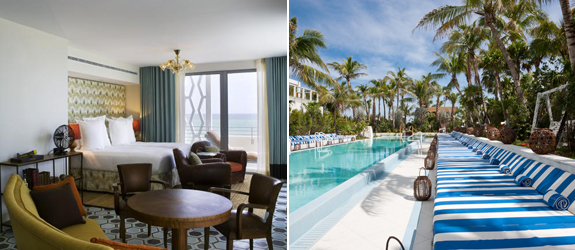 Soho Beach House has quickly established itself as the new "It Hotel" in Miami — and with good reason. The members club-meets-vacation destination is one of the most impressive properties to open in the US in the last year. Located next to the Fontainebleau in Mid-Beach, this 50-room oceanfront property couldn't be more different from its behemoth neighbor. It boasts a beach club, two pools — one on the ground floor plus an 8th floor plunge pool (ideal for late afternoon snacks and drinks) — a Cecconi's restaurant and Soho House's renowned Cowshed Spa, all with an air of casual elegance the Soho House brand has become known for. An added touch? The hotel's signature One While Changing, a cocktail delivered to and mixed cart-side in your room as you get ready for the evening.
Soho Beach House, 4385 Collins Avenue, Miami Beach, (786) 507-7900
2. Get Off Miami Beach — At Least To Eat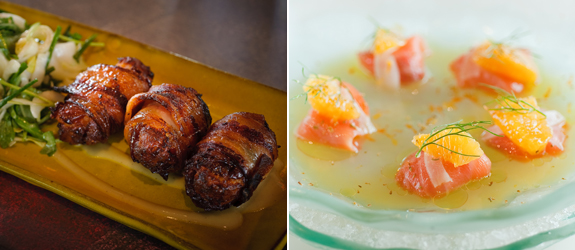 At this point, everyone knows how good Casa Tua is. But it's Sugarcane, located in Midtown, that has had Miami foodies talking for the last year. The raw bar grill offers three kitchens — robata, hot and raw bar — that come together on its tapas-style menu. Signature dishes include bacon-wrapped dates and salmon crudo with fennel pollen, oranges, and olio verde (both seen above) as well as what may be the best brussel sprouts you'll ever have (made with orange and a sweet soy sauce). These sorts of international/South American-inspired flavors lifted Sugarcane to Eater's Miami Restaurant of the Year Award last year. Nearby in the Design District are two other classic favorites: Michael's Genuine Food and Drink, the 2010 James Beard Award winner for the South, and Sra. Martinez, Michelle Bernstein's tapas restaurant.
Sugarcane Raw Bar Grill, 3250 NE 1st Ave, Midtown, (786) 369-0353)
3. Go to Bal Harbour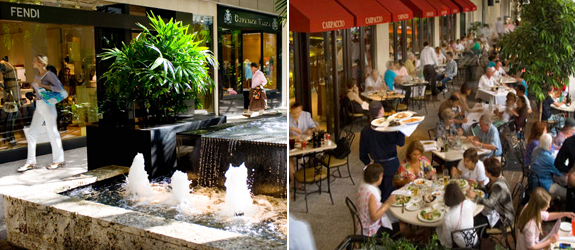 It's possible to have a full day at Bal Harbour without spending a dime in one of its super high-end stores. A mini-drive from the heart of Miami, Bal Harbour offers the ultimate in South Florida people- (and car-) watching. Sit outside at Carpaccio (pictured above) or La Goulue, catch an eyeful of the decked-out older (and foreign) crowd and watch the Bentleys roll up to the valet station. It's the Dubai of Miami. An added bonus are the shops' hired models that display their over-the-top fashions around the restaurants' outdoor seating areas. Inside, the open-air shopping mall offers over 100 stores, ranging from Saks and Nieman Marcus to Lanvin and Jimmy Choo.
Bal Harbour Shops, 9700 Collins Avenue, Bal Harbour, (305) 866-0311
4. Visit SoulCycle at the Mondrian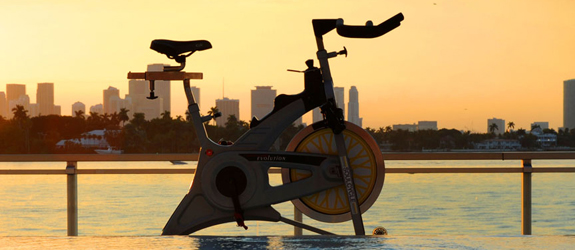 Yes, the Mondrian is "technically" in South Beach. But located on the west end of Miami Beach overlooking Biscayne Bay, this Morgans Hotel Group property is out of the fray of the traditional South Beach revelry. And its newest addition — the only outpost of cult spinning studio SoulCycle outside the New York area — is a sanctuary all its own. The celebrity-favorite 45-minute spinning sessions — Kelly Ripa and Brooke Shields are known devotees — are the perfect way to sweat out your Miami consumption. The 30-bike studio, which opened last month, is located on the hotel's third floor next to the Agua Spa and Fitness Center.
SoulCycle South Beach, Mondrian South Beach, 1100 West Ave., 3rd Floor, Miami Beach, (786) 266-8665
5. Fly Into MIA — Not FLL



You may be tempted to fly into Fort Lauderdale — the fares can sometimes be slightly cheaper, and it's only about a half-hour trip longer than Miami International Airport. But resist the temptation. Whereas cabs into Miami from MIA run in the $30-range, cabs from FLL can approach $100 each way, rendering the airfare difference irrelevant. And several travelers have complained about the poor acoustics and limited seating inside the terminals, leading to hard-to-hear announcements and missed flights long after your baggage has been checked. FLL? More like FML.