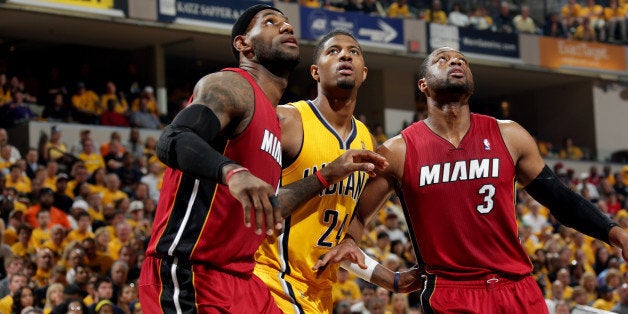 Games 1 and 2 of the Eastern Conference Finals, in which the Miami Heat squared off against the Indiana Pacers, were indicative of the Heat's defensive struggles all year. Game 1 was the bad -- the late rotations and lazy closeouts -- while Game 2 was the good, showing us that Miami is still capable of greatness despite its areas of weakness. If we have learned anything about the Heat this season, it's that this team is not as good defensively as either of the last two title teams.
While the Heat still score at an elite level -- its 55.4 percent effective field goal percentages tops the NBA -- the team ranked a pedestrian 15th in opponent field goal percentage this season. They also surrendered over 36 percent from downtown, one of only two playoff teams to do so. And for the first time during Miami's Big 3 era, the Heat did not rank in the top five of opponent field goal percentage this year. Naturally, we can point to the perimeter as the reason why, but Miami's lack of a shot-blocker in the paint has been the main factor contributing to its porous defense. Greg Oden has been oft-injured and Chris Andersen always gives a spark, albeit in limited minutes. But for all the razzle-dazzle star power, the Heat simply do not have a Roy Hibbert protecting their basket. The result is fearless drives to the hoop followed by easy kick-outs for clean looks.
The trick for coach Frank Vogel and the Pacers has been to keep it simple and run pick-and-roll. The misapprehension about the pick-and-roll is that it merely creates open looks at the basket. But a well-run version should lead to much more -- namely, wide open weak-side 3-pointers off of slowly rotated defenses. In Games 1 and 2, Indiana converted 45 percent from distance and totaled a remarkable 42 assists. Miami has had issues disrupting the Indiana straight-line drives because both Chris Bosh and Udonis Haslem have been painfully slow and soft on hedges. "Our defense was unacceptable," Bosh told Bleacher Report following Game 1. Coach Erik Spoelstra (pictured above) added, "That's probably us at our worst defensively." The main adjustment Spoelstra made in Game 2 was to have his perimeter players (e.g. LeBron James, Dwyane Wade and reserve Norris Cole) blitz the Pacer ball-handlers to force turnovers and cloud passing lanes.
Perhaps the scariest part for Heat fans is that neither Indiana or Brooklyn have particularly efficient half-court offenses. Oklahoma City and San Antonio, however, represent two of the league's best offenses. Then again, we are getting way ahead of ourselves.
If we want, we can focus on the fact that Miami still has LeBron, or that Wade is healthier, or that the cold-shooting Bosh will eventually show up. On the other hand, we can look toward Miami's struggles against Hibbert and poor shooting (14-of-43 from downtown in two games), or admit to ourselves that Game 2's sound defensive effort was probably an aberration. Either way, Games 1 and 2 perfectly sum up the Jekyll-and-Hyde defensive performances that have plagued the team this season. All we know for certain is that on any given night, you never know which Miami Heat is going to show up.
Email me at jordan.schultz@huffingtonpost.com or ask me questions about anything sports-related at @Schultz_Report and follow me on Instagram @Schultz_Report. Also, be sure to catch my NBC Sports Radio show "Kup and Schultz," which airs Sunday mornings from 9 to 12 EST, right here.
Related
Popular in the Community