Here's one way to deal with declining newspaper circulation and advertising revenue: the Miami Herald Media Company, a division of journalism giant The McClatchy Company, is launching a weekly Spanish-language tabloid called Caliente that will profile a bikini model.
"Caliente features include headlines from Latin America, celebrity gossip, opinion page, movies and dining trends, advice columns, horoscopes, sports and telenovelas (Spanish soap operas)," Miami Herald Media Company marketing manager Lourdes Alvarez told The Huffington Post in an email.
"It will also profile our Chica Caliente, a bikini model who will heat up the pages of Caliente with fashionable swimwear," she continued. "Caliente mirrors tabloid publications that are commonly produced by mainstream newspapers in Latin America and the Caribbean to capture a different audience."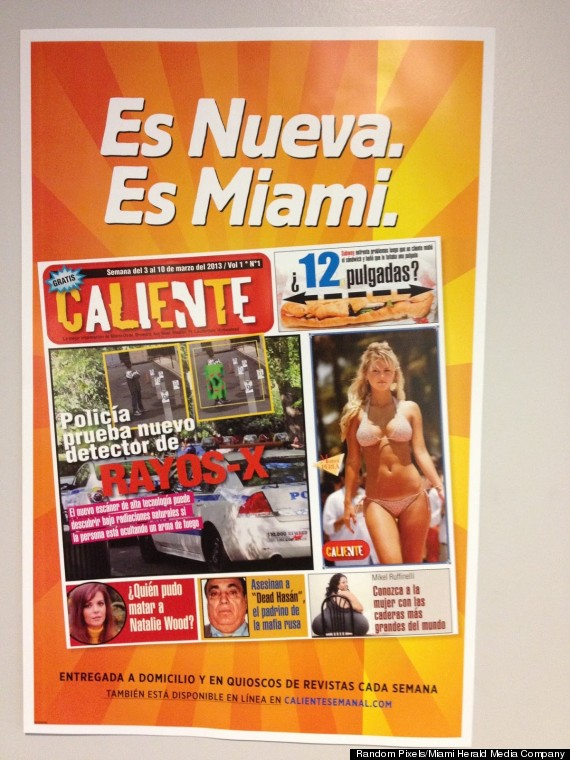 The Miami New Times sniped on Monday, "Telling the majority of the people in Miami that you think they're unsophisticated? Surely nothing can go wrong there. ¡Gol!"
And Damien Cave, a New York Times correspondent in Mexico City, called it a "pander-ama" targeting Latinos in the "most stereotypical way possible."
But Alvarez dismissed concerns that the tabloid is "appealing to stereotype."
"We understand that South Florida Hispanics are a widely diverse group, and not all Hispanics read the same publications," she wrote in her email. "We are working to broaden our array of publications to reach the greatest number of readers in South Florida."
Nearly 70,000 copies of the tabloid will be distributed beginning Sept. 18 to certain zip codes in Little Havana and Hialeah, according to Landsberg's email.
Caliente will have its own editor and will not share staff with either the Miami Herald, which won its 20th Pulitzer Prize in 2009, or its Spanish-language sister paper, El Nuevo Herald, Alvarez said. However, stories written by either newsroom may be used in the tabloid's pages.
Calling all HuffPost superfans!
Sign up for membership to become a founding member and help shape HuffPost's next chapter