All it takes is one arctic blast of cold winter air to make travelers dream of warm weather. If your thoughts are turning to Miami, Florida, you're not alone. As Miami continues to evolve it offers more choices to more travelers. You can stay in the city at a large, vintage, iconic hotel. You can rest up at an intimate, boutique hotel on the beach. Each venue has its merits, and if you dine around town and play some tennis and golf too, you'll have a smile-inducing vacation the folks back home will envy.
The Stately Biltmore Hotel in Coral Cables
If you haven't been in Miami in a minute, things have changed. South Beach is now just one of many vacation destinations in Greater Miami and The Beaches. Coral Gables is a worthy retreat too. The town, built in the 1920s, is a few miles west of Miami's financial district and home to the University of Miami and the swank Merrick Shopping Center. It also has Miami's oldest hotel, The Biltmore. Turn north off Route A1A onto windy Granada Avenue and you'll drive by manicured lawns and stately homes that are reminiscent of Brentwood, California. As you turn west on to Anastasia Ave, a tall, majestic orange/yellow building with handsome Mediterranean architecture comes into view.
Built in 1926, on 150 acres, this palatial vision was once the tallest building in Florida. The interiors, with hand-painted frescos on barrel-vaulted ceilings, travertine floors, marble columns, leaded glass fixtures and carved mahogany furnishings, denote its classy heritage. The 273 plush rooms and 133 suites have charmed the Duke and Duchess of Windsor, Judy Garland, Bing Crosby, President Franklin D. Roosevelt even Al Capone. The tony guests would lounge around the 23,000 square foot pool, the largest east of the Mississippi, which once had lifeguards with names like Johnny Weissmuller and Esther Williams.
A major attraction for golfers is the surrounding 18-hole Donald Ross golf course, which dates back to 1925, and is now a public course. On any given day don't be surprised if you see Miami Heat star Ray Allen, President Bill Clinton or the University of Miami's woman's golf team swinging their nine irons. If you need some help on your technique, Bob Coman, the Director of Golf, will coach you and share stories about the world famous course that hosts the Junior Orange Bowl.
Another major calling card for the hotel is the dining: The popular Sunday Champagne Brunch (10:00am - 4:00pm) in the sunny courtyard, has caviar, shellfish, carved meats, fresh omelets, pastas, sushi, a wall of desserts and a bottomless glass of the bubbly on the menu. The Zagat-winning Palme d'Or French restaurant features appetizers and entrees like Frog Legs Jambonnette and Grilled Buffalo Tenderloin. An evening dinner at the Fontana Italian Restaurant, sitting by the romantic fountain, can include the Fritto Misto (fried calamari, shrimp, julienne vegetables), Ravioli (crab & lobster squid ink) and the Petto D' Anatra (honey glazed roast duck breast).

The Biltmore is legendary not only for its famous guests but for its standing in the community. This is the hotel where locals go for tennis, golf, the full-service gym, a relaxing spa, to marry off their daughters, throw anniversary parties... This is one of the few hotels in Miami where you get to meet the people of the city.
Suggestions: Visit the nearby town of Coconut Grove, the oldest continuously populated neighborhood in Miami, dating back to the 1800s. Take in a film at the Cinépolis Coconut Grove movie theater, where luxurious leather oversized chairs equipped with attached swivel tray tables can hold the flatbreads, paninis, wine or beer you can purchase at the Bar & Lounge.
Take a lesson from Frederico at the Salvador Tennis Center in San Salvador Park, two minutes from the Biltmore. Or motor over to the Crandon Park Tennis Center on Key Biscayne Island where the Miami Open attracts pros like Serena, Venus, Novak and Roger. You can even rent center court for just $26 per hour.
Younger than the Biltmore, but older than most hotels in South Beach, The Betsy-South Beach (aka The Betsy Ross), built in 1942, is a vision of Florida Georgian architecture with a hint of colonial style as it sports a four-column portico and signature shuttered windows. This is the grand dame of boutique hotels. Also similar to the Biltmore, The Betsy is a beacon to the community, with a special appeal to the international literary crowd.
Jonathan Plutzik, a former Executive at Credit Suisse, bought the hotel in 2005 infatuated with its colonial architecture. He renovated it and reopened it in 2009, creating a homey inviting place. The Betsy is a luxury hotel with a conscience and social awareness that's neatly folded into its PACE Program: Philanthropy. Arts. Culture. Education. The hotel partners with organizations and schools in the community. There's an elegant salon on the lower level that presents lectures, screenings and readings by "Writers in Residence:" authors, poets and scholars. As you exit your elegantly decorated suite, walk the halls lined with art exhibits, lounge on the impeccably staged roof deck or sit in the comfortable lobby, you could be brushing shoulders with a Pulitzer Prize winner.
Suggestion: The Betsy's BLT Steakhouse won the 2014 Miami New Times' Best Steakhouse Award. If you order the CAB Rib Eye (Bone In) 22 oz, try the Chimichurri sauce on the side and end the meal with the Key Lime Panna Cotta.
One of the newest kids on the block in South Beach is the centrally located Hyatt Centric, which is a hop, skip and jump from Ocean Drive, the Lincoln Road Mall--everything. That's the theme of this brand of Hyatt boutique hotels, central locations in the heart of cities. The open-air lobby is on the 3rd floor, and you won't encounter big bulky check-in desks. Instead there are small podiums with guest services, a wall of books and a living room set of furniture. The Deck Sixteen restaurant starts in the lobby and wraps around to a sun deck and a swimming pool. It's a perfect place for breakfast, especially if you dine on the cage-free eggs and delectable chicken sausage with a side of fresh fruit.
The rooms, with floor-to-ceiling windows, are modern. The friendly staff is particularly helpful with directions and suggestions for restaurants, cafes, shopping. You rest here, but you're out all day enjoying the beach town you came to visit.
Suggestion: Rent a bike down at the valet stand and go for a ride up and down the 40-block long Miami Beach Boardwalk. It's part cement, part wood, with the beach on one side and hotels on the other. You can people watch on the go and view the Atlantic Ocean at the same time.
A bit away from the central part of South Beach, on 21st Street and Collins Ave, on the edge of an alcove that surrounds Collins Park, the Villa Bagatelle Hotel beckons. You're a ten-minute walk from Lincoln Rd., but this area has a totally different vibe. It's quieter, less traveled. The hotel is around the corner from the Bass Museum of Art, which features contemporary art exhibitions, educational programs, artist projects, lectures and concerts (closed for renovations, reopens Fall 2016). This area jumps during the annual Art Basel Fair.
Villa Bagatelle is an extension of the revered Bagatelle restaurant chain that has bistros in NYC to L.A., and from Sao Paulo to St. Tropez. Once a condo building, the hotel has industrial styled modern gray rooms that are the size of apartments, with full kitchens, cement floors and balconies. Perfect for couples or families. There's a garden courtyard on the first floor and a pool on the roof with panoramic views of South Beach and the park.
Suggestion: Bagatelle Miami Beach. Chef Godard worked with world-renowned Chef Daniel Boulud. For starters dig into his Ceviche de la Mer (seafood ceviche, rocoto, culantro, plantain chips), and you won't go wrong with a main course of Matellote du Pecheur (saffron "paella" risotto, chorizo, black grouper, Maine diver scallop, jumbo prawn, mussels & clams).
Drive up to North Shore Park Tennis, on 72nd Street near Collins and jump into an adult tennis clinic or take a lesson from Julio.
Seafood: Leading the pack of chic new ritzy restaurants is Seaspice, which is hunkered over on North River Drive, on the west side of Downtown Miami. Drive up to the swank-looking facade and Porches, Mercedes, Bentleys, BMWs and Maseratis line the street. And that's just the front. If you pulled your boat or yacht up to the 225-foot dock in the back, on the Miami River, you'd be hard-pressed to find an empty spot.
The hip, trendy and moneyed set (not many tourists here) are attracted to Seaspice's party vibe, its large creamed-colored open dining room and the food. For appetizers: Truffle Brie Tart (black truffle, mascarpone, puff pastry). For pasta: Pappardelle (braised short ribs, white truffle oil). For an entrée: Wood Fired Casseroles like the Chilean Sea Bass (truffle porcini crust, Yukon potatoes). And dessert: Tres Leche served in a small glass jar topped with fresh blueberries and strawberries.

Italian Cuisine: La Moderna Miami, a hidden gem Italian restaurant, thrives in the quiet Sunset Habour marina section of South Beach. It's a Roman style trattoria that serves Neapolitan pies, rustic-modern pastas & signature cocktails. The interior features a meticulously crafted copper bar and extensive millwork. The art of famous Spanish illustrator Maria Corte adorns the menus and interior.
Start the evening with the house specialty, Fiona do Zucca (tempura fried zucchini blossoms filled with goat cheese). Then the Fettuccini with diced pumpkin, Italian fresh sausage and Gorgonzola cheese sauce. The drinks are as tasty as the dining: Thelma & Louise (hibiscus-infused Aperol with smoky Brugal rum, fresh strawberries, coconut soda water, Prosecco).
A Colombian Feast: The most innovative dining adventure in Miami is the culinary experience at El Ceilo, the brainchild of Colombian Chef Juan Manuel Barrientos. The eatery is off Southeast 5th Street, in Downtown Miami near Brickell Avenue. You sit down and the staff seduces you into their mindset: a calming, slow-paced, attentive sphere.
The waiter brings you a tablet in a seashell. You think you should try to eat it, instead he pours water on the capsule and it grows into a hand towel. You wash your hands and start the El Ceilo journey, a gastronomical, visual, scented and tactile affair. Next a wooden bowl is placed in front of you, and you extend your hands. Warm chocolate is poured on your palms; you're encouraged to taste it, rub it into your skin and feel its warmth. You wash it off. It's called Chocotherapy. What comes next is a steady parade of culinary surprises that will keep you tweeting and posting on Facebook with sheer excitement.
There's Colombian Bread (corn bread, chavata bread, almohabanas bread; Roasted Corn Soup; Scallops and Corn; Chicken and Beer; Pork Belly and Beet Root Texture; The Smoking Cow; and other small, irresistible dishes. It's capped off with the dessert "Mucholate" (chocolate crumble, chocolate mousse, white chocolate ice cream, thin slices of cocoa), four tastes, four textures and four visions. Finally, the waiter sets a seashell with a large red rose petal on the table. You're stumped. Do you eat it? Smell it? Wrong! You rub the leaf in your hands because there is a soapy lotion inside that cleans your palms. Damn!
Big traditional, ultra-classy hotels are inviting. Historic and trendy boutique places are cool. Riverside restaurants, trattorias, bistros, steakhouses and daring Latin eateries serve up haute cuisine. Golf and tennis are at your disposal. Miami continues to offer a dazzling array of vacation treats.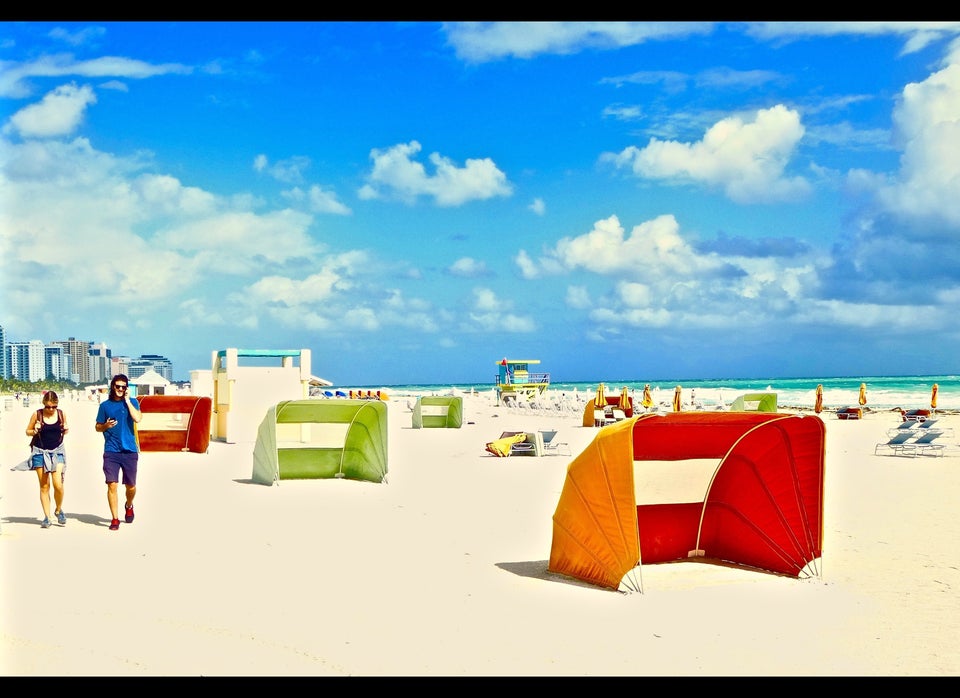 Miami: Sleeping, Dining and Playing Around